By
for on September 18th, 2022
'The Serpent Queen,' Episode 2 Recap: "To War Rather Than To Bed"
At the beginning of this week's episode, The Serpent Queen reveals Rahima has been appointed personal maid to Catherine de Medici, a significant rise in status and salary, new clothes, and more opportunities to learn deadly secrets. It appears the Queen tolerates her company, despite knowing she stole an orange at the end of last week. But when Catherine lifts the cover from one of her breakfast dishes, there's a pile of excrement. Horrified, Rahima declares her innocence, and Catherine believes her; does Rahima know who was responsible, and what will she do?
Catherine de Medici: When you find life conspiring against you you must find a way to change it to your favor. You must be willing to make sacrifices, cross lines that you never thought possible. If you don't treat your enemies a lesson they'll never learn.
As they stroll in the gardens, Catherine continues the story of her rise to power. The teenage Catherine is in trouble at the hostile, corrupt French court, betrayed by her husband Francis and her cousin Diane de Poitiers. Her uncle, the Pope, has not yet come through with the rest of her dowry. Catherine sees a vision of her uncle hanging from a tree; she has visions sometimes, she informs us. When she returns to the stables, a groom propositions her, and she smacks him with her whip. But then her servants discover Catherine is menstruating*, and now everyone worries.
*(Karen Muller Serreau's costumes in this series are brilliant. If not historically accurate, they represent the power and opulence of a sixteenth-century court. But the underwear is all wrong.)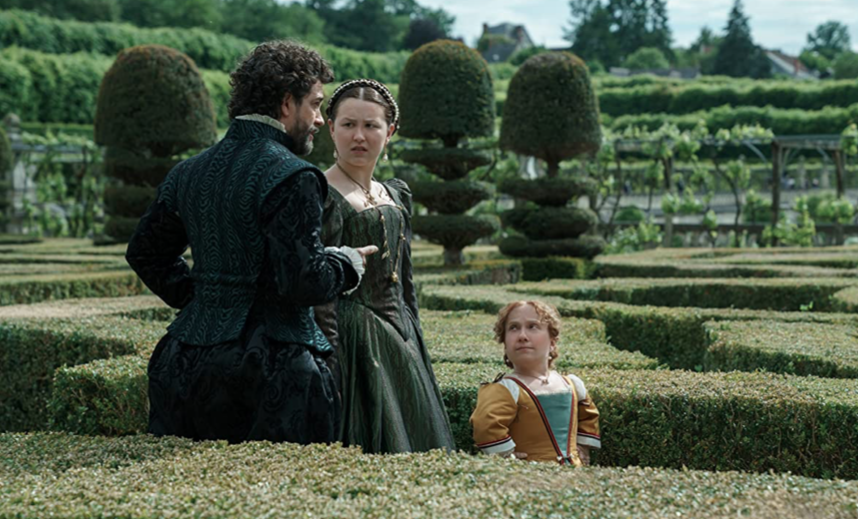 They'll annul her marriage if Catherine doesn't conceive and send her to Italy. Sebastio (Adam Garcia), her major-domo, reveals the Pope and her aunt were murdered. They must keep her failure to conceive a secret, although Henri is ignoring her, obsessed with Diane de Poitier. Can Catherine trust her servants? Sent into the woods to burn Catherine's bloody linen, Mathilde encounters Diane, who offers money to keep her informed of Catherine's menstrual cycle; Mathilde demands access to the Dauphin's bedchamber as payment. There, she admires Francis' model ships and seduces him, as the future king, even if he is a bit of a psychopath, is a safer prospect than Catherine.
Aabis has gone straight to the top, sleeping with the King, but that's hardly an exclusive club, as every time King Francis emerges from a doorway, he's followed by a flustered woman straightening out her clothes. Angelica (Ruby Bentall), Catherine's perfumier, is tight with Ruggiero, Catherine's magician, who provided a smelly unguent to guarantee conception, but getting Catherine's husband to play his part is the real issue. Sebastio suggests she approach Henri, escorting her to the gardens where teenage boys are wrestling like a bunch of lively puppies. Henri and his brother Francis are there; young Francis, a chip off the lecherous old royal block, makes a suggestive comment to Catherine and propositions Mathilde.
Catherine, remembering her husband's interest in nature, tries to interest Henri by showing him a kestrel's egg and asking him to go for a walk. He's not interested. She tells him their awful wedding night was "most enjoyable." (She can't resist an eye roll at us.) "Really?" Henri says. But the delicate negotiations are interrupted as the rest of the young aristocrats, led by Francis, throw a wooden chest off a bridge, which smashes dangerously close to them. Catherine is furious, but Henri reminds her Francis is her future king and stomps off.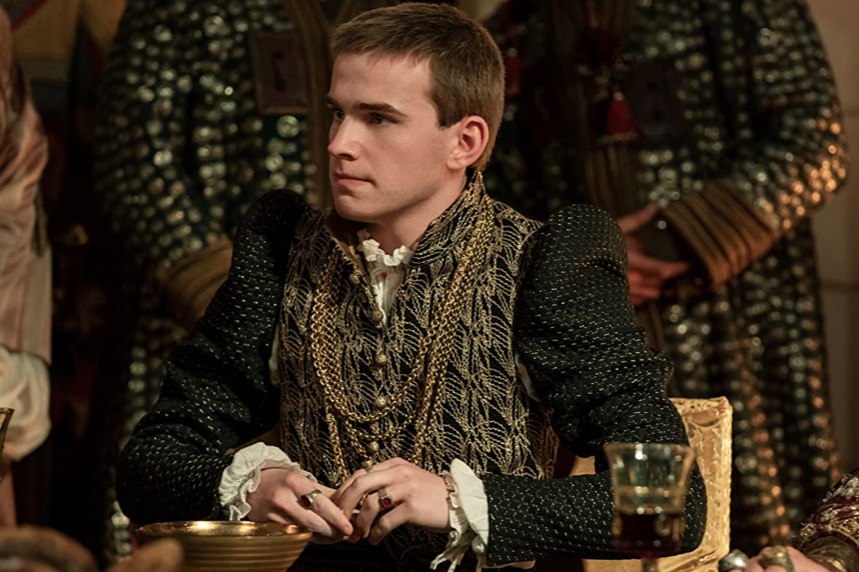 Those pesky Protestants are causing trouble again, as the King discovers a pornographic engraving starring him and the Pope planted in his bed. The Duke of Guise (Navid Negahban) suggests they burn a Protestant village, but more reasonable Montmorency (Barry Atsma) offers "systemic change" since the Protestants are here to stay. The King also officially announces the murders of Catherine's aunt and uncle ("digestive problems"). The election of a new Pope means power shifts in Europe; as a pre-emptive, Princess Adelaide of Prussia is selected to marry Francis the Dauphin. She will visit with her younger sister if a new, fertile wife for Henri is warranted.
Catherine insists Henri has been most conscientious in his marital duty; even now, she may be pregnant! Henri is grateful for her lie, and they start talking again. As they stroll through the grounds, they pass the Sultan Suleiman (Memet Ali Alabera), who likes the French court so much he's decided to stay. Henri knows him well, having served as a hostage at the Sultan's court for three years after the King backed out of an agreement. Catherine invites Henri to her bedchamber, only to find Angelica and Aabis there. Aabis is pregnant with the King's baby and wants to consult Ruggieri. Catherine is jealous and refuses to help Aabis (but the pregnancy mysteriously disappears anyway).
On his way to Catherine's bedchamber Herni is waylaid by Diane, inviting him to read the Bible with her. (She promised his mother; it's wrong on many levels). Catherine, she tells him, is menstruating, so there's no point in going. Ruggiere's unguent applied, Catherine is ready; when Henri doesn't show up, she makes Mathilde show her a spy hole into his bedchamber. Diane, deftly combining religious and erotic ecstasy, in turn, stares back at Catherine. The following morning, Diane tells Catherine the new Pope allied with the Holy Roman Emperor (the Queen's brother). So much for her dowry. She offers Catherine a lady-in-waiting position, perhaps a servant, while Henri marries her. His initial response is to laugh and says Diane's too old. She responds she's not too old for a baby. Besides, she has a repertoire of sexual tricks a younger woman couldn't imagine.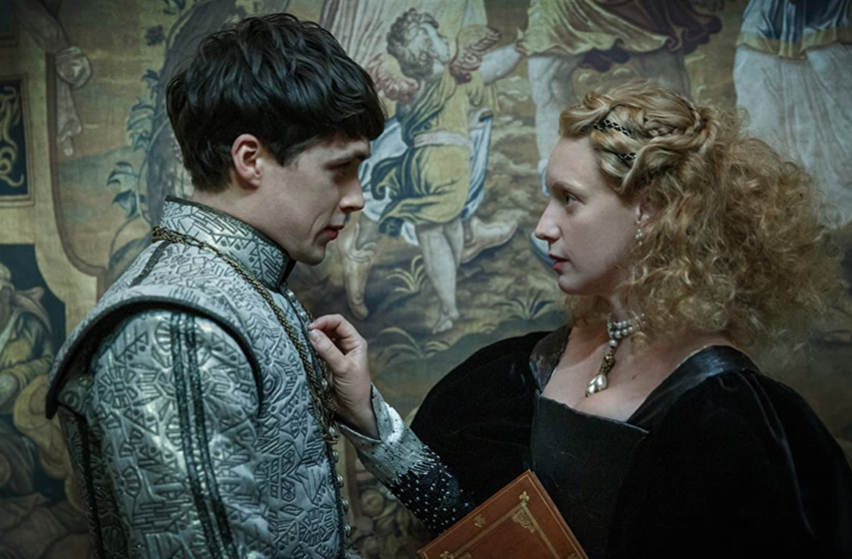 The King grumbles hilariously to the court about the new Pope, Italy, and the Protestants and asks Henri for his opinion. He hesitates, and Catherine sees her opportunity. In an Oscar-worthy performance, she sinks to her knees and gives an impassioned speech, begging the King to choose a new bride for Henri, someone young and virginal; Catherine will serve as her maid. (Diane looks annoyed.) The King assures her he won't let her go just yet, almost certainly planning to take advantage of her sexually. To seal the deal, Catherine applies the fertility unguent and visits Tim, the groom (Tim? Really?). "I think I can be forgiven for taking desperate measures," she tells us. Awkwardly, when she returns, Henri is there. He smells the potion — everyone can — but more eager than anticipated, he launches another excruciatingly awkward lovemaking session.
Informed by Mathilde, Diane lets Catherine know she is aware of her secret assignation with the groom. Catherine sends Mathilde to Tim with a poisoned apple, the traditional weapon of the Wicked Queen, as a test of Mathilde's loyalty as the newly arrived princesses are taken by the court for a fun day of hunting and a picnic. However, it goes sideways when Henri, delighted with the younger sister, captures a frog for her (betrayal!), and Young Francis, displaying his techniques with the ladies, stabs the frog.
Drunk, Francis goes looking for more alcohol, but finds a copy of the pornographic engraving and the groom, Tim, sick in bed. He drags Tim out and shoots Tim's wife. Montmorency tries to intervene, while the Duke of Guise complains it's putting him off his food. The two princesses look horrified. Waving his pistol around, Francis challenges his brother to kill Tim and his son. Henri refuses, telling Catherine how he hates his brother and father. She tells him he's twice the man his brother is, but Diane intervenes, and she and the King goad Henri into action. Why, Diane asks, is Tim asking Catherine for help? Henri snaps, ignoring the pistol offered by his brother, cuts Tim's throat, and shouts to the son to run away.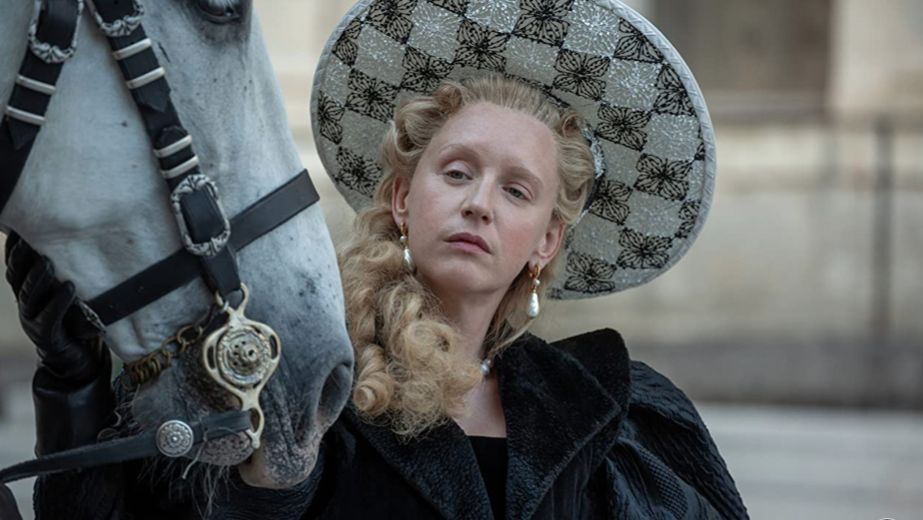 If that's not bad enough, Catherine is menstruating again. She's furious but has a backup plan. Catherine and Aabis visit the Sultan, who's settled in nicely and speaks the language. She proposes he form a military alliance with Henri against the Holy Roman Empire to claim the Italian provinces promised in her dowry. Appealing to his sense of honor, Henri likes the idea, even if it is a Christian-Islam alliance. His brother equates cruelty with bravery, but he can go to war and be a real soldier. Everyone gathers to wave off the troops, Henri glamorous in his armor on horseback. Not a good look for the future king to have a war hero brother, the Duke of Guise comments.
What if he is killed in battle? Diane asks. In that case, Catherine replies, she will have achieved that highest of pinnacles for a woman, widowhood, as Diane suggested. It's a great move on Catherine's part; her status at the court is confirmed with the King on her side. However, there is a little more tidying up as Ruggiero and Angelica ride out and find Tim's son in hiding. Ruggiero hands him a straw effigy doll, a weapon of witchcraft. Later, Catherine rides out and discovers his body.
But back to Rahima's dilemma, finding a punishment for the cook, her kitchen enemy. Catherine gives her a packet of unknown substances, which she pours into a brioche pan beneath the dough. Later, Catherine looks down from her window at the courtyard, where panic ensues among the servants at the cook's death, and smiles.
---
By
for on September 18th, 2022
More to Love from Telly Visions