By
for on January 21st, 2022
'Sanditon' Season 2 Promises To Be "More Classically Jane Austen"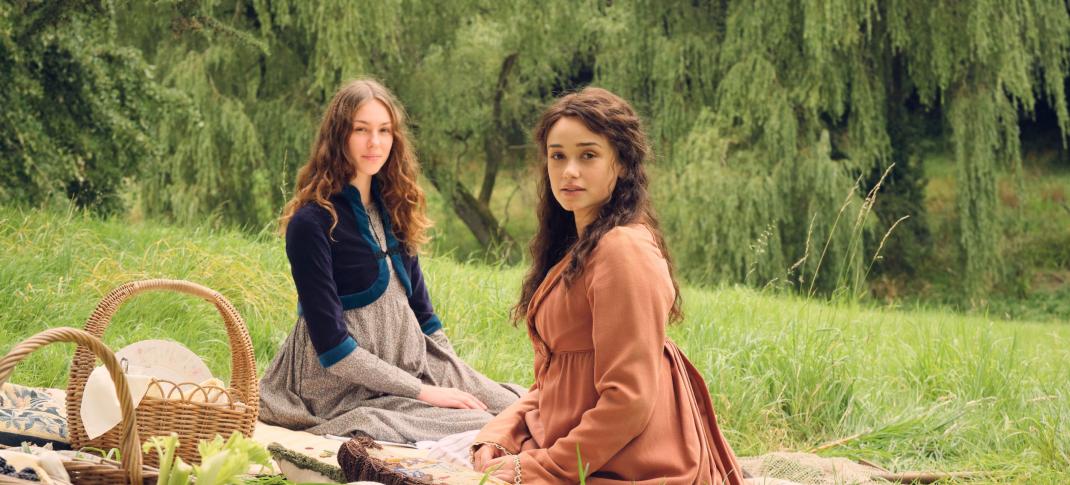 When Sanditon Season 2 was announced in the spring of 2021, the fandom was shocked and overjoyed. But into every life, a little rain must fall. Though the show was returning with stars Rose Williams and Crystal Clark as Charlotte Heywood and Georgiana Lambe, Sanditon's leading man, Sidney Parker (Charlotte's beau and Georgiana's guardian), would not. Actor Theo James was already cast as the lead in the BBC/HBO co-production The Time Traveler's Wife, which was in the middle of filming. He put out a statement wishing the production well, but it was clear his time at the seaside town was over.
But though it is a hallmark of Jane Austen that her heroines fall in love and marry their first true love, things aren't so straightforward in real life. And Sanditon, for all that it is based on the unfinished Austen novel, did try for a level of realism in its first season, tackling such subjects as sexual abuse by powerful men and the casual racism of the British upper classes. Keeping in the spirit of things, Charlotte would return to the seaside town of Sanditon in Season 2, with her now marriage-aged little sister in tow, and be greeted by a bevy of suitors to choose from.
Speaking at the Television Critics Association panel on Season 2, series writer Justin Young told the assembled reporters, "I think in some ways Season 2 maybe feels more classically Jane Austen than Season 1."
Part of that comes from the new heroes, Alexander Colbourne, played by Ben Lloyd-Hughes, and Colonel Francis Lennox, played by Tom Weston-Jones. Young agreed that the two men, who are the ones who will be fighting for Charlotte's affections, had their roots in literary heroes of the time, the classic war hero red coat and the tortured emotional man saddled with children in need of raising.
It felt like bringing in the army was such an obvious move because it would allow us to bring in a whole range of characters... It was a contrast between the two. It felt like bringing a soldier was something Jane would have done. She had strong opinions on soldiers. She created other characters, from the noble to the not-so-noble, who were soldiers if you know her other novels. When it came to Colbourne, Rochester... was certainly an influence. We like to kind of be a little bit literary. But obviously, we couldn't directly use — it's not a spoiler to say there's no madwoman in his attic. 
As for the introduction of Alison (Rosie Graham) to the lead cast, the writers felt it was essential to have a wide-eyed character to contrast against Charlotte. She's matured since Season 1 and could no longer fit that innocent Austen heroine mold, and also to contrast and show how far the character had come. "We always looked back to the precedent, to what Jane Austen did in her other novels, who she was as a person, Young told reporters. "Jane was very, very close to her sister Cassandra. We have a lot of her letters. And I think that informed some of the other classic Austen novels, one of the things we love, whether it is Pride and Prejudice or Sense and Sensibility, is the close sister relationships."
As for Charlotte's BFF Georgiana, this season and next will introduce a bit of a mystery as she goes on a journey of self-discovery. "One of the great joys of Masterpiece commissioning two series from us, two seasons from us, was that we were able to plot a really long arc," said Young. "There are elements in Episode 1 of Season 2 that pay off in the final episode of Season 3. So there is a road being laid that has paved the way for the long arc... That's a question that defines Georgiana across two seasons: Who is Georgiana? How does she define herself? Where does she stand in the world? That's one of the questions we were most interested in excavating in across certainly Season 2, and at a future point, you'll see Season 3. 
Sanditon Season 2 premieres on most PBS stations on Sunday, March 20, 2022, at 9 p.m. ET and is expected to stream on PBS Passport starting the same day. Season 1 is streaming on Passport now. As always, check your local listings.
---
By
for on January 21st, 2022