By
for on January 27th, 2023
Russell T. Davies Confirms 'Doctor Who' Spinoffs are In the Works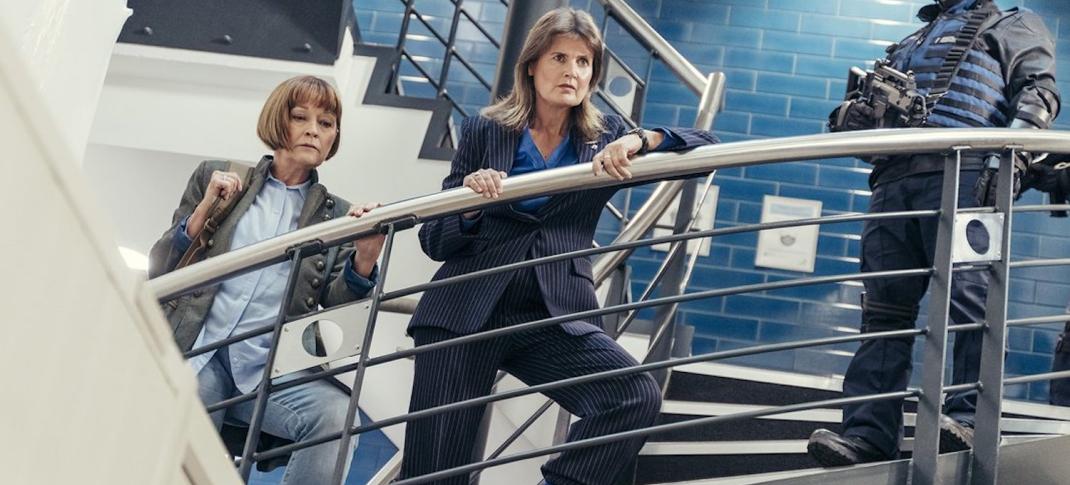 Big things are coming to the world of Doctor Who. The iconic sci-fi franchise turns sixty years old in 2023 and will celebrate accordingly, with a trio of anniversary specials that will somehow involve former Doctor David Tennant, former companion Catherine Tate, and new incoming Doctor Ncuti Gatwa. Filming is well underway on Season 14, the first to feature Gatwa's Doctor—whatever number we actually end up calling him—and his new companion Ruby Sunday, played by Millie Gibson, which will air in 2024. Oh, and Christmas specials are coming back. (Or they will be by the end of the year, anyway.)
But if showrunner Russell T. Davies gets his way, the world of the Whoniverse is only going to get bigger from here. Speaking to GQ magazine, Davies says that it's time for the show to take the next step as a franchise. 
"The world has changed. And we're now in the age of the streamer," he explained." I watch the Star Trek empire with vast envy: the way that's turned itself from an old archive show into something fantastic."
For those that don't know there are currently five -- three live-action and two animated -- Star Trek series currently in rotation on Paramount+ with more reportedly in the works.
"I thought - with no criticism whatsoever towards the people who were running it at the time, because they were running it within the BBC's measures - it was time for the next stage for Doctor Who," he continued, "I thought the streaming platforms are ready, the spin-offs are ready. I always believed in spin-offs when I was there."
With the increased budget that comes with the backing of a company like Disney+, there's suddenly a lot more room to think about how the world of the show should expand, and the idea of a Doctor Who universe modeled after the interconnected world of Marvel or Star Wars television properties no longer seems quite so far fetched. (I mean, wouldn't you watch an animated series about Daleks or Cybermen?)
"I did Torchwood as a spin-off, The Sarah Jane Adventures as a spin-off. Those spin-offs declined when I left, and I can see why. And I very much left after 2008, when the money became scarce, I think that's fair enough for the public service broadcaster that the money is spent on other things. But now, it wasn't my idea, it was the BBC's notion to go for a streamer [Disney+] to invest in the show worldwide, which I completely agree with."
The possibilities when it comes to potential spinoffs seem virtually endless. With Jemma Redgrave set to reprise her role as UNIT boss Kate Lethbridge-Stewart in Season 14, there's a perfect opportunity to introduce a more Earth-bound show about the long-running secret organization with a mission to defend the planet from alien threats. Jodie Whittaker's farewell episode brought back classic companions Ace (Sophie Aldred) and Tegan (Janet Fielding) and I know I can't be the only fan who would love to have a reason to see these characters from earlier eras get the chance to continue their stories on their own terms. (Particularly as Aldred's time as Ace was cut short by the series' cancellation.)
"The Power of the Doctor" also introduced a sort of wider support group for those who've shared the experience of traveling with the Doctor, and truly the jokes just write themselves. And, of course, there's always the Master, who's certainly complex and interesting enough to carry his (or her, depending on the incarnation) own show, or one-off characters like Jo Martin's Fugitive Doctor whose stories are worth fleshing out more fully.  
There's no word yet on what sort of spinoff Davies or the rest of the power that be might be considering or what characters or settings those shows could feature. But this feels like one of the most exciting times to be a Doctor Who fans in quite a while.
Doctor Who will return in November 2023 for a trio of special episodes celebrating the series' 60th anniversary, though we don't have firm airdates for them just yet. Season 14, which will see Gatwa and Gibson officially take over the TARDIS, will premiere in 2024.
---
By
for on January 27th, 2023
More to Love from Telly Visions