By
for on August 1st, 2022
Remembering Bernard Cribbins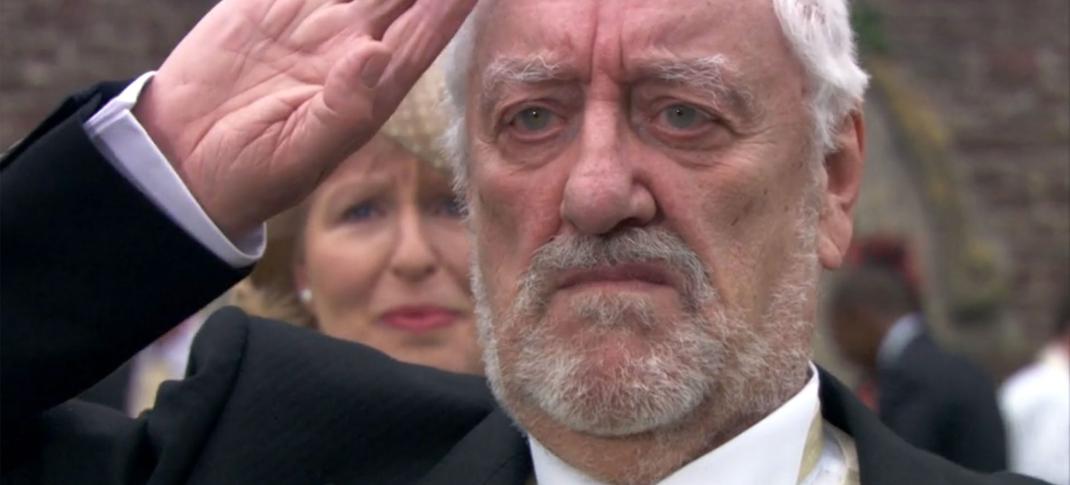 Last week the U.K. lost an OBE recipient, a beloved entertainer, and, most poignantly, a voice that represented millions of people's childhoods. Bernard Cribbins enjoyed a 75-year career that spanned the genres of comedy, drama, and children's programming.
Bernard was born in Oldham, near Manchester, England, on Dec. 29, 1928. The acting bug hit at 14 when he began an 8-year run with a local repertory company. In 1956, he made his West End debut in a musical production of A Comedy of Errors. Leading roles in plays such as Salad Days followed. Stage performances opened doors to small television and film roles in the 1950s. In the 60s, Cribbins co-starred in comedy caper movies with stars like Peter Sellers and David Niven; he also featured in two of the popular bawdy Carry On film series of that era, Carry On Jack and Carry On Spying. He even appeared as barman Felix Forsythe in the 1972 Alfred Hitchcock thriller, Frenzy.
A true all-around performer, Bernard tapped into his musical background to become a recording artist with producer George Martin (yes, the Beatles' George Martin!) Cribbins hit the U.K. Top Ten in 1962 with the release of two novelty singles, "Hole in the Ground" and "Right Said Fred." (Fun fact: The band Right Said Fred, of "I'm Too Sexy" fame, are named for that tune.)
In the mid-60s and early 70's that Mr. Cribbins got a foothold in the children's entertainment field. He starred in the 1970 film The Railway Children, based on the classic story by Edith Nesbit. Bernard played Albert Perks, the station porter who befriends the Waterbury children. From 1973 to 75, he narrated and performed all the voices for The Wombles, a BBC stop-action animated television program about possum-like creatures living underground and recycling rubbish.
But it was most likely his three-decades-long stint on the BBC children's program Jackanory, sort of a Reading Rainbow predecessor if you will, that cemented Cribbins's reputation as a preeminent children's entertainer. Between 1965 and 1996, Bernard made over 100 appearances reading stories ranging from The Wizard of Oz and Charlie and the Chocolate Factory to Wind in the Willows and The Hobbit. His secret was simple: "All you have to do is look down the lens, find one child, and talk to that child. And you pull them in." So treasured was he that in 2009 Mr. Cribbins was the recipient of a special BAFTA for his outstanding creative contribution to the children's entertainment industry.
As for his history with the Doctor Who universe, Mr. Cribbins first appeared in the 1966 movie Daleks' Invasion Earth 2150 A.D., with Peter Cushing as the Doctor, Bernard played companion and police constable Tom Campbell, who entered the Tardis by mistake in the pursuit of a robber.
After a 40-year hiatus, Cribbins "regenerated" as Wilf Mott, amateur astronomer and the grandfather of Doctor's companion Donna Noble (Catherine Tate). His return made him the first actor to travel in the Tardis as two different characters and earned him many new fans.
He played this recurring role from 2007-2010, and Mr. Cribbins was confirmed to be filming scenes on the upcoming Doctor Who 60th anniversary special just a few months before his death. (With a release date of November 2023, it will most likely serve as his last appearance on screen.) A wave of moving tributes immediately followed news of the death of Bernard Cribbins. Russell T. Davies, Doctor Who showrunner at the time of Bernard's tenure as Wilf, posted on Instagram about his dear colleague and friend, saying it all so simply.
"I'm so lucky to have known him. Thanks for everything, my old soldier. A legend has left the world."
Mr. Cribbins was 93 years old. May his memory be a blessing.
---
By
for on August 1st, 2022
More to Love from Telly Visions