By
for on August 4th, 2022
The 'Recipes for Love and Murder' Trailer is Cooking Up Something Good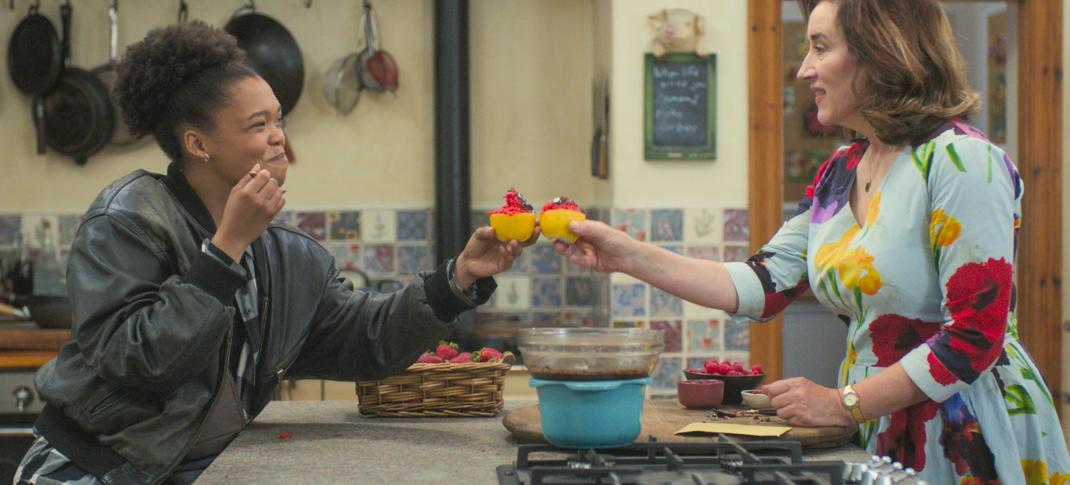 Over the past few years, most of the non-U.K. offerings on Acorn TV have usually hailed from down under, either Australia or New Zealand, with a few Irish or Canadian shows thrown in for good measure and a couple of Scandi-noir series as foreign language offerings. But the streaming network's newest mystery, Recipes for Love and Murder, is the rare South African-produced series to make its way to the platform. Based on the Tannie Maria Mystery Series by novelist Sally Andrew, and set in her hometown of the Klein Karoo, the story of a pair of newspaper writers turn amateur detectives looks to serve up a  brand new hit series.
Initially announced in November 2021, the new series is a collaboration between Acorn TV and M-Net, the South African pay cable network. The series is also produced by Telepool's Global Screen out of Germany and the South African outfit, Both Worlds Pictures, whose founder, Thierry Cassuto, is the show's executive producer. Cassuto told Variety he initially approached Andrew's people about adaptation rights, which they granted once he promised the show would be an internationally produced and distributed title. Filming commenced when the series was announced, with Season 1's initial run on M-Net in the spring of 2022 after the world premiere of the series' first two episodes in Berlin.
The series, which currently runs three novels, features Tannie Maria (Tannie is Afrikaans for "Auntie" and considered a respectful way to address an older woman), a middle-aged recipe columnist. When the local Gazette cancels her column in favor of a weekly Agony Aunt (advice column), Maria volunteers to put aside her love of food for others' love lives until the author of a letter she runs in her column winds up dead. Over the three stories, including the titular Recipes for Love and Murder, The Satanic Mechanic, and Death on the Limpopo, she and junior reporter Jessie September become detectives tracking down killers.
When the local newspaper cuts her recipe column, Tannie Maria lobbies to take on the role of advice columnist. Things take an unexpected turn when a correspondent who writes to Maria about her abusive husband is found dead. Maria's worlds collide as she begins working through her own mysterious past trying to solve the case. Maria joins forces with a local, risk-taking, rookie journalist, and sometimes rival, Jessie September, to investigate the murder and catch the killer -- before the local police find more victims. But will they make too many enemies in the process and risk the perpetrator catching them first? Meanwhile, Maria comforts her readers by blending experiential advice with soothing recipes - truly chicken soup for the soul.
Maria Doyle Kennedy (Outlander) leads the series as Tannie Maria, with newcomer Kylie Fisher as her partner in crime-solving, Jessie. The series also stars Tony Kgoroge (Black Sails) as Chief Detective Khaya Meyer, Elton Landrew (Trackers) as Constable Piet, Arno Greeff (Vaselinetjie) as Warrant Officer Regardt Snyman, Jennifer Steyn (Master Harold and the Boys) as newspaper editor Hattie Wilson, and Lee Duru (Mama Jack) as Grace. The series was filmed in Cape Town, the Karoo, and Scotland. The ten episodes series was helmed by South African directors Christiaan Olwagen (Poppie Nongena) and David Isaacs (Swartwater).
Recipes for Love and Murder will premiere on Monday, Sept. 5, 2022, with two episodes on Acorn TV, and follow a weekly release schedule with two more episodes arriving every Monday through Oct. 3.
---
By
for on August 4th, 2022
More to Love from Telly Visions