By
for on June 21st, 2018
A Quick Guide Where to We Left Everyone at the End of 'Endeavour' Season 4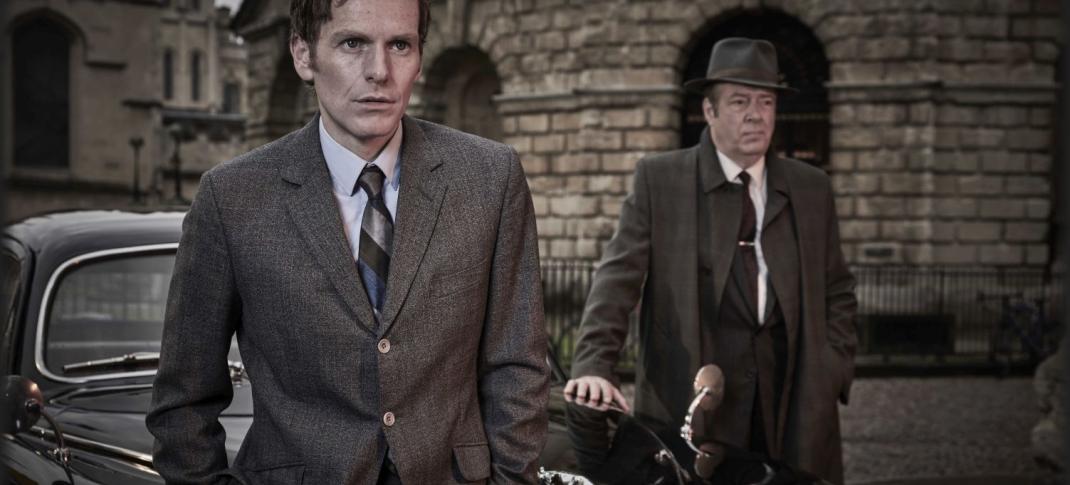 Endeavour returns for its fifth season with a new supersized batch of episodes beginning Sunday, June 24. Let's run down where all our characters stand heading into 1968.
The former Detective Constable Endeavour Morse (Shaun Evans) will have a new title when he returns to our screens, having passed his Sargent's exam at the end of last season. But while Morse will be facing changes in position, everything else will be in upheaval too. Let's look at where things stand from the fall of 1967, at the end of Season 4.
Both Seasons 3 and 4 covered the year 1967. The third season saw DC Morse and Monica (Shvorne Marks) breaking things off, romantically speaking, while his partner and boss DCI Thursday (Roger Allam) never really recovered from the bullet which is now permanently lodged in his body, which causes him coughing fits at inopportune moments. For Morse, this was a hard year, with everyone pushing him in several different directions when the only one he wanted to follow was wherever Thursday's daughter Joan (Sara Vickers) was heading. At the end of Season 3, Joan disappears completely, distressing her parents terribly. Meanwhile, Thursday successfully managed to get Morse to agree to take his Sargent's exam.
When Season 4 begins, it looked like he failed, but Morse's paranoia is such that he's semi-convinced someone is out to get him, especially when it turns out his exam "went wayward" and never made it to grading.
Morse: How are you?
Thursday: Wanna drink?
Over the course of four episodes, Joan turns back up a couple of towns over, as the kept woman of an abusive man. Thursday and his wife Win (Caroline O'Neill) don't push her to come home, not understanding that all she wants is for them to ask. With nothing tying him to Oxford, and a failed exam hanging over him, Superintendent Bright (Anton Lesser) spends most of the season trying to convince Morse to head off to London, make a fresh start at a new station, and try again. When Thursday joins in the chorus, Morse almost takes their advice. But then two things happen which derail that plan: Morse's Sargent exam turns up, and it turns out he passed, and Joan winds up in the hospital after her terrible boyfriend pushes her down the stairs when he discovers she's pregnant.
The Thursdays don't know Joan is in hospital, they're out of town because Thursday receives a commendation from the Queen, and anyway the contact number she gives is Morse's. The season ends with Morse standing over her sleeping figure while a doctor, who clearly mistakes him for her husband, tells him not to worry, these accidents happen and they can "try again soon." Hopefully, this is the wake-up call Joan needs to come home to Oxford. Even though Morse never marries, as far as we know, fans can still hope they find a way to be together, at least for a time.
But Morse has bigger problems to face than affairs of the heart, even as he stays in Oxford. The year 1968 was a big one in UK police force history. That was the year the Police Act of 1964 went into effect, a move by Parliament to update the local constabularies into larger amalgamations in order to promote more efficient units by giving them larger jurisdiction oversight.
In smaller words, a force like Morse's which oversees only Oxford City would be perfectly sufficient back in 1869, when the 99-year charter went into effect. There wasn't even electricity back then, let alone highways and cars for criminals to easily travel between towns. Having one branch per town was also necessary since traveling from area to area would have been painfully slow. A century later, having all these tiny hyper-local branches was not only redundant in many places but utterly inefficient, with local jurisdictions constantly stepping on each other's toes.
The good news is we already know going in that Morse's job will be safe. The Oxford City Police, who he works for, will be folded into the Thames Valley Constabulary, which renames itself Thames Valley Police, the exact station he worked for in the original 1990s Inspector Morse series. But, meanwhile, the changes will be hard. As a now Detective Sargent, he will no longer be the junior partner of Thursday but promoted into a DS position where he is given a green DC of his own. With the merger making higher level jobs redundant, this would be a good time for Thursday to consider retirement. The crime scale will also be different, as Thames Valley's district is one of the largest territorial police forces in England, and the crimes of the City of Oxford will become the crimes of the counties of Berkshire, Buckinghamshire, and Oxfordshire. 
It's an interesting time to be living through for Morse. But is that a blessing or a curse? Endeavour Season 5 premieres on Sunday, June 24, 2018, at 9 p.m. ET. As always, check your local listings, and then head back here for our recap after the episode!
---
By
for on June 21st, 2018