By
for on September 24th, 2014
Preview Emma Thompson as Mrs, Lovett in Lincoln Center's 'Sweeney Todd'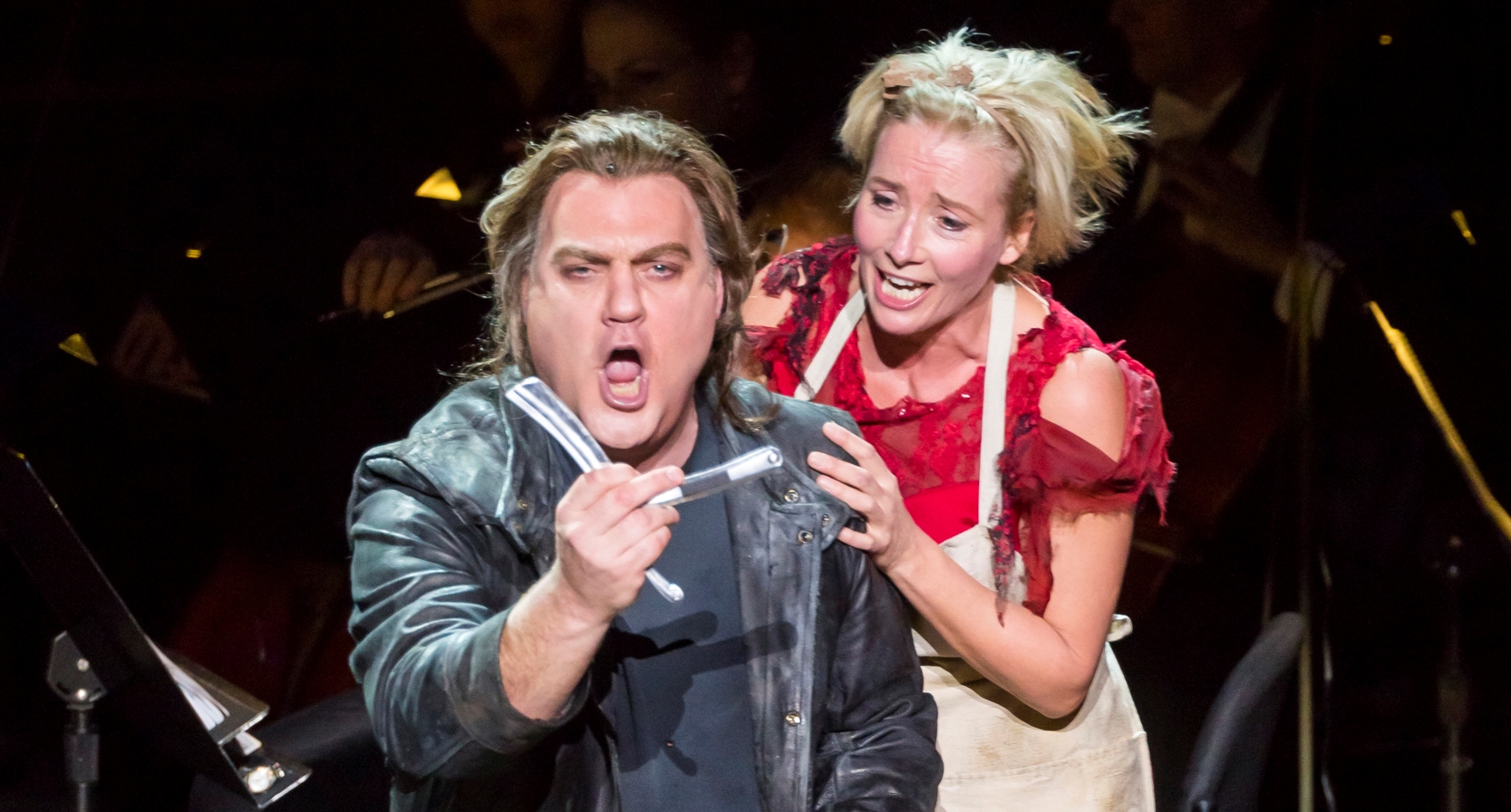 This week, Live From Lincoln Center presents a special broadcast that Anglophiles everywhere are going to want to see. Back in March, the New York Philharmonic put on a special all-star production of Stephen Sondheim and Hugh Wheeler's acclaimed musical Sweeney Todd: The Demon Barber of Fleet Street, which ran for only four days at Avery Hall.  
This extremely limited run musical featured Academy Award-winning actress Emma Thompson in one of the lead roles and, thankfully, it's being presented on PBS stations nationwide this month as part of the PBS Fall Arts Festival, to the great relief of all of us who couldn't get to New York in that (tiny) window. Whew.
(And, yes, before you ask, she sings.)
Thompson starred opposite acclaimed bass-baritone Bryn Terfel in the semi-staged production, which features costumes and a few props alongside the cast and orchestra. Terfel plays the titular Sweeney Todd, a murderous barber search of vengeance, while Thompson plays Mrs. Lovett, his landlady who runs a pie shop with signature dishes made from…somewhat suspicious ingredients.
Directed by Lonny Price, the show's cast also includes Tony winner Christian Borle as Pirelli, Phillip Quast as Judge Turpin and Jeff Blumenkrantz as The Beadle, among others.
While it can be a bit strange to watch actors singing about murder and cannibalism with such gusto, Sweeney Todd also tackles issues of class and justice and, well, the cannibalism songs are pretty darn catchy. (I'm a big Sondheim fan myself.)
Watch a clip of Thompson performing the Act II opening, God That's Good, which features a cameo appearance by Tony-winning actress – and Lincoln Center host – Audra McDonald below: 
The Lincoln Center Sweeney Todd performances mark Thompson's first stage appearances in over two decades (she was last seen in the West End's Look Back in Anger in 1989). Her cast mates seem suitably impressed about getting the chance to work with her, as you can see in these rehearsal interviews. 
Thomason and Terfl will reprise their roles as Todd and Mrs. Lovett in London, performing a similarly staged production at the Coliseum next spring for 13 performances. So, keep an eye out for that, British friends.
Live From Lincoln Center: Sweeney Todd The Demon Barber of Fleet Street in Concert with the New York Philharmonic premieres on PBS stations nationwide on September 26, so check your local listings.
What do you think of Thompson as Mrs. Lovett? 
---
By
for on September 24th, 2014
More to Love from Telly Visions