By
for on November 20th, 2023
Period Drama 'Mary & George' Moves to Starz and Sets a 2024 Premiere Date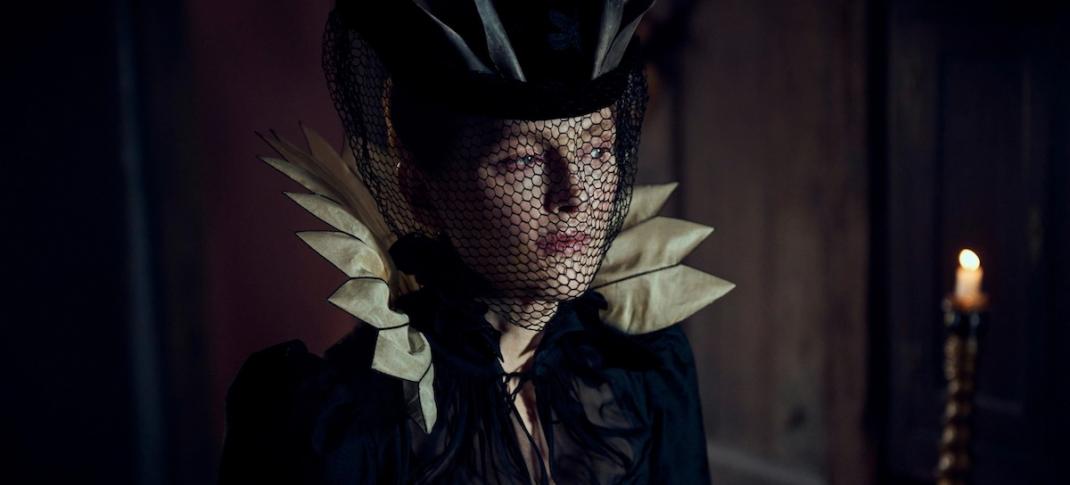 Period drama Mary & George was originally announced as an AMC+ series, but the Villiers family has apparently moved house entirely prior to its arrival. The show will now air on Starz in the U.S. (it'll remain a Sky Original in the U.K.), a shift that makes a certain amount of sense given that particular network's unapologetic embrace of female-fronted historical dramas like The Serpent Queen. If only because this particular story is about a cunning and powerful woman that American audiences are likely entirely unfamiliar with.
Mary & George stars Julianne Moore (May December) as Mary Villiers, Countess of Buckingham, a scandalous and charismatic royal favorite during the reign of King James I. Known for her relentless ambition and greed ambition, she supposedly groomed her handsome son George (played by Red, White, and Royal Blue breakout Nicholas Galitzine) to seduce the king, whose interest in men was pretty much an open --- if largely unspoken --- secret at the time. Thanks to his mother's dedicated scheming, George became the king's lover, and the Villiers became one of the wealthiest and most influential families in the history of the British court.
George reaped plenty of rewards from his relationship with James: He was appointed Lord High Admiral of England and had the dukedom of Buckinghamshire recreated for him, making him the first commoner elevated to such a position in a century. George remained at the height of royal favor throughout James' reign and even into that of his son, King Charles I, until he was assassinated by an army officer in 1628. Mary herself died four years after her son was killed. 
Alongside Moore and Galitzine, the series's stacked ensemble cast includes Tony Curran (Mayflies) as King James I, Nicola Walker (Annika) as Lady Halton, Niam Algar (The Wonder) as Sandie, Trine Dyrholm (The Legacy) as Queen Anne, Sean Gilder (Poldark) as Sir Thomas Compton, and Simon Russell Beale (Operation Mincemeat) as Sir George Villiers. 
Other notable cast members include Adrian Rawlins (Chernobyl) as Sir Edward Coke, Mark O'Halloran (Devils) as Sir Francis Bacon, Samuel Blenkin (The Witcher: Blood Origin) as Prince Charles, Jacob McCarthy (Rogue Heroes) as Kit Villiers, Tom Victor (Peaky Blinders) as John Villiers, Alice Grant as Susan Villiers, Mirren Mack (The Nest) as Katherine Manners, and Rina Mahoney (Happy Valley) as Laura Ashcattle.
Starz's first teaser for the show leans into the network's reputation for darker, more boundary-pushing period dramas, and features plenty of sexy images and provocative one-liners set to a soundtrack of The Stooges "I Wanna Be Your Dog". 
Here's the series' description. 
Julianne Moore plays Mary Villiers, Countess of Buckingham, who in 17th century England molded her beautiful son, George, to seduce King James I and become his all-powerful lover. Through outrageous scheming, the pair rose from humble beginnings to become one of the richest, most titled and influential players the English court had ever seen, and the King's most trusted advisors.  Nicholas Galitzine plays her son, George Villiers, a naïve romantic who alongside his ruthless mother was prepared to stop at nothing to get to the top. Tony Curran ("Mayflies") stars as King James I, the target of Mary & George's seductive scheming.
"'Mary & George is the perfect complement to STARZ's provocative slate and we're thrilled to partner with Sky Studios to bring this extraordinary series to U.S. audiences," said Alison Hoffman, President of Domestic Networks for STARZ. "We can't wait for the world to discover the untold story of Mary Villiers, who mastered the art of sexual and political conquests in a male-dominated society. And to have Julianne leading this remarkable cast is a dream."
Inspired by the non-fiction book The King's Assassin by Benjamin Woolley. Mary & George is created and written by playwright DC Moore, whose credits include Killing Eve, Temple, and Not Safe For Work. Oliver Hermanus (Living) serves as lead director. Liza Marshall is executive producer for Hera Pictures alongside Moore, Hermanus, and Julianne Moore. Sam Hoyle serves as executive producer for Sky Studios.
Mary & George is expected to premiere in 2024. 
 
---
By
for on November 20th, 2023
More to Love from Telly Visions