By
for on July 13th, 2016
'The Office' Cast: Fifteen Years On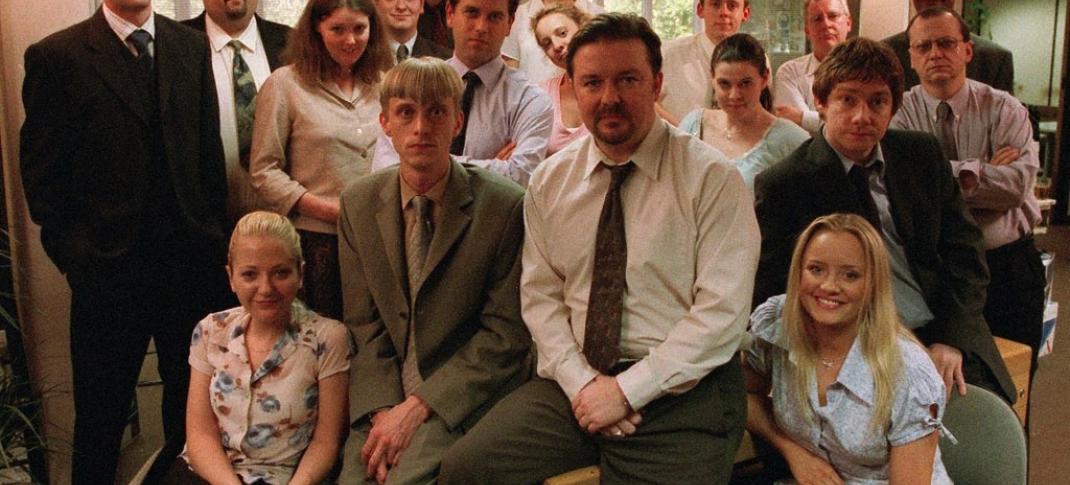 Last weekend marked fifteen years since we first met the employees of Werham Hogg Paper Merchants, the Slough branch.  In its unblinking mockumentary style, The Office followed the day to day lives of the staff in a typical British workplace. It focused on the traits of social clumsiness, self-importance, frustration, loneliness and longing for recognition all played out in the trivialities and boredom inherent in 9 to 5 life.
Written and directed by Ricky Gervais and Stephen Merchant, The Office won multiple BAFTAs and Golden Globes over its short fourteen episode run and spawned remakes in at least seven different countries. Before I was even aware of this now internationally acclaimed sitcom, I saw this acceptance speech by Gervais and knew I had to get my hands on the DVD.
One of the biggest strengths of The Office was the fact that the actors were neither glamorous nor well known which, coupled with the documentary pretense, lent an air of realism to the series. The show was a great springboard for the careers of quite a few of ensemble's principle actors so at this time let's take a look at what our favorite office staff have been up to these past dozen or so years.
Ricky Gervais and Stephen Merchant co-wrote and directed of The Office.  In addition, Gervais played the general manager of the Slough branch, David Brent, a man so narcissistic he has no clue how annoying and selfish he comes across to everyone he encounters. For his part, Merchent made an appearance or two as Gareth's extremely tall friend Oggy, but spent most of his time behind the camera.
Gervais and Merchant continued to work as a creative team a for decade after The Office wrapped. They wrote, directed and performed in Extras and Life's Too Short, as well as the animated Ricky Gervais Show and travel comedy An Idiot Abroad with their friend Karl Pilkington. They also wrote and directed a coming-of-age film entitled Cemetery Junction.
In recent years, both men have gone on to create their own TV series – Gervais' Derek and Merchant's Hello Ladies. Gervais has also infamously hosted the Golden Globe ceremonies four times and appeared in films such as The Invention of Lying, Night in the Museum and Muppets Most Wanted. He is also a passionate animal rights activist.
Merchant has had a successful stand-up career and, along with American actor John Kransinski, is co-executive producer of the Lip Sync Battle program.
And in Office-related news, next month Ricky's newest solo project, David Brent: Life on the Road, opens in cinemas in the UK. 
Martin Freeman played senior paper salesman, Tim Canterbury. Frustrated with an unsatisfying work and love life, Tim tries to make the best of a bad situation by playing pranks on his arch-enemy Gareth and flirting with Dawn, the unattainable receptionist.
After The Office, Freeman's first major starring role was that of Arthur Dent in the film version of The Hitchhiker's Guide to the Galaxy. For a while after that breakthrough, Freeman's career was comprised of a number of starring roles in middling British sitcoms and under-the-radar films.
That is until he got the nod to play Dr. John Watson in Sherlock, the BBC's wildly popular modernization of Sherlock Holmes. Major roles then ensued including Bilbo Baggins in the blockbuster The Hobbit trilogy and a starring turn in the TV series adaptation of Fargo. Martin also played the title role in a West End production of Richard III in 2014. All this makes Freeman undoubtedly the most commercially successful alumni of The Office cast. After all, he's the only one to host Saturday Night Live thus far.
Mackenzie Crook embodied the role of paper salesman, team leader and proud lieutenant in the Territorial Army, Gareth Keenan. Gareth is humorless and obsessed with the rules while his insensitivity makes him unpopular with his workmates, particularly his desk mate Tim.
Since The Office ended in 2003, Crook has been keeping busy in the movies and on TV. He has appeared in three of the Pirates of the Caribbean films as Ragetti (the pirate with the wooden eye). He has also been featured in American TV productions such as Almost Human and Game of Thrones. He's currently doing voiceover work for a new animated adaptation of Watership Down. In May 2011 he was nominated for the Tony Award for Best Featured Actor in a Play for his role in the Broadway production of Jerusalem.
But probably most impressive is Crook's role as writer, director and lead actor in the BAFTA award winning sitcom Detectorists. He plays Andy, a man who is at loose ends in several aspects of his life. His only real escape is to go metal detecting with his best friend Lance (Toby Jones). The subtle humor and quirky but endearing characters differ greatly from the style ofThe Office , but is a fantastic sitcom in its own right.
Lucy Davis played Dawn Tinsley, the put upon receptionist stuck in an unfulfilling relationship and a dead-end job. Since her days on The Office Lucy has appeared in a few British productions, namely episodes of Black Books, Death in Paradise and a TV series called Married, Single, Other. Most of her work since the early 2000's has been in American TV including episodes of NCIS, The Mentalist and Ugly Betty and as a regular on the SNL-inspired Studio 60 on the Sunset Strip.
She's set to appear in Wonder Woman with Chris Pine and Gal Gadot in 2017 playing the role of Wonder Woman's BFF Etta Candy. Apparently she's undergone quite a transformation for the role.
Oliver Chris appeared in the first series of The Office as Ricky Howard, the temp who David Brent admired and envied simultaneously. Since then Oliver moved on to play a doctor in the hospital comedy Green Wing and in the 60's period drama Breathless. He also defused and detonated IEDs as Captain Nick Medhurst in the wartime sitcom, Bluestone 42.
For those interested in live theatre, Chris also appeared in the West End and on Broadway with James Corden in One Man Two Guvnors. And if like me, you've noticed a resemblance between the actor and Prince William, Chris spent the past two years playing him in King Charles III in London and New York.
All these talented performers have far too many credits on their CVs to list every worthy performance here. Tell us about your favorite post-Office roles as well any memories you'd like to share from the series that started it all.
---
By
for on July 13th, 2016