By
for on December 2nd, 2012
News Roundup: Welcome to December Edition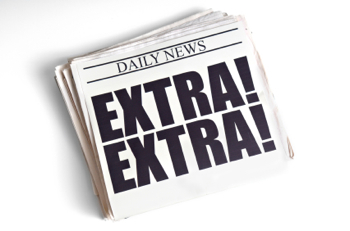 Happy weekend, Telly Visions readers! Somehow it's suddenly become December – how on earth did that happen so fast? We're counting down to the end of 2012, but luckily, we're also getting every closer to several very awesome things – most notably the premiere of Peter Jackson's The Hobbit, the US debut of Downton Abbey Series 3 and the start of Cabin Pressure Series 4 (all of which rank very highly on my list of things I'd like Santa to bring me a little bit more quickly than usual, if he has no objections).
So, wind down from the start of holiday preparations with a Sunday night read through the latest tidbits from around the world of British entertainment in our News Roundup. Click through for bits and bobs on Doctor Who, Skins, Blackadder, Red Dwarf, Downton Abbey, The Hour, Luther and more. 
Cool history news: The remains of King Richard III may have been discovered in Leiceister.
BBC Three greenlights Way to Go, a black comedy about assisted suicide which will star The Inbetweeners' Blake Harrison. 
Ben Whishaw says being in Q in Bond film Skyfall was a bit like doing Shakespeare. (Nice interview!)
Hilarity from The Onion: New Season of Downton Abbey Jumps Forward to the Year 2121.
Rowan Atksinson revived his famous Blackadder character for a one-off charity event. Watch some clips over here.
Sherlock guest star Lara Pulver is set to join the cast of the final series of Skins. She'll be appearing in the episode Skins Fire with Kaya Scodelario's Effy.
From the strange but true files: The popularity of Downton Abbey has apparently driven up demand for butlers. Well done, Mr. Carson.
Being Human creator (and occasional Doctor Who writer) Toby Whithouse is set to produce a new Cold War spy thriller called The Game. (What, no supernatural angle? Shocking!)
Watch interview highlights from the world premiere of Peter Jackson's The Hobbit in New Zealand.
New movie-style poster and promotional photos from the Doctor Who Christmas special, The Snowmen.
Sadness: James McAvoy drops out of that WikiLeaks movie with Benedict Cumberbatch. He's apparently been replaced by Inglorious Basterd's Daniel Bruh.
I don't entirely agree with this article's read on the CBS version, but it's worth a read: Sherlock vs. Elementary: Why There's Room for More Than One Holmes.
The Hour creator Abi Morgan says she'd love to do a third series of the show. (I would love to watch a third series, so seems we are all in agreement!)
Susanna Clarke's (really quite amazing) novel Jonathan Strange & Mr. Norrell is getting adapted into a six-part series by the BBC.
Remember that American period drama pilot Gilded Lilys that never got picked up? This is a really interesting article about why that never made it out of the pilot stage with some great quotes from star (and Doctor Who alum) John Barrowman.
Comedian Jason Byrne to star in Father Figure a new sitcom from BBC One.
Hit drama Call the Midwife will return for an eight-episode Series 2 run in January in the UK. (Watch the Christmas special trailer.)
MTV's remake of comedy The Inbetweeners has been canceled after just one season. (This is not a great loss that I can see?)
Preview Channel 4's new four-part drama The Fear, which seems sort of like Boardwalk Empire set in Brighton, but okay.
Could a Misfits movie be in the works – possibly with some of the old cast?
Speaking of Misfits, this trailer for the last three episodes of Series 4 is sort of insane.
BBC One controller Danny Cohen has officially commissioned a 50th anniversary special for Doctor Who. Of course, he did not confirmed what that special might look like.
What's next for Doctor Who's River Song? Interesting speculation this way.
Merlin scores its highest ratings ever for BBC One – why was it canceled, again?
Hee: Five ways to pass the time while waiting for Sherlock Series 3.
New Doctor Who companion Jenna-Louise Coleman does her first American interview with Entertainment Weekly and talks about the pressures of stepping into the TARDIS and that whole Clara/Oswin thing.
Resident Evil actress Sienna Guillory joins the cast of Luther Series 3.
Chris Barrie and co-star Danny John-Jules both think that Red Dwarf will continue after Series X. Craig Charles also apparently thinks the show will be back.
This fan-made trailer for The Hobbit – edited together from the trailer and current TV spots – is pretty amazing. You should watch it.
How to Christmas shop for that die-hard Doctor Who fan in your life.
Because he doesn't sleep, apparently: Sherlock star Benedict Cumberbatch has joined the jury for the British Academy Film Awards (BAFTA)'s 2013 Rising Star Award.
Downton Abbey has been nominated for Best Drama by the Producers Guild Awards.
This blogger over at The Guardian is not impressed by Downton Abbey creator Julian Fellowes and his new Gilded Age series.
The BBC's iPlayer registered another record-breaking month for views. When oh when are we ever going to see a global version of this in America?
Den of Geek gives their take on Red Dwarf's 10 Best Supporting Characters
Sixth Doctor Colin Baker has been kicked out of the Australian jungle on I'm a Celebrity Get Me Out of Here.
Downton Abbey Series 3 DVDs will be released before the finale airs in America!
---
By
for on December 2nd, 2012