By
for on September 1st, 2012
The News Roundup: Trying Out A New Timeslot Edition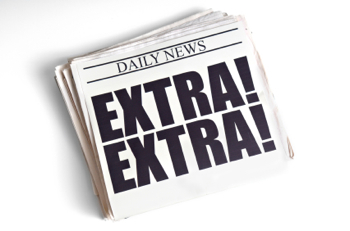 Happy long weekend, Telly Visions readers! As you can see, we're continuing this apparently new thing of doing the Friday News Roundup on Saturdays. I don't know – I kind of like it, perhaps we'll keep it here for a bit. (And just call it the News Roundup, since I think the grammatical error in the title would make me insane if it stayed as was.) Plus, this is giving me something excellent to do today while avoiding Doctor Who spoilers on the internet. (Don't get me wrong, I am grateful BBC America does day and date with this at last, but seriously, worst seven hours ever.)
Anyway, it's Labor Day weekend here in the States, which means we're bidding goodbye to summer. (Sniff.) Give yourself something to do while you're lounging pool or barbeque-side and catch up on the latest from around the world of British entertainment. Click through for this week's update, including goodies on Doctor Who, Downton Abbey, Vera, Red Dwarf, Bad Education, Lightfields and more.
This is a very fun piece from Mashable: How Doctor Who Won Over America. To which I say, cheers to those Americans for finally catching up with the rest of us!
Matt Smith and Karen Gillan remain the most adorable people on the planet, perform the Doctor Who theme song.
Awesome: You can now buy a remote control for your television that's a sonic screwdriver from Doctor Who.
These movie theater-style posters promoting the first five Doctor Who episodes are pretty fantastic.
On the eve of the Series 7 premiere, the Daily Mirror sparked an online kerfuffle when it announced that it was running a story that said Doctor Who star Matt Smith was quitting. The BBC immediately denied these claims.
BBC Three has commissioned Bad Education starring Jack Whitehall for a second series.
Episode titles for the tenth series of Red Dwarf have been officially confirmed.
10 Things Americans Love About Living in Britain.
After a year, the Downing Street Cat has apparently caught his first mouse, at last! Huzzah, Larry!
Remembering Princess Diana, 15 years after her death: the pictures of all the flowers and cards left at Kensington Palace are beautiful.
BBC Two is adapting Hilary Mantel's popular Tudor-era novels Wolf Hall and Bring Up the Bodies into a six-part drama series.
Absolutely Fabulous star Joanna Lumley will play the role of matriarch Lady Maria Byrne in ITV's The Making of a Lady.
This really doesn't look right: Imagine if Matt Smith had actually been cast as John Watson opposite Benedict Cumberbatch in Sherlock.
This is my new favorite interview: Benedict Cumberbatch talks quite candidly about a wide variety of things to ShortList Magazine.
Poor Benedict Cumberbatch is having yet another go 'round with the press, these time over comments he allegedly made about CBS's Sherlock Holmes series Elementary. Cumberbatch insists he was misquoted about the whole thing.
The Shadow Line writer Hugo Black is writing a new six-part drama for the BBC called The Honourable Woman.
A bunch of gorgeous new photos from Downton Abbey Series 3 are up over at TV Line.
Meanwhile, Downton creator Julian Fellowes drops some hints about Series 3.
Downton Abbey star Laura Carmichael (Edith) will make her West End debut in a revival of Chekov's Uncle Vanya.
Shirley MacLaine discusses Downton Abbey Series 3 and her relationship with co-star Dame Maggie Smith.
Apparently the scientists at NASA basically discovered Doctor Who's Gallifrey this week. Excuse me, I'm just going to take a second to freak out.
Sherlock Holmes gets reinvented again in a new digital comic which puts the famous detective in Harlem and changes his race.
The Telegraph reviews BBC One's new crime drama Good Cop starring Warren Brown.
10 British Words That Baffle Americans
The BBC has commissioned a ten-part series called The White Queen, based on Phillipa Gregory's historical novel series The Cousin's War. It will tell the stories of the women caught up in the battle for the throne during the War of the Roses.
ITV commissions a new comedy series set in Roman times called Plebs.
In ITV renewal news: Law & Order UK has been renewed for a seventh series.
Both Vera and Scott & Bailey have also been commissioned for another series each.
Lucy Liu talks Elementary to the Wall Street Journal.
Here are some details about BBC Three's upcoming zombie drama In the Flesh. This sounds really interesting to me!
The Sky Living comedy Gates is set to get a US remake, courtesy of NBC.
If you've friends in the Pittsburgh area, they'll probably be pleased to know they're finally going to get to see Doc Martin.
Former Skins star Dakota Blue Richards has joined the cast of Marchlands sequel Lightfields, along Upstairs Downstairs' Neil Jackson, Misfits' Karla Crome, My Family's Chris Marshall and more.
An excellent Q&A in The New York Times with new Doctor Who executive producer Caroline Skinner.
Now that The Hobbit films are a trilogy: we have an official title and release date for the third film.  You can also get your first look at Lee Pace as Thranduil the Elevenking here.
---
By
for on September 1st, 2012