By
for on December 9th, 2012
The News Roundup: Less Than a Month Till Downton Abbey Series 3 Edition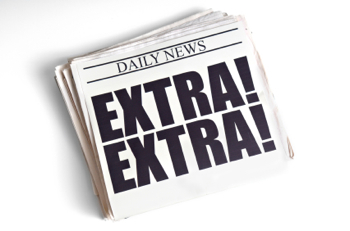 Happy weekend, Telly Visions readers and welcome to being officially under the one month mark in our wait for the Downton Abbey Series 3 premiere! (This just generally seems worth of celebration, don't you think?)
Alas, however, the weekend's winding down – wrap up your Sunday night with a look at the lastest from around the world of British entertainment news in this week's installment of the News Roundup! This week we've got bits and bobs from Merlin, Miranda, Downton Abbey, Doctor Who, Red Dwarf, Being Human, the cast of Sherlock and more!
Save this for your next trip to England: A map of Downton Abbey-related sights in Oxfordshire.
Merlin star Colin Morgan is confident that fans will be satisfied with the series' finale.
The always fabulous Colin Firth and the wonderful Dame Helen Mirren are both said to be in talks to join the cast of the sequel to The Best Exotic Marigold Hotel.
Doctor Who is apparently achieved mainstream status – it's just landed the cover of the  TV Guide Fan Favorite issue.
Miranda Hart talks Miranda Series 3.
In case you missed it, the first trailer for Star Trek Into Darkness is here, featuring Sherlock's Benedict Cumberbatch. For those that are big Trek fans, there's a very detailed scene-by-scene breakdown over at io9.
Attention Doctor Who fans, get a look at the new TARDIS interior.
The Sun profiles new Doctor Who companion Jenna-Louise Coleman.
Get your first look at Series 5 of Being Human in this trailer for BBC Three's 2013 lineup.
Battle of the Apprentice hosts: Donald Trump vs. Lord Sugar.
Legendary BBC astronomer Sir Patrick Moore has passed away at the age of 89.
Former Doctor Who star Sylvester McCoy talks about playing the wizard Radagast in The Hobbit.
Read the synopsis for writer Toby Whithouse's (Being Human, Doctor Who) upcoming new spy series The Game.
Nice feature on Downton Abbey star Hugh Bonneville in The Telegraph
How James Bond film Skyfall became the biggest British movie ever.
Sherlock's Martin Freeman talks about his favorite The Hobbit toy, Sherlock Series 3 filming and meeting Lucy Liu from Elementary.
Skins star Will Merrick (possibly better known as Alo) will be making a guest appearance on the next series of Doctor Who.
Crisis avoided: Apparently Call the Midwife and Downton Abbey will not be facing off this Christmas Day.
Read a spoiler-free review of the Doctor Who Christmas special, The Snowmen.  And take a look at a bunch of new photos from the holiday episode this way.
The Hour's Ben Whishaw joins the cast of upcoming British drama film Lilting.
Watch the trailer for Channel 4's new holiday cartoon The Snowman and Snowdog.
Detective series Jonathan Creek to return for a 90-minute special for Easter 2013.
BBC Four orders new PG Wodehouse drama An Innocent Abroad.
More new guest stars revealed for the latest installment of Miss Marple films, including Matt Willis, Kimberley Nixon and Vic Reeves. Three new films are set to air on ITV in 2013.
Watch the trailer for Loving Miss Hatto a new upcoming BBC one-off drama featuring Victoria Wood.
Get your brand-new Downton Abbey merchandise right this way.
James Arthur wins the UK's The X-Factor.
Downton Abbey star Hugh Bonneville plays "Not My Job" on NPR's Wait Wait Don't Tell Me.
Good interview with Sherlock's Andrew Scott, who says he doesn't want to just play "pale versions of Moriarty".
Lots of rumors are going around that there might be less of a lag time between UK and US transmission of Downton Abbey. No idea if this will (or could) happen, but I support the idea!
Is Doctor Who a children's show? (Officially, yes, I suppose, but sometimes I wonder...)
---
By
for on December 9th, 2012
More to Love from Telly Visions