By
for on March 13th, 2013
New Doctor Who Companion Jenna-Louise Coleman Sticking Around for Series 8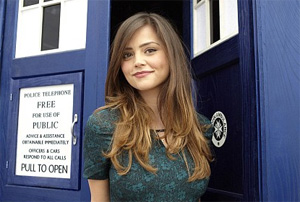 Jenna-Louise Coleman, who will be the latest companion to Matt Smith's Eleventh Doctor full time when Doctor Who returns for the back half of its seventh season on March 30, is apparently going to be sticking around the TARDIS for a while. Coleman has confirmed that she – and her alter ego Clara/Oswin Oswald – will be returning for Series 8.
Coleman revealed this news during an interview on Radio 5 Live with Richard Bacon. Unfortunately, she also confirmed that we might be waiting a bit to see Series 8 because the show will take a four month filming break following production on the 50th anniversary special (whatever that turns out to be) in order to accommodate Smith's role in upcoming film How to Catch a Monster. Filming on the new episodes will resume in September, likely on the Christmas special episode for 2013 – so it seems a safe guess that we probably won't see any of the actual Series 8 episodes before 2014.
You can listen to Coleman's full interview with Radio 5 Live below. She talks about filming the new season, her experience playing Clara, working with Matt Smith and more. It's actually a pretty cute interview all around, even not counting the fact that it includes breaking casting news. 
Coleman is adorable, so I'm largely pleased with this news, even though some small part of me is kind of hankering to going back to companions whose stay with the Doctor is relatively brief, at least for a bit. This is probably because, as much as I enjoyed Amy and Rory (correction: and loved Rory), the pair had outstayed their welcome for me by the end of Series 6. Hopefully, they can find a happy middle ground with Clara/Oswin, though a large part of that is likely to be connected to whether the resolution of the mystery surrounding who or what she is exactly is a satisfying one. (Current fangirl level: Cautious optimism.)
(Via Doctor Who TV)
---
By
for on March 13th, 2013
More to Love from Telly Visions