By
for on November 20th, 2020
Is Netflix's New 'Rebecca' Worth Watching?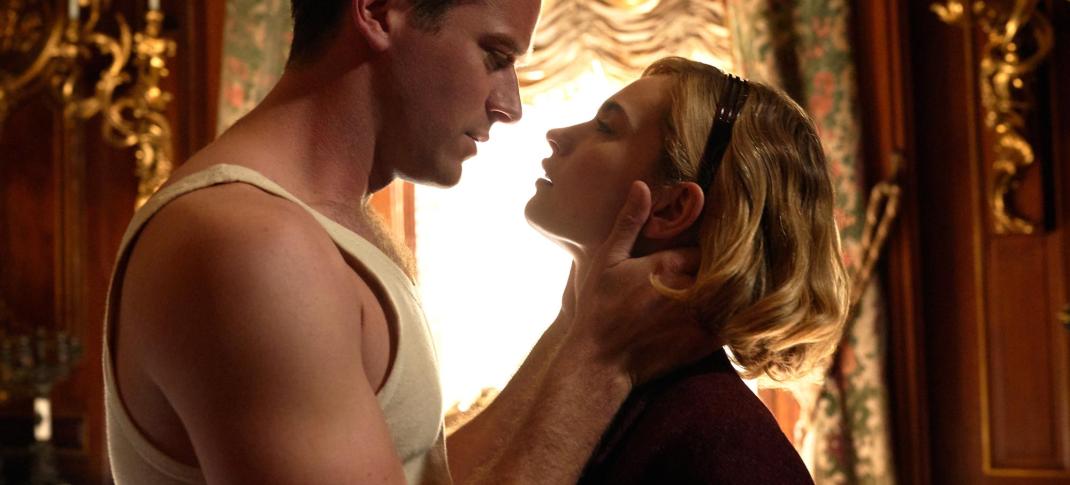 Last night I dreamt I went to Manderley again. It seemed to me I stood by the iron gate to the drive, and for a while I could not enter, for the way was barred to me. There was a padlock and a chain upon the gate. I called in my dream to the lodge-keeper, and had no answer, and peering closer through the rusted spokes of the gate I saw that the lodge was uninhabited.

Rebecca by Daphne du Maurier
Netflix's glamorous Rebecca sports a (mostly) great cast and gorgeous cinematography, but has the same sort of problem the second Mrs. de Winter has: An inevitable comparison with a predecessor, Alfred Hitchcock's 1940 Rebecca. The only one of Hitchcock's movies to win an Oscar for Best Picture, the dramatic story of the unfortunate wives of Maxim de Winter is told with just the right amount of over-the-top camp, eroticism, and scenery-chewing. It too had a stellar cast: Laurence Olivier snapping out lines like "I'm asking you to marry me, you little fool," with cut-glass precision; Joan Fontaine as the vulnerable second Mrs. de Winter; and Judith Anderson as the obsessive, dangerous Mrs. Danvers.
Even if you haven't seen Hitchcock's version, or read the book by Daphne du Maurier, you'll recognize these tropes, so strong is their influence on popular culture—copied, satirized, debunked. The literary roots go back at least a couple of hundred years to the Gothic craze of the long-ago eighteenth-century. We all like to be scared, don't we?
Or do we? Consider this scenario. A young woman with no friends, family, or job skills meets a damaged, charismatic older man. He lures her to his remote country house where she is isolated, demeaned, and gaslit. Is this really a story about abuse? You decide.
The director of Netflix's version is Ben Wheatley (Free Fire, A Field in England), best known for his edgy mix of horror and comedy, which suggests that he will be bringing a new and modern perspective to du Maurier's masterpiece. And thanks to the production and costume designers, Sarah Greenwood and Julian Day, the movie looks terrific.
Interestingly, Hitchcock scouted locations in England for the de Winter mansion, Manderley, and eventually gave up and relied on Hollywood sets. In the Netflix version, several historical locations were used, some of which you'll probably recognize, as well as the gorgeous coastal scenery. The opening scenes in a posh resort in the south of France feature an equally beautiful coastline and a very smart 1930s hotel.
Our heroine is played with charm and sweetness by Lily James, no stranger to costume drama (War & Peace, Downton Abbey). We do not learn her name until she marries and becomes the second Mrs. de Winter. Orphaned and alone, she is the browbeaten lady's companion to a vulgar American socialite, Mrs. Van Hopper (Ann Dowd, Aunt Lydia Clements in The Handmaid's Tale). She (Lily) catches the attention of the handsome, mysterious Maxim de Winter (Armie Hammer, Call Me By Your Name,) and rouses him from his stupor of grief and guilt. Unfortunately, Hammer's most memorable characteristics are his terrible mustard-yellow suit, a wavering English accent, and fresh-from-the-gym physique. (Lily James, by the way, has a surprisingly large wardrobe of adorable cute dresses and beachwear.)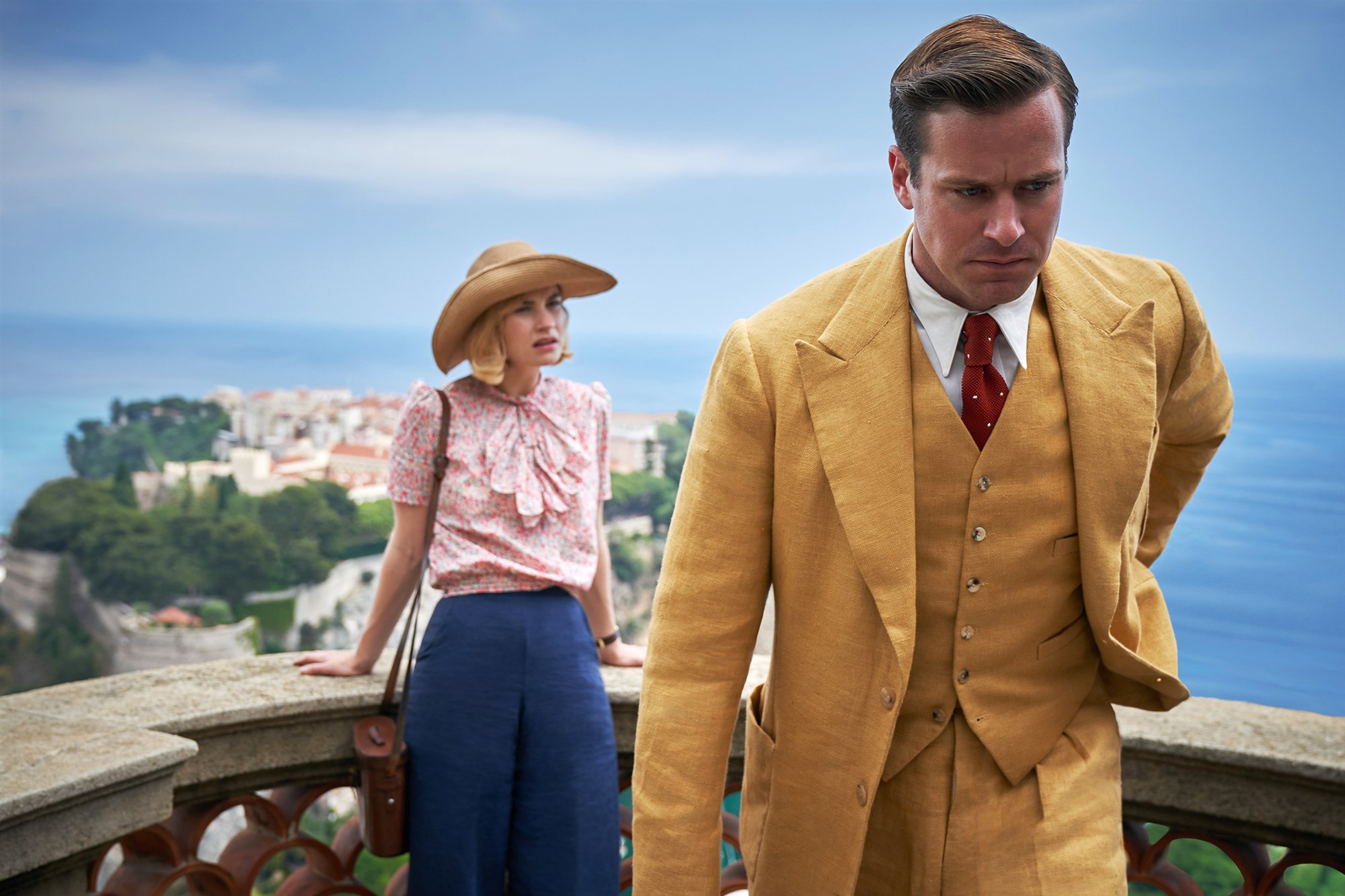 I'm afraid the line "I'm asking you to marry me, you little fool," is again deployed seconds before Lily is about to be whisked away forever by her employer.
After a blissful honeymoon, Maxim introduces his new wife to the other major character of the movie, his house, Manderley, ruled over by the sinister housekeeper, Mrs. Danvers (Kristin Scott Thomas, The English Patient) and stuffed with belongings of his dead wife, Rebecca. Nothing has been thrown away, and Mrs. Danvers is the chief curator.
Interestingly, Mrs. Danvers at first seems fairly normal, not improperly friendly of course, but given to the occasional snide remark; when Mrs. de Winter comments that she's never seen a house like this before, Mrs. Danvers responds, "Oh, I thought you'd been a ladies maid."  Ouch. And we gradually see Mrs. Danvers ramp up the insolence and malice as poor Mrs. de Winter, way out of her comfort zone, blunders around.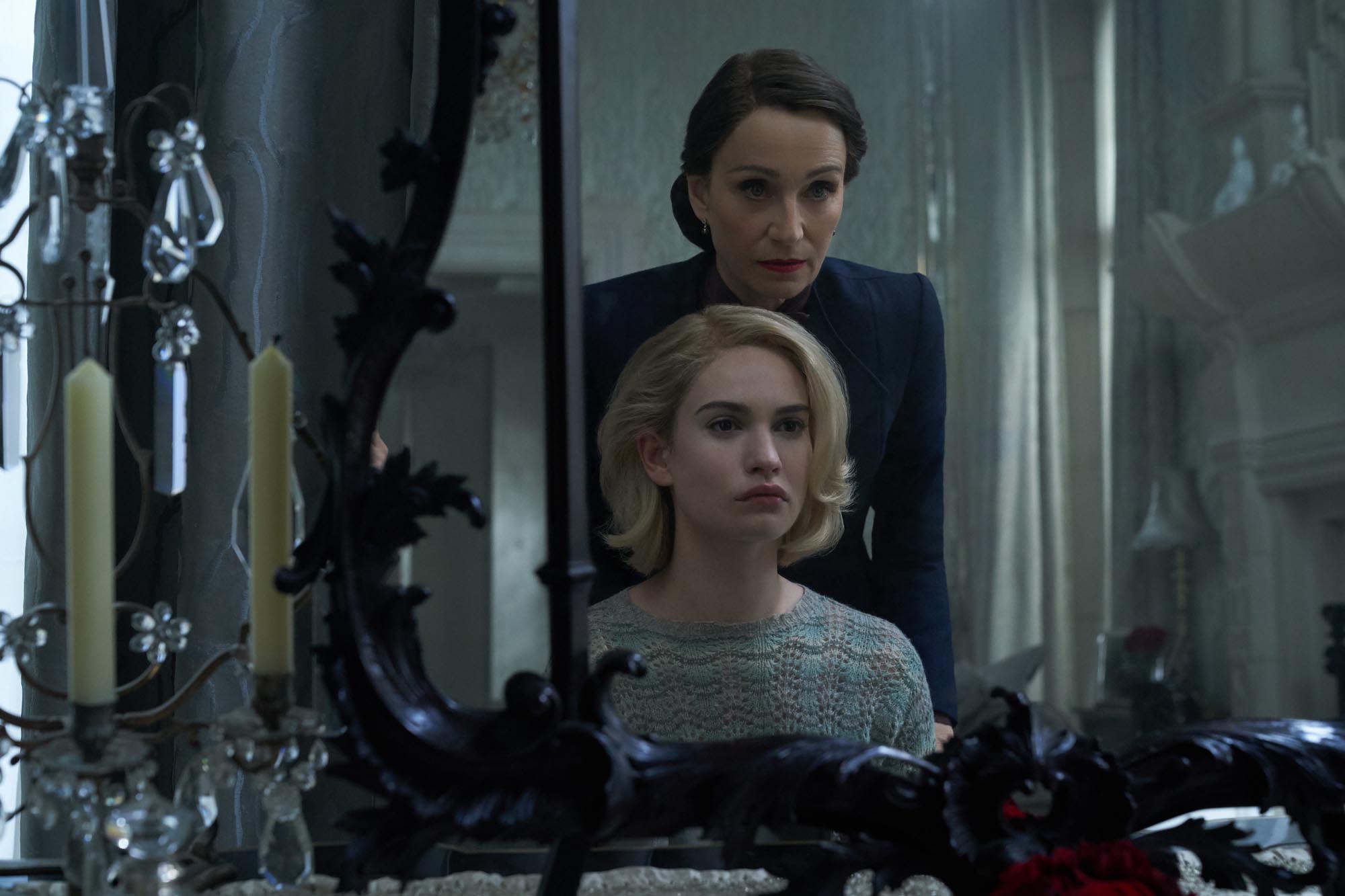 Maxim is out on estate business by day and sleepwalking by night, so he's not much use. In a misguided decision, the film-makers attempted to update Mrs. de Winter's attitudes for the 21st-century: For instance, she can drive, and Maxim lets her drive his big sexy car, and she even has opinions of her own occasionally. At one point she even fires Mrs. Danvers, who boomerangs back into the house for the story-line. It really doesn't add to the logic, such as it is, of the movie and weakens the Gothic craziness of it all.
And that brings us to Wheatley's direction. Given his other works, you'd expect him to break with tradition and revel in all the Gothic craziness, but there's very little innovation to be found here. There's a hallucinogenic nightmare of a costume ball in which Mrs. de Winter, on the advice of Mrs. Danvers, appears in a dress based on a family portrait. Unfortunately, it is the costume Rebecca chose for the last costume ball she hosted, and naturally, Maxim blames his current wife for the blunder. He's not the only one who gaslights her—Mrs. Danvers is his accomplice in eroding what little confidence and sense of reality Mrs. de Winter has, persuading her that Rebecca is still the mistress of Manderley.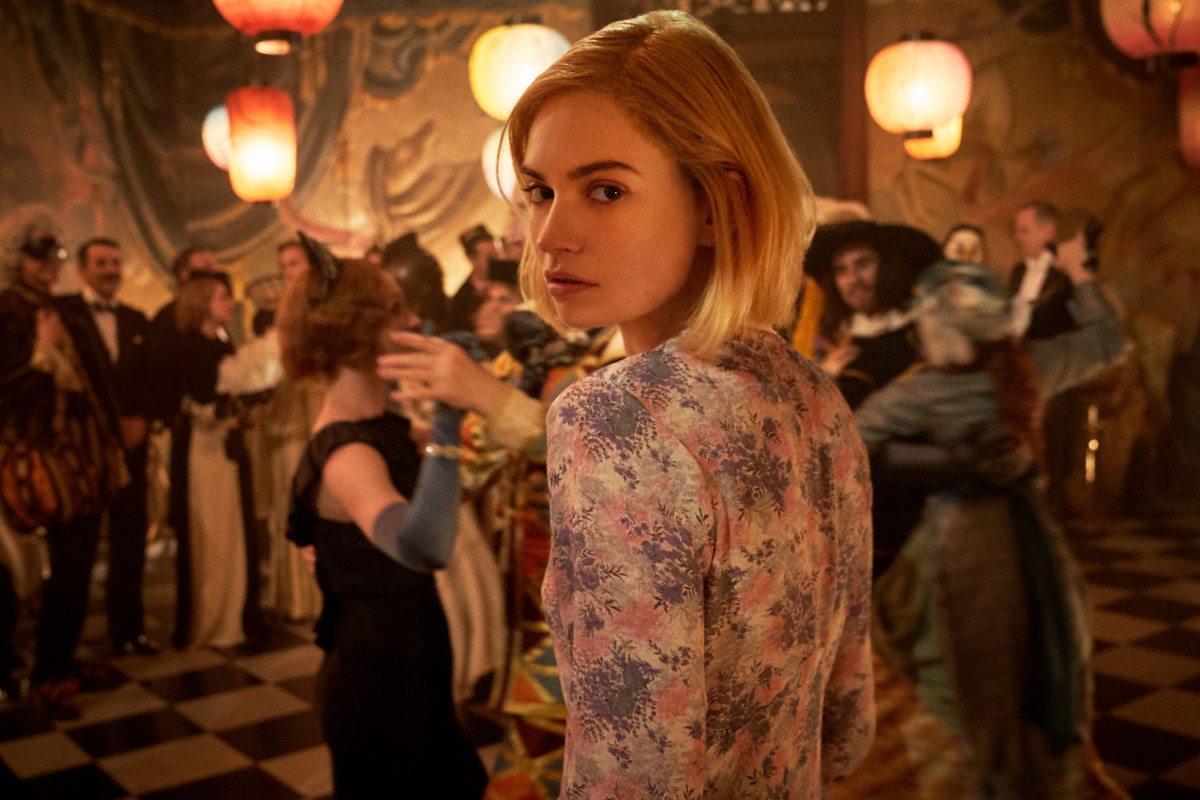 There's also some fairly creepy stuff featuring dreams, and a murmuration of birds that forms the letter R. But it's the sinister escalation of Mrs. Danvers's erotic obsession with her late mistress and the power struggle between her and Mrs. de Winter that catch your interest. Here's a clip from Hitchcock's 1940 masterpiece:
The ensuing drama when Rebecca's body is recovered from the sea, raising the possibility that Maxim was involved in her death, sees Mrs. de Winter fight to clear her husband's name. Essentially the movie fizzles out instead of providing any catharsis, Mrs. Danvers disappears, and there's an absurd epilogue featuring the de Winters as ex-pats in Egypt. You have to wonder if Manderley, where Rebecca's belongings were so lovingly maintained, was the equivalent of a Pharoah's tomb.
Have you seen this new Rebecca? What do you think?
---
By
for on November 20th, 2020
More to Love from Telly Visions