By
for on March 16th, 2018
Netflix's 'The Crown' Season 3: The Next Generation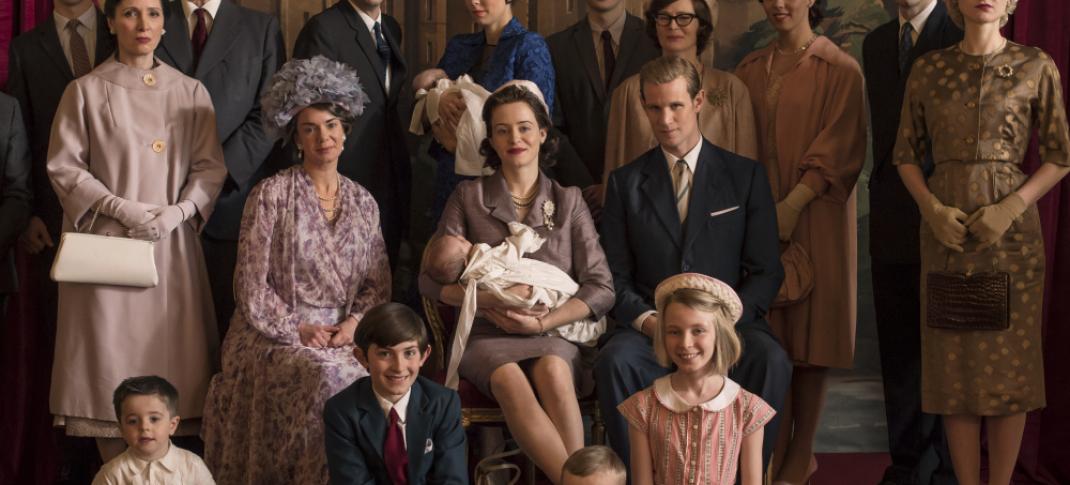 Netflix's The Crown enters its first major transition period as Elizabeth's generation are recast to age up, and Charles comes into his own.
The Queen Mother: No one wants complexity and reality from us. Do sit down.
When Netflix announced back in 2014 that they were commissioning an ambitious six season series from Peter Morgan, writer of the 2006 film The Queen, focusing on the life and times of the current reigning English monarch, the scale of what they were proposing shocked many. Not only were they greenlighting six seasons of a completely untested show sight unseen, they were committing to spending $100 million per season, an outrageous sum, even by prestige TV standards. But the real ambition was in scale. The six seasons would cover Queen Elizabeth II from her early 20s to her late 70s -- and rather than cast someone who could play her at one age and then be made up to do the rest, the show planned to recast the entire show every two years to age the characters up in accordance with the story.
The first two seasons of the series have thus far been everything Netflix hoped. A critical darling, a show that slow rolls to high ratings after the initial episode debut date, and award nominations and wins for Claire Foy in the title role, Netflix is getting what it paid for. But it's been two years, and now is the time for the first big promised upheaval: recasting Foy, Matt Smith as Prince Philip and Vanessa Kirby as Princess Margaret, as well as introducing the next generation: Prince Charles, Princess Anne, and Camilla Shand.
So far the series has managed to land actors for two out of the three main roles that must be recast. Olivia Colman of Broadchurch fame will take over from Foy in the lead role. Helena Bonham-Carter (Too Many Credits To Name) will get to chew the scenery as Margaret during her unhappily married years, taking over from Kirby. Philip so far has proved elusive, with the show working to land Paul Bettany to take over from Smith, but ultimately failing to close the deal falling. All three of these recasts are critical in order to stick the landing as it were, and prove to one and all that the concept of recasting instead of layering on the CGI and old age makeup wasn't the better choice. 
Meanwhile, when it comes to the younger set, casting director Nina Gold told Vanity Fair in an interview that they weren't looking for names to play Prince Charles and Princess Anne. Gold is legendary in her field, having cast such major series as Game of Thrones and films such as Star Wars: The Force Awakens. She's discovered everyone from Daisy Ridley to Kelly Marie Tran to Maisie Williams to Kit Harington. Her goal here is to do the same with The Crown: 
Not only are we casting real-life characters, but as we get closer to the present day, many of these people are very much alive. So, we have to honor them by picking the right actor to play them — while making a link between the actors who played these characters in the first seasons... We're unlikely to cast a major movie star. It's quite interesting and fun to try and find new or new-ish talent... Charles, Camilla, and Anne are going to be pretty interesting characters to follow, because they are just coming into their own. We've cast a pretty wide net for these new young characters.
Part of the issue they face is the chosen time frame. The show will pick up in 1964, right where it left off last season, and run through to 1973. (Yes, that means Princess Diana is not turning up this season since she didn't meet Charles until 1977.) But these are awkward ages to cover for Charles and Anne. He will be 16 when Season 3 begins and 25 by the end of it, a time when boys get hit by the puberty stick pretty hard. Anne will be 14 at the beginning of the season, and 22 by the end of it, another major life-and-body changing period. To find actors who can do both and be believable about it will be difficult.
While this will remain a show focused on Elizabeth and her troubles, many of the major set pieces coming in this season will focus on Charles and Anne. Charles will have his investiture about halfway through the season, at the age of 20 in 1969. Like Elizabeth's coronation, this will be a huge event, both in what it means in the world of royalty, but also in the televising of it. Anne will be married by the end of the season, getting engaged to Olympic gold-medal-winning horseback rider Mark Phillips in 1973. This will give the show its third royal wedding to stage in three seasons.
But perhaps the most important part will be the introduction of Camilla Shand, the woman who Charles falls head over heels in love with, but the Palace decides is not suitable. While he's away on tour with the Navy, she'll be told to not wait for him, and wind up marrying Andrew Parker-Bowles, who just happened to be the man Anne was dating before her marriage to Phillips. Considering that we know how all that turned out, it will be very interesting to see how the  show chooses to dramatize it, and if it will continue to stick to propaganda levels of sympathy towards both Elizabeth and Charles, especially since we the viewers know this is a decision that will backfire spectacularly in the long run. 
The Crown Season 3 is currently expected to arrive in December of 2018 on Netflix. 
---
By
for on March 16th, 2018
More to Love from Telly Visions