By
for on September 13th, 2022
'My Life is Murder' Season 3 to Premiere in October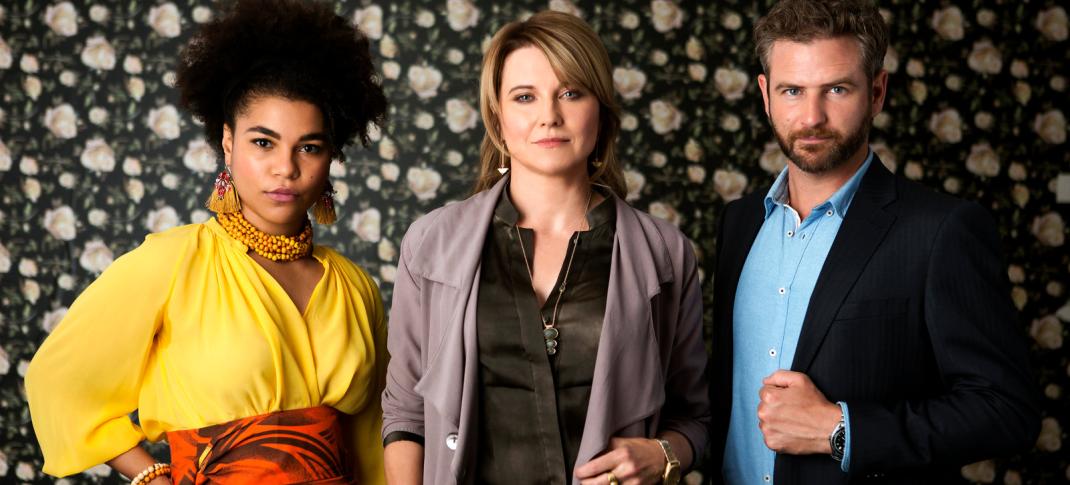 Lucy Lawless spent most of the 1990s a cult figure for her role as Xena, Warrior Princess, back in the old days of TV fantasy pre-Game of Thrones. She spent the aughts in another cult hit, Battlestar Galactica, as one of the Cylons (she was Number 3), which meant sometimes she got to play multiple versions of herself. For the 2020s, she's moved into mystery series with My Life Is Murder, an  Australian and New Zealand co-produced series released to little fanfare in 2019 but has picked up a following since the pandemic. 
My Life is Murder stars Lawless as former PI Alexa Crowe retired from the Melbourne PD. She currently makes ends meet by being a one-woman bakery source for the local Baristas Café. Naturally, her nosy nature can't leave well enough alone, and it;'s not long before she's solving crimes between bouts of bread dough. Season 2 moved the series from Australia to Auckland, so Alexa could "be closer to her brother," aka pandemic filming lockdowns making it impossible to travel from continent to island and back. Again, she takes to the baking stone, now delivering to a new place, Reuben's, between crime solving.
Like many of the down under series Acorn TV picks up, the series was starting to get popular up here as down under tired of it, so Season 3 was renewed by Acorn's parent company, AMC Networks, and is now the series' producer along with Network 10 and TVNZ 1. New Zealand got the first crack at airing the new season, though, starting the ten-episode run back at the end of August before it comes to Acorn TV in October. The series remains Auckland based in the new season, which seems to be a permanent change, despite the easing of filming rules.
Here's the My Life Is Murder Season 3 synopsis:
My Life is Murder returns with the retired detective and sourdough superstar Alexa Crowe in new episodes facing a raft of fascinating, powerful, and surprising suspects - from eccentric billionaires and grieving florists to tango dancers and fiery fashionistas. The only thing they have in common is that none of them are expecting Alexa's unique brand of crime solving... but they'll quickly learn that you underestimate her at your own risk. Her small 'found family' of fierce supporters will also be back - and that's before her actual family members turn up to add their own drama and chaos.
Lawless will once again be joined by Ebony Vagulans (The Furies) as partner Madison, Rawiri Jobe (Tatau) as her possible love interest Harry, Joe Naufahu (Game of Thrones) as café owner Reuben, Martin Henderson (Secrets and Lies) as Will, and Zeppelin as Chowder, Alexa's pet cat. Season 3 also adds Tatum Warren-Ngata (Ahikaroa) to the roster. Guest stars for Season 3 will reunite Lawless with fellow Xena and Hercules alums Jennifer Ward-Lealand and Craig Hall, plus Wellington Paranormals' Mike Minogue, among others. The series is partly executive produced by Lawless and Rachel Antony, Claire Tonkin, Harriet Crampton, Nicky Davies Williams, Pilar Perez, and Don Klees, and the producer is Mark Beesley.
My Life Is Murder Season 3 will premiere on Acorn TV on Oct. 10, 2022, following a weekly release schedule with ten episodes; new installments arrive every Monday.
---
By
for on September 13th, 2022
More to Love from Telly Visions