By
for on September 17th, 2023
'Mrs. Sidhu Investigates' is a Comfortable Cuppa of Familiarity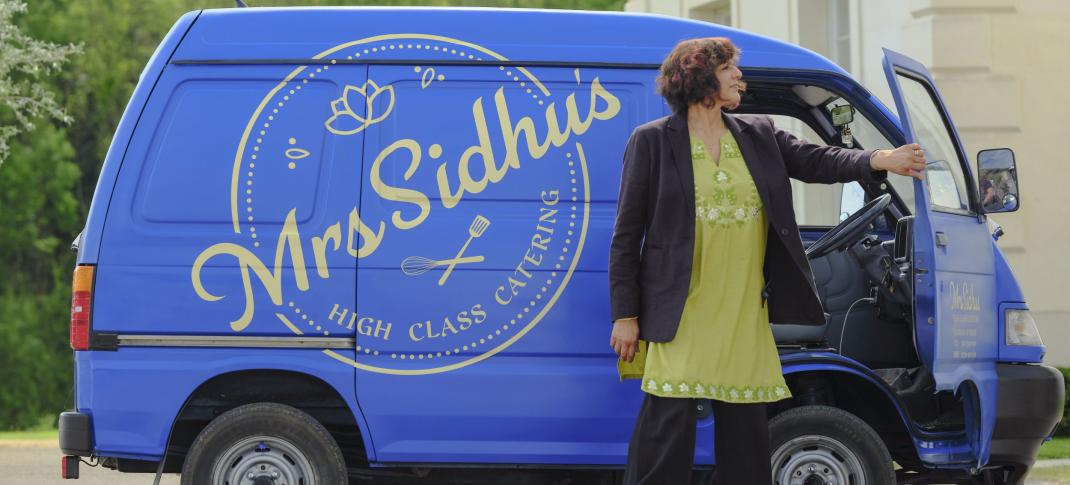 Do you prefer murder mysteries that don't make you think too hard?  Where, in the final five minutes of an episode, the criminal conveniently takes the time to confess all that they've done, including the how and the why? Why wait for legal representation and a trial? This approach certainly expedites things. 
Mrs. Sidhu Investigates is a formula you have seen many (many!) times before, from Murder, She Wrote to the more recent Poker Face. An amateur detective who can solve the crime way before the police can. Like Charlie on Poker Face, Mrs. Sidhu (Meera Syal) has a (bad?) habit of showing up just when a murder has occurred. And an even worse habit of walking right into danger. She's a caterer by trade and seems to happen upon a dead body at every new job she gets. (You have to wonder what her Yelp rating might be?) By the third episode, Inspector Burton (Craig Parkinson), is referring to her as the "Angel of Death." And I can't say I blame him for having her listed in his phone contacts as "do not answer." At what point does Mrs. Sidhu begin to think it's me, I'm the problem?
Each of the four episodes in the first season clocks in at around 90 minutes, giving the series an old-fashioned network TV Movie of the Week feel. With the aforementioned penchant for confessions combined with the bad guys behaving in not-so-smart ways (I mean, do they want to get caught? Is this something they should talk through in therapy?), the reason to tune into Mrs. Sidhu Investigates isn't for the plot (I was able to spot the bad guy exactly four out of four times). The reason to tune in is for the engaging performances, beginning with Syal, who reprises her role from the BBC Radio series of the same name. Mrs. Sidhu is a self-proclaimed "Indian Aunty" with a knack for being nosy, and Syal brings just the right amount of sass and charm to the role. Upon seeing a dead body, she announces that he has been "squeezed like a supermarket lemon." 
The conceit of the series is that because she's a woman over 50 in the service industry, Mrs. Sidhu can investigate and snoop around without people paying attention to her. "Never underestimate the cleaner or the cook," she says. Perhaps because of this, Mrs. Sidhu also has the ability to get everyone to immediately trust her. Sure, she may have just arrived on the scene, but that doesn't stop anyone from telling her, well, basically everything. "I didn't kill [him], but I'm glad he's dead; what does that make me?" one suspect asks her. "Not guilty," she replies. 

She can see clues others cannot, much to the chagrin of Burton, who rarely wants to hear her theories no matter how many times she is right. The rapport between Syal and Parkinson is a lot of fun. "Our first collar together! How exciting is that?" she exclaims at the end of the premiere. He's constantly exasperated with her even when he knows she is right. "We're not partners! It meant nothing," he screams at her at one point. But, as the episodes progress, Burton comes to appreciate the nurturing Mrs. Sidhu provides. And Parkinson's droll delivery of lines like "murder is so socially awkward, isn't it?" makes him a great comedic foil for the series. As Burton's partner, DS Mint, Naana Agyei-Ampadu needs more to do, but the potential for another great character is there.
 
Less fun is Mrs. Sidhu's interactions with her ne'er-do-well son Tez (Gurjeet Singh), who never met a job he didn't want to quit or get fired from. She loves her son and keeps giving him chance after chance after chance. Unfortunately, their rat-a-tat schtick isn't as funny as the show thinks it is. "Delete your first potty training video? What else am I going to show your future fiancé at our first supper together," is one of her typical retorts.
Shout out to the set designers who bring so much creativity to each episode's settings, be it an exercise studio or a medieval television show.  The set designers of the third episode clearly had a blast when Mrs. Sidhu visits a tech company where they have, among other things, ball pits for desks. 
 
Although the series is much like crime shows we've all seen before, what sets the show apart is that Mrs. Sidhu is Indian, and the show is steeped in Indian culture. "She's one pretend cousin too far," Tez tells his mother when she is offering to help her niece, who is not actually her niece. A shrine to her father, who was a police officer who died when she was a teen, and to her husband, who died a few years ago, lives in her kitchen cabinet so she can chop vegetables while occasionally making conversation and consulting with her late loved ones. 
 
The food Mrs. Sidhu cooks looks so good, and it is a missed marketing opportunity not to have recipes accompany each episode. Or spin-off webisodes where Mrs. Sidhu teaches us how to make some of her delectable creations. Mrs. Sidhu Investigates is a familiar and comfortable watch. But I feel like it could be a delicious one, too. 
Mrs. Sidhu Investigates premieres on Monday, September 18, 2023, on Acorn TV and streams one episode a week on Mondays through mid-October.
---
By
for on September 17th, 2023
More to Love from Telly Visions