By
for on September 15th, 2014
Miss Marple and the Lady Sleuths Who Have Followed in Her Footsteps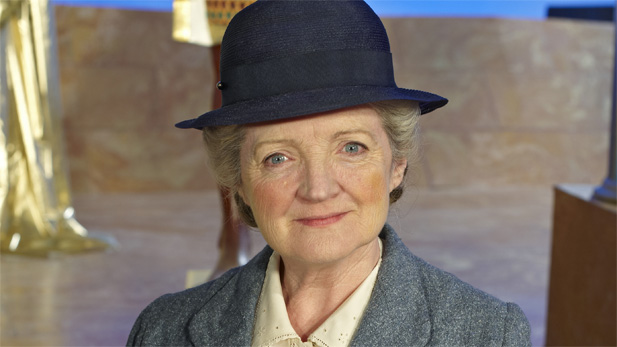 This weekend, fan favorite series 
Miss Marple
 returns to
Masterpiece Mystery
with two back-to-back episodes -
A Caribbean Mystery
premieres at 9pm EST, followed by
Greenshaw's Folly.
In these new installments,
Julia McKenzie
reassumes her role as Agatha Christie's beloved spinster who just so happens to be more adept at solving murders than the police.
(If you haven't seen it yet, you can watch a preview of the new episodes here.)
An astute and intelligent woman of independent means, Miss Marple first appeared in a Christie short story in 1926. Since then her sleuthing skills have been on display in books as well as on the radio and stage. In addition, Jane Marple has been portrayed on the big and small screens by no fewer than seven different actresses, including Dame Angela Lansbury in a film version of The Mirror Crack'd.
No doubt Agatha Christie's creation has inspired other non-law enforcement related detective characters of the female persuasion. Let's look at few who carry on the proud Miss Marple tradition.
The Miss Bradley Mysteries. Beatrice Adela Lestrange Bradley is a character created by Gladys Mitchell, a contemporary of Agatha Christie and fellow member of the Detection Club. Mrs. Bradley, a socialite widow with an in-depth knowledge of pharmaceuticals and psychoanalysis, first debuted in 1929 and eventually appeared in a series of sixty-five of Mitchell's novels.
Dame Diana Rigg brought Mrs. Bradley to life in a series of TV mysteries. Assisted by her loyal chauffeur George Moody (Neil Dudgeon), this brassy sleuth is excessively observant, well-versed in a plethora of subjects and likes to let us in on her inner thoughts from time to time.
The pilot episode of The Mrs. Bradley Mysteries, "Speedy Death", is available to stream on Netflix; however the rest of this lone series can't be found on any on-line service. Amazon offers it on DVD, but you might also be able to find it at your local library.
Rosemary and Thyme. Plant pathologist Rosemary Boxer (Felicity Kendal) and former police constable Laura Thyme (Pam Ferris) share a passion for cultivation and an inquisitive spirit. While working together on gardening projects, the ladies often dig up more than they bargained for which inevitably leads to this pair of friends getting tangled up in a murder investigation or two.
[This video is no longer available.]
You can stream all three series of Rosemary and Thyme on Netflix or Acorn TV. (Note from Lacy: Many PBS stations across the country also have the rights to broadcast Rosemary and Thyme, so check your local listings – it airs Friday nights here in the DC area on our WETA UK channel.
Field of Blood. Paddy Meehan (Jayd Johnson) is, in her words, "a copy boy" at a Glasgow newspaper, but she yearns to be a proper journalist one day. When a heinous child abduction leads to murder and a member of Paddy's own tight-knit family is implicated, the young woman tenaciously goes in search of the truth.
Field of Blood is a mini-series based on Denise Mina's Paddy Meehan crime novels.  Paddy is a smart, resourceful protagonist who digs into the past to find the real story and the real killer even when it means risking her own life. If you liked the mini-series State of Play or the film All the President's Men, Miss Meehan may well be your kind of detective. 
Featuring David Morrissey and Peter Capaldi, both Field of Blood and its sequel The Dead Hour are available on Acorn TV's online service. Amazon has the first series for sale on DVD as well.
Hetty Wainthropp Investigates. Hetty Wainthropp (Patricia Routledge) could quite possibly be going through a mid-life crisis since upon turning sixty she up and decides to try her hand at the private investigator game. With the aid of her young lodger and protégé Geoffrey (Dominic Monaghan), Hetty puts her common sense to the test in order to solve crimes that range from fraud, theft, arson and even murder. 
[This video is no longer available.]
Hetty Wainthropp Investigates can be ordered on DVD through Netflix. I also believe it is shown from time to time on PBS affiliate stations so check your local listings. (Note from Lacy: We've definitely aired Hetty Wainthropp in the past on WETA UK, keep an eye on our schedule if you're in the local DC area!)
The Bletchley Circle. Finally we come to those mysterious ladies of The Bletchley Circle. After the excitement and purpose of working as a code breaker during WWII, Susan Gray (Anna Maxwell Martin) is finding domestic life a bit boring. When she detects a pattern in the locations of a series of murders in the London area, Susan calls in her former colleagues from Bletchley Park to help her solve the code, as it were.  
Also starring Julie Graham, Sophie Rundle, and Rachael Stirling, the Bletchley Circle continues to use their rather considerable and combined brain power to solve further conspiracies and murders despite putting their own lives in jeopardy. Series One of The Bletchley Circle can be streamed on Netflix while both series are available on Amazon Instant Video.
These are just some of the females who have carried on the good work of the indomitable Miss Marple. While each one is a fictional character, they serve as fine examples of clever, brave and strong-willed ladies who pursue the truth even when it isn't socially acceptable for women to speak their minds let alone show off their intellect.
Now it's your turn! Share your favorite amateur female sleuth, either from this list or one I didn't mention, and tell us why you think she's such a great detective.
---
By
for on September 15th, 2014
More to Love from Telly Visions