By
for on September 16th, 2023
8 Agatha Christie Adaptations to Watch Instead of 'A Haunting in Venice'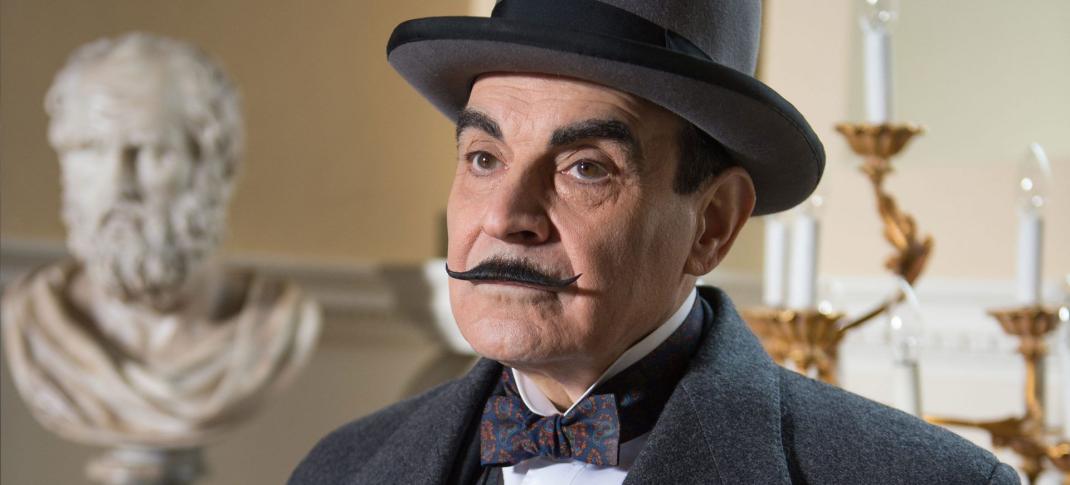 The British have been exporting their cultural capital since William Shakespeare first hit the big time in the 1600s, and it seems that every century, they add to the list. While not all have stuck, the 1900s brought Agatha Christie, whose popularity and prolific output have made her a staple of mystery reading and on-screen adaptations. However, not every portrayal of Christie's famous detectives, among them Hercule Poirot and Miss Jane Marple, was created equal. This has only become more evident recently, as Kenneth Branagh continues to put on a clinic of "How Not To Play Poirot."
Branagh's latest outing as the famous detective is slightly better than his previous attempts at being a mustachioed Belgian. Death on the Nile and Murder on the Orient Express, both direct adaptations of two of Christie's finest novels, were practically unwatchable despite an A-list lineup due entirely to the miscast Branagh. For the third film,. Branagh decided to do himself a favor by going in the other direction. A Haunting In Venice takes one of Christie's worst novels (Hallowe'en Party, written towards the end of her life). It rewrites it so substantially Branagh's faux-Poirot fits into the story properly for once.
However, unless Branagh plans to rewrite Christie's least famous works for his own ends from here on out, it would be for the best if the world stopped encouraging his predilection for blaspheming one of his country's greatest writers. Here now is a list of other, far better adaptations of Christie's work to watch instead of A Haunting in Venice.
While Branagh has been accenting it up over in other feature films, Searchlight Pictures released See How The Run, a new adaptation of the longest-running Agatha Christie play The Mousetrap. Starring a murder's row of stars, including Saoirse Ronan, Ruth Wilson, Reece Shearsmith, Harris Dickinson, and David Oyelowo, this laugh-out-loud comedy is as delightful as it gets. 
See How They Run is streaming on Max.
'Agatha Christie's Poirot'
David Suchet's definitive portrayal of Hercule Poirot first began in 1989 in a show that was initially called Poirot when it aired its first episodes from January to March of that year. The original run of the series, under the mononym moniker, ran six seasons through 1995, with the final episodes airing in the U.S. on Masterpiece Mystery! in 1996. However, the series was so popular and Suchet willing to continue that it returned in 2000 with Season 7 and the refreshed name.
The series then ran on and off over the next decade with five more seasons, ending in 2010. The show returned for one last hurrah in 2013, ending with Christie's final Poirot story, in which the detective passes. Over those 13 seasons, the series hit every Poirot story in the cannon, plus a few non-Poirot ones reconfigured to star the detective. It is considered among Christie fans to be the definitive collection.
Though all episodes initially aired on PBS stations, PBS Passport only currently has Seasons 10-12. The rest are available on BritBox.
1974's 'Murder on the Orient Express'
Albert Finney only ever played Poirot once in his life, but it was the right one: the original Murder on the Orient Express feature film, with a who's who of the era, including Lauren Bacall, Ingrid Bergman, Sean Connery, Jacqueline Bisset, Jean-Pierre Cassel, John Gielgud, Vanessa Redgrave, Michael York, Wendy Hiller, and Anthony Perkins. If you're trying to figure out what Branagh is aping in his films, this is the one to watch.
Murder on the Orient Express is streaming on Paramount+.
'Agatha Christie's Marple'/'Miss Marple'
With the success of the long-running Hercule Poirot series on ITV, the U.K. network commissioned a twin series, Agatha Christie's Marple, starring Geraldine McEwan for the first five seasons until she retired, and the role was taken over by Julia McKenzie. However, for my money, the far superior adaptation is the original 1980s Miss Marple, starring the late Joan Hickson, who was Christie's personal pick to play the role.
Luckily, viewers don't have to choose, as both Miss Marple and Agatha Christie's Marple are available to stream in full on BritBox, which has the largest collection of Christie adaptations as part of its offerings.
Sarah Phelps' Christie Adaptations
Suchet's retirement from Poirot opened up the British TV landscape to a new generation of adaptations, the first set of which was developed by writer Sarah Phelps. Her first two adaptations, And Then There Were None and The Witness for the Prosecution, sported killer casts that included Charles Dance, Sam Neill, Miranda Richardson, Anna Maxwell Martin, Toby Stephens, Burn Gorman, Noah Taylor, Aidan Turner, Toby Jones, and David Haig.
All three episodes of And Then There Were None, and the feature film The Witness for the Prosecution are both streaming on Acorn TV.
Peter Ustinov's Hercule Poirot
Just before Suchet took up the mantle, the closest to a definitive Hercule Poirot performance was that of the late Peter Ustinov, who played the detective in three feature films from 1978 to 1988. His best-known is the first one, Death on the Nile, which co-starred Maggie Smith, Angela Lansbury, Mia Farrow, and Bette Davis. Evil Under the Sun, which followed in 1982, co-starred Smith again, this time with Diana Rigg and Roddy McDowell. His last, Appointment with Death, brought Bacall and Gielgud into the Ustinov fold and co-starred Carrie Fisher, Piper Laurie, and Hayley Mills.
Once again, this is a far superior version of Death on the Nile than Branagh's, and even better, it's streaming for free on FreeVee. Appointment with Death is also streaming for free, on Tubi, while Evil Under the Sun is part of the giant Christie BritBox collection.
Sarah Phelps' Poirot & Others
The popularity of the first two of Phelps' adaptations attracted the attention of Amazon Studios, who helped fund the next three, ensuring they would stream on the Prime Video channel. These included Phelps' only Poirot story, The ABC Murders, with John Malkovich's extremely strange turn as the detective, Ordeal By Innocence, starring Bill Nighy, and The Pale Horse with Rufus Sewell.
Ordeal by Innocence, The ABC Murders, and The Pale Horse are all available on Prime Video.
'Knives Out'/'Glass Onion'
For those looking for something more modern, Rian Johnson's Knives Out & Glass Onion are the definitive heirs to the Christie legacy. All-star casts playing moneyed suspects, a detective whose accent and background mean the upper classes disrespect him, and whodunit that would make Dame Agatha smile, these two films (and the third coming in  2024) are delights.
Knives Out is streaming on TNT, and Glass Onion on Netflix.
---
By
for on September 16th, 2023
More to Love from Telly Visions