By
for on June 16th, 2014
'Miss Fisher's Murder Mysteries' Will Return For A Third Season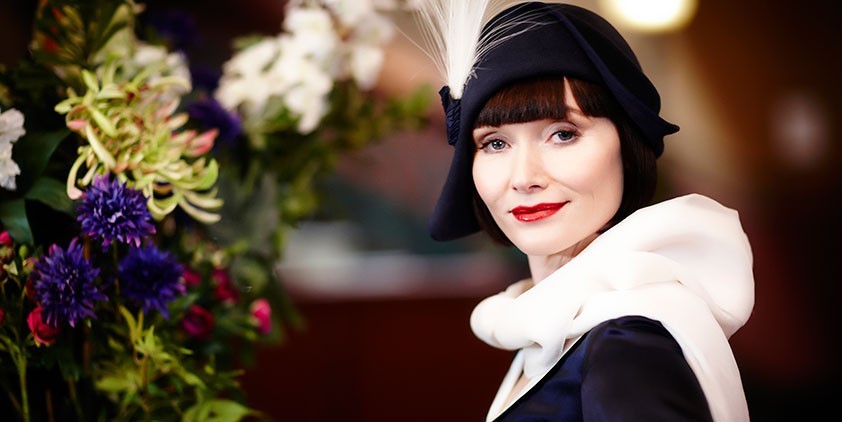 Good news for mystery fans! The Australian period series Miss Fisher's Murder Mysteries has been officially renewed for a third season by the Australian Broadcasting Corporation (ABC), according to the show's official Facebook page. (Yes, Miss Fisher isn't strictly a British show – but as a Commonwealth country, Australia kind of counts, and, many fans of British mysteries have seemingly fallen in love with the show and its exceptionally well-dressed heroine. We can make an exception, I think.)
Based on the best-selling novels by Kerry Greenwood, Miss Fisher's Murder Mysteries follows the adventures of a glamorous female detective in 1920s Australia who battles injustice with a sharp wit and a pearl-handled pistol.  Essie Davis plays the fabulous Phryne Fisher, opposite Nathan Page as Detective Inspector Jack Robinson, Ashleigh Cummings as Miss Fisher's loyal companion and assistant Dot and Hugo Johnstone-Burt as Constable Hugh Collins.
Producers Fiona Eagger and Deb Cox are thrilled to be making a third series. "We are elated to be bringing more Miss Fisher to our loyal fans – both within Australia and from around the world. They have provided us with so much passionate support it seems only fitting to reward them with more episodes of Essie's virtuoso performance as our daring, cheeky and impeccably-dressed heroine, Phryne Fisher."
The producers also confirmed to IF Magazine that all the show's cast members would be returning (yay!) and hinted that Series 3 would feature magic, possibly the military, and maybe even a wedding.
The series is returning in large part due to prolonged fan support – Australian fans have been heavily campaigning for months – as well as its considerable success in international markets. It's been sold to over 120 countries, including the US, Canada, the UK, Asia and Latin America.               
Series 3 is currently being written and filming is set to start in mid-October in Melbourne.
Are you a fan of Miss Fisher? Excited about the prospect of another season? What would you like to see happen?
---
By
for on June 16th, 2014