By
for on August 15th, 2020
'Miss Fisher's Murder Mysteries' Season 3, Episode 7 Recap: "Game Set Murder"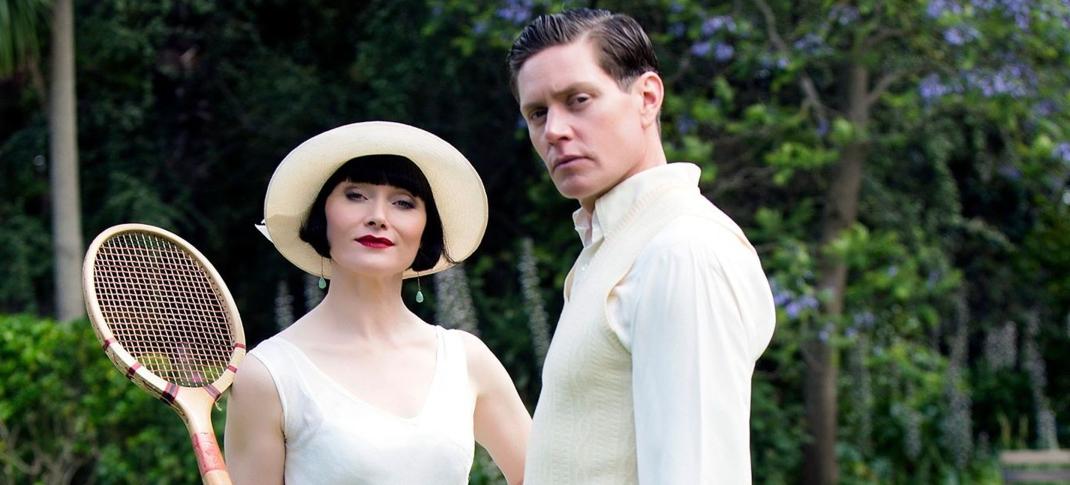 Miss Fisher's Murder Mysteries only has two episodes left in its final season, so Hugh is back, with a promotion to Senior Constable. Just in time too, as this week begins on the tennis court locker rooms, where someone adds a spider to the shoe of a lady's tennis whites.
As one would expect, the spider does not take kindly to being worn. Not to worry, it's Phryne's tourney, held at Prudence's house. (She's vacated for the week, as she hates ball sports, and I believe there's a rule Miriam Margolyes can't be in back to back episodes.) Phryne's not alone when the body is found, her cousin Stanley Burrows (Jeremy Lindsay Taylor) and his new wife Constance (Lauren Williams) are here to play.
Burn: I'm getting sick of toffs acting holier-than-thou when they should be thanking me for exposure.
Constance is a rising tennis star, and it's her practice partner who is dead, Belinda Rosewell, another up-and-comer in the tennis world. Fisher immediately calls in Jack, who notes that there are no lethal spiders in the county, at least not natively. But she may not have been the intended victim. These were Constance's shoes, which she told Belinda to use. As for the spider, it pops out of Belinda's bag as Phryne searches for contact information for the family, sending her straight up a bench. (As a person terrified of spiders, I take wholehearted comfort that Phryne shares my well-founded fear.)
Mac identifies it as a Sydney funnel-web, which makes it even less likely to have accidentally traveled with the Burrows in their luggage, as these are spiders that hate open spaces like tennis courts. When asked, both Constance and Stanley mention the same tennis rival who tries to put Constance off her game, American Angela Lombard (Ella Scott Lynch). Angela is the current world champion and the U.S. champion and sees Constance as a threat, especially since Constance is well-funded through her new husband, while Angela is in the midst of a nasty divorce. She's also one of the invitees to Fisher's tourney, staying on a nearby houseboat, the SY Ena, at Fisher's expense.
Conveniently, there's a cocktail fundraiser planned on the boat the next day, to raise funds to send Australian women to play worldwide. (Currently, only men get the luxury of having their way paid.) Angela has an alibi for Belinda's death, though, as she was off shagging her new boy toy, Terence Lawson (Charles Cottier). Lawson is genuinely concerned when he learns the attempt was aimed at "Connie," who he used to be keen on. Constance is amused to find this out, insisting she'd never noticed. Stanley's more concerned pararazzi photographer Fredrick Burn (Fletcher Humphrys) is trespassing in Fisher's garden, trying to get snaps. They filed a formal complaint once already after he wouldn't leave Constance alone in Sydney.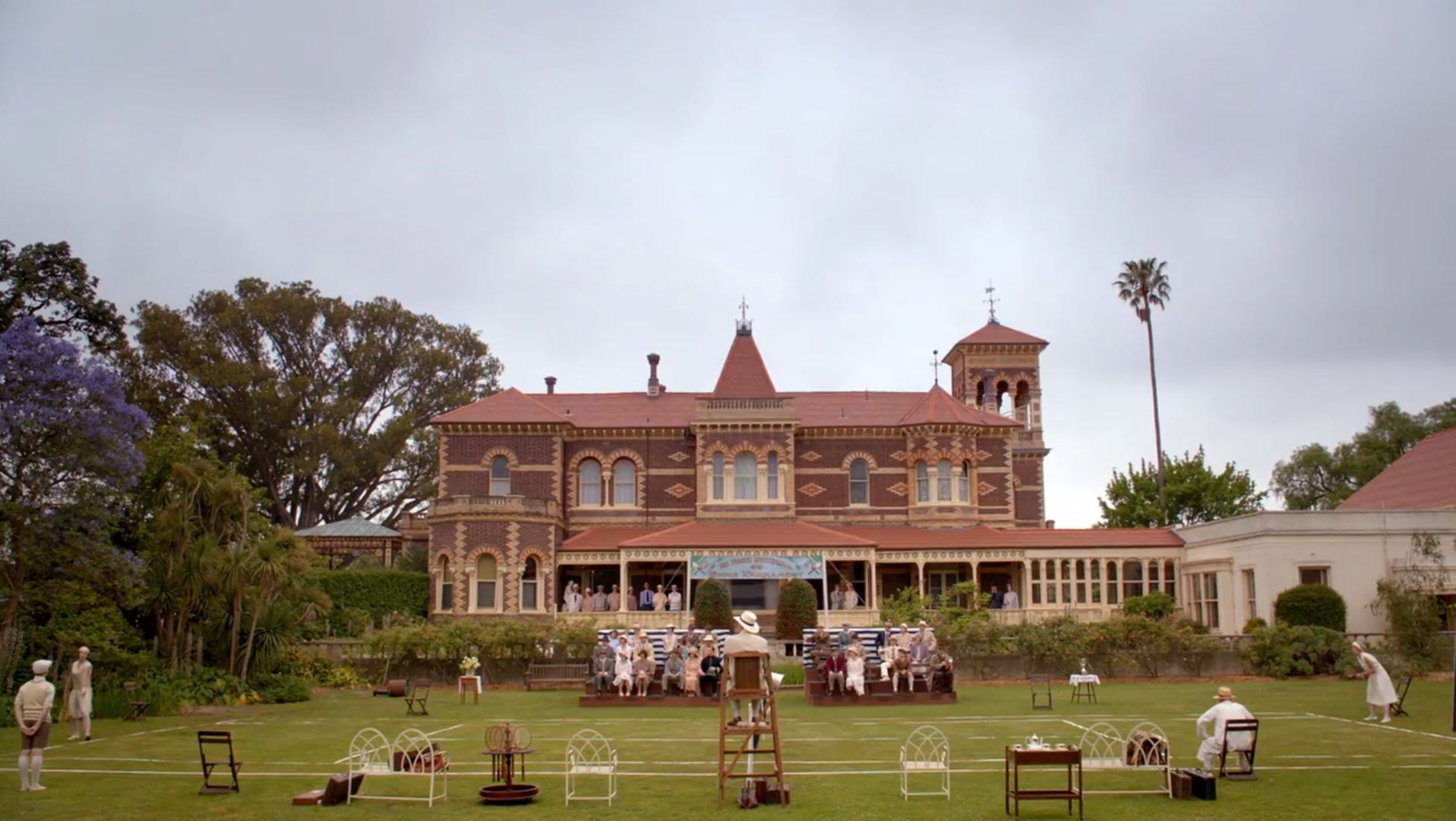 Burn has already meddled, running a photo of Robinson and Fisher, calling him her "ball boy," leading the Commissioner to forbid Jack from solving cases with a civilian. Jack responds by making Fisher a "Special Constable." The two then head to Burn's house, where  Fisher picks up a stack of pictures and realizes they're porn. Burn makes a run for it, as he's been charged before for "indecent content." But he's definitely on the take from someone paying him in American whiskey. He's also running other pictures of Dot and Hugh in a compromising position, setting both their mothers off, despite the impending wedding.
Meanwhile, Constance has noted she's gotten a little thick for one of her evening gowns, so Dot sets up to let out the seams when she discovers a hidden picture in the matching reticule of Connie and Terence looking very couple-like. He admits they were dating, and confronted with it, Connie admits she lied. But her affair wasn't a secret. Stanley proposed to her knowing she and Terence were a thing. Constance took time off to think things through and realized she loved Stanley. After Angela plays a prank to scare Connie, Jack realizes Angela drinks the same American whiskey Burn had. Angela admits she's been paying the man. But murder? Please.
Someone is trying to end the investigation, though; Phryne discovers a spider in her room. It was just to scare her, as it was a common trap-door spider, but Jack suggests he should attend the cocktail party, anyway. Fisher says he'll ruin her ability to raise money. As Dot keeps Angela entertained as Sydney's newest "racy dame," Fisher sneaks off to discover Angela's got a new American contract for tennis shoes via a Mormon company, contingent on winning all her Australian tourneys. Also, Terence's tennis whites have a rip matching a piece found in Fisher's bedroom. Meanwhile, Dot overhears Stanley accuse Connie of not wanting to have sex because she's still in love with Terence.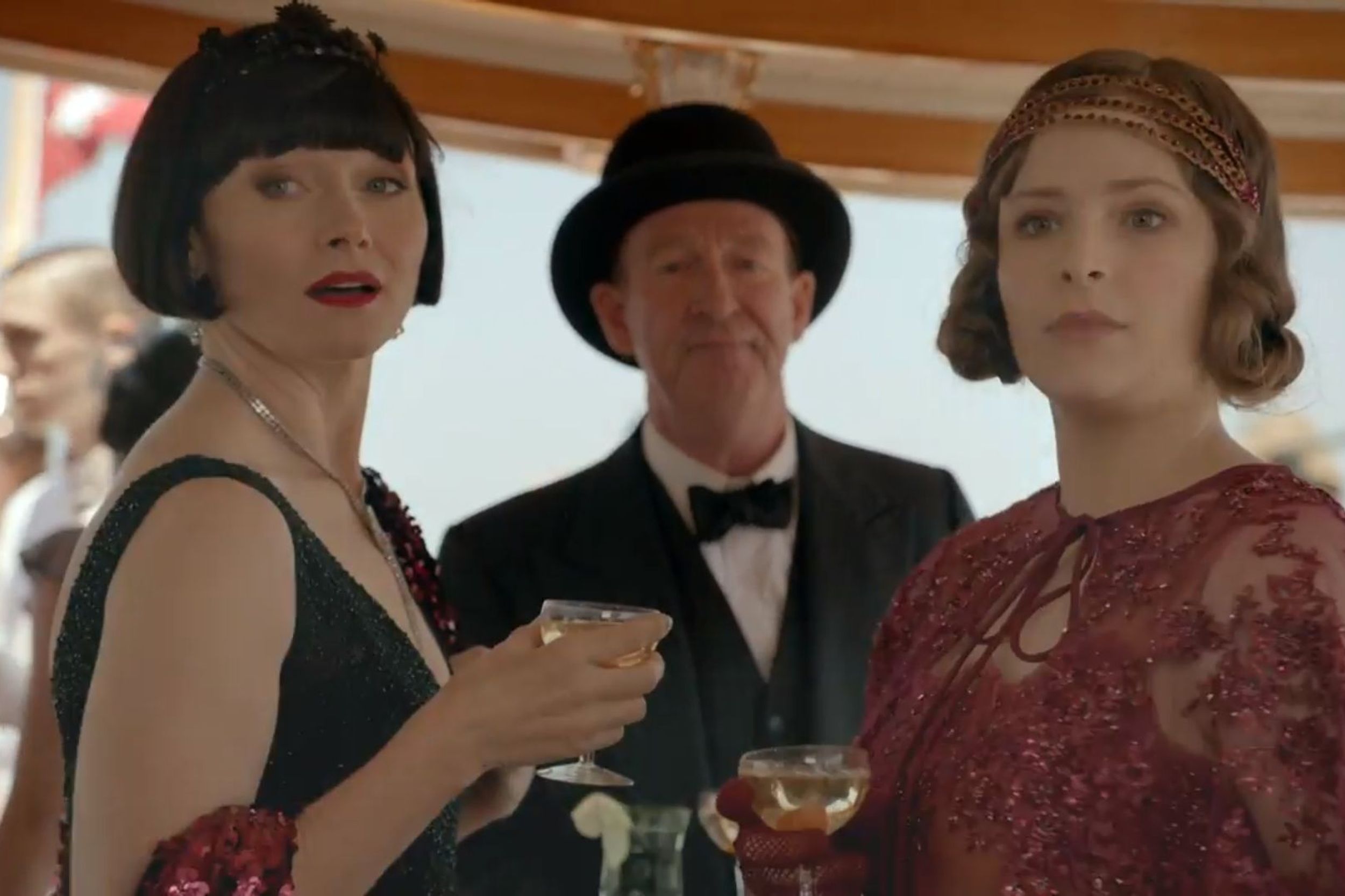 Stanley's suspicions inspire Fisher to check Constance's things, but instead, she finds a nude photo of Belinda in Stanley's bag, taken by Burn. Perhaps Belinda was the intended victim? Burn admits he was paying Belinda for "off the record" pictures of Constance. But she called off the arrangement, Burns assumes because she was get paid better by someone else. Connie admits she convinced Belinda to seduce Stanley, but she says she wasn't paying Belinda. She was just desperate to focus on winning.
It turns out Angela paid Belinda. The girl caught compromising photos of angela and Terence having sex that would have risked Angela's American shoe contract. But Angela insists she just bought "a" picture, and had no idea there were two. However, Belinda's bank account shows she was paid for both. As Fisher looks over the 11th photo, she realizes Connie's in the background, trying to clean her bodice. Dot's been worried Connie was ill, poisoned by the tea she endlessly drinks. But Fisher realizes the tea is to stop the flow of breast milk. Connie gave birth to Terence's baby when she "went away to think things through" and married Stanley when she came back because Terence couldn't support her career.
Connie admits she's been desperately hiding her post-pregnancy, which would end her career if it got out. She killed Belinda when the girl put it together after seeing the photo. Stanley realized Connie was the murderer when he found the spider jar in her things. He planted the spider in Fisher's room to throw suspicion at Terence and Angela, hoping Terence would wind up arrested.
The tourney may be a bust, but at least Phryne and Jack can play together on the lawn before retiring her "Special Constable" title.
---
By
for on August 15th, 2020
More to Love from Telly Visions