By
for on February 13th, 2019
'Miss Fisher's Murder Mysteries' Movie, Spin-Off Coming to Acorn TV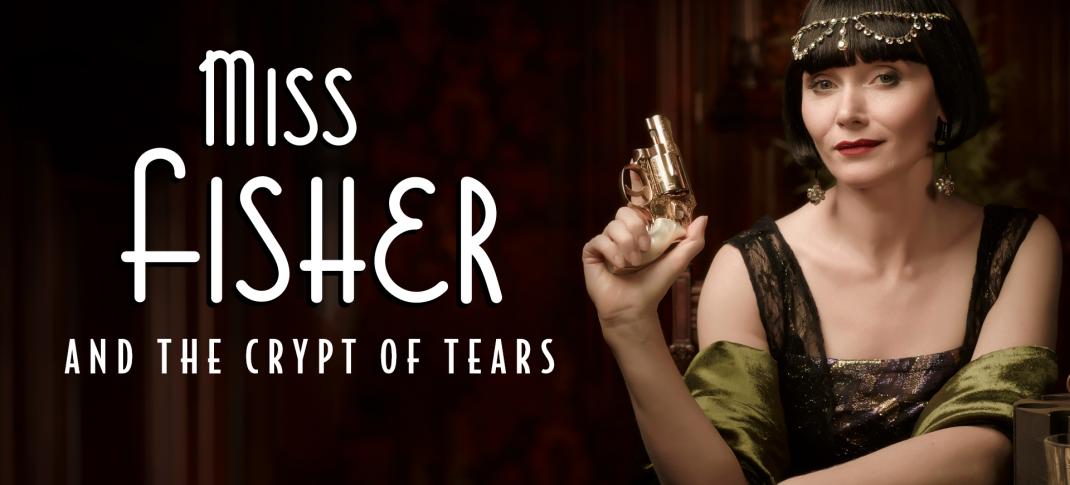 Acorn TV announces an exclusive partnership with Every Cloud Productions, with streaming rights to both Miss Fisher & The Crypt of Tears and new TV series, Ms Fisher's MODern Murder Mysteries.
If you thought the Television Critics Association news began and ended for Telly Visions with the PBS panels, think again! The Press Tour runs a full two weeks and includes not only broadcast and cable channels, but also streaming networks, both big-time players like Hulu and Amazon, and the more niche favorites like BritBox and Acorn TV. 
The week kicked off with BritBox's slate for 2019, including the original family drama There She Goes, starring David Tennant, premiering this coming April. The service also announced a partnership with Philomena writer Jeff Pope, which plans to produce multiple mystery series and true crime serials.
Acorn TV followed with a panel on Tuesday afternoon. While most of its session focused on the streaming service's original programming offerings, including Manhunt, London Kills, and Queens of Mystery, the most significant announcement involved Acorn's continuing exclusive partnership for first-run rights to all things related to the popular drama Miss Fisher's Murder Mysteries.
Acorn TV was actually the first to stream the series in the U.S. in 2013, even though most viewers discovered either during its second run on their local PBS stations or when it went to Netflix. Now, with streaming services more front-and-center in viewers' lives, the service has scored a deal to exclusively provide the original three seasons here in the States, as well as premiere both the upcoming movie Miss Fisher and the Crypt of Tears, starring Essie Davis, and the new 1960s-era spinoff, Ms Fisher's MODern Murder Mysteries, starring Geraldine Hakewill.
Don Klees, Vice President of Programming for the Acorn brands at RLJ Entertainment, put out the following statement via press release:
After first introducing U.S. audiences to the fashionable Miss Phryne Fisher in 2013, Acorn TV is thrilled to work with Every Cloud Productions and all3media on her highly anticipated return in a gorgeous, cinematic film, The Crypt of Tears, as well as introduce audiences to her equally fashionable and entertaining niece Peregrine Fisher in Ms Fisher's Modern Murder Mysteries. With these new acquisitions as well as Judy Davis's Mystery Road, Guy Pearce's Jack Irish and Marta Dusseldorp's A Place to Call Home, Acorn TV remains a leading destination for bringing U.S. audiences the best in Australian television.
The press release also included updated synopsis of both the film and the new TV series.
Miss Fisher & The Crypt of Tears still doesn't have a release date in the U.S. beyond "2019," but the press release confirms the big screen production will run "in select theaters" across America, as well as stream exclusively on Acorn.
The highly anticipated feature film, Miss Fisher and The Crypt of Tears, continues the story of global sensation Miss Fisher's Murder Mysteries, which aired for three seasons. Essie Davis returns in the five-time Logie-nominated role that made her a worldwide star.

Set in the late 1920s, The Crypt of Tears follows the Honourable Miss Phryne Fisher on a Middle Eastern adventure in search of an ancient treasure. The film features several series regulars, including Nathan Page as Detective Inspector Jack Robinson, Miriam Margolyes as Aunt Prudence and Ashleigh Cummings as her loyal assistant and maid Dorothy 'Dot' Collins.
As for the TV series, Ms Fisher's MODern Murder Mysteries' synopsis emphasizes the ensemble nature of the new drama, particularly the young Ms. Fisher's "Adventuresses' Club."
It too does not have an official U.S. release date beyond "2019," but one would assume the new show coming to the States will be timed to coincide closely with Miss Fisher & The Crypt of Tears.
In 1964, when the famous aunt she never knew, Phryne Fisher, goes missing over the highlands of New Guinea, the gorgeously reckless Peregrine Fisher (Geraldine Hakewill) inherits a windfall. Peregrine sets out to become a world-class private detective in her own right with the unerring guidance of The Adventuresses' Club, a group of exceptional women of which her celebrated aunt was a member.

A natural rule breaker, Peregrine is fearless, fun, and charmingly down-to-earth, as well as having a keen instinct for solving crimes. With newfound wealth and The Adventuresses to hone her rough edges and become the family she's never had, Peregrine is unstoppable. The series co-stars Joel Jackson (Peter Allen: Not The Boy Next Door, Deadline Gallipoli) as smart, ambitious cop Detective James Steed and Catherine McClements (Wentworth) as Birdie, an ex-member of WW2 Special Forces and head of The Adventuresses.
Whether the new Ms Fisher sequel series or the Miss Fisher movie will find their way to PBS on the second run is still up in the air at this time, but chances are if they do it won't be until 2020 or 2021 at the earliest.
Are you looking forward to more adventures in the Miss Fisher universe? Let's discuss in the comments! 
---
By
for on February 13th, 2019
More to Love from Telly Visions