By
for on February 5th, 2019
'Endeavour' & 'Grantchester' Heat Up The Television Critics Association Press Tour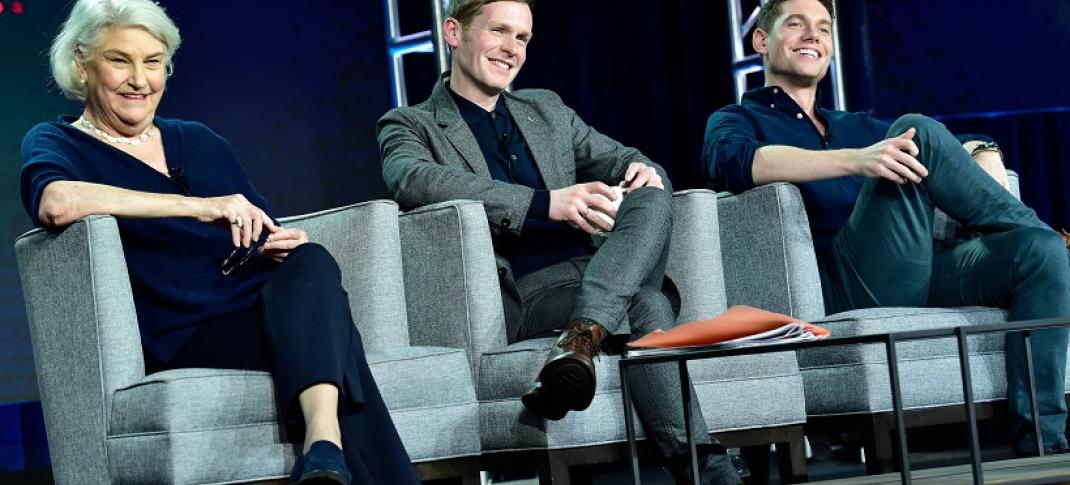 Twice a year, the TV critics of the U.S. get together in Los Angeles for what is known as the TCAs, the Television Critics Association Press Tour. They aren't the ones touring though. Instead, over two weeks, broadcast and cable heads come to them to present forthcoming and favorite programming and talk about the state of their channels. PBS has the distinction of having two days of the event to themselves, which covers a wide variety of the Public Broadcast offerings, from Great Performances to history shows like Henry Louis Gates' forthcoming Reconstruction series. This year also featured a panel on upcoming BBC drama import, Les Miserables, and a sit down with star Ruth Wilson on the making of Mrs. Wilson, based on the life of her grandmother. 
But perhaps the most fun panel PBS put on this time was a "Grantchester meets Endeavour super chat," where Rebecca Eaton, the Executive Producer of Masterpiece, sat down to chat with Shaun Evans and Tom Brittney. The former is the star of Endeavour, having taken over the part of the beloved Inspector Morse from the late John Thaw, and reimagined it for a different generation. The latter is the new vicar taking over from James Norton's Sidney Chambers on the already established hit Grantchester.
How much fun was that! Red carpet at #TCA19 with the stars of #LesMis #Grantchester #Endeavour as well as our own #MrsWilson hope our American friends enjoy all the #britishdrama pic.twitter.com/7aMx2nxbzt

— Anna Symon (@AnnaSymon) February 4, 2019
On the Endeavour side of the news, Season 6 will see Evans' directorial debut. This is not an uncommon occurence, as a show goes on for multiple seasons, stars who have an interest in directing are usually given a go at it, in what is for them a safe environment to learn the ropes. The assembled critics also got to see a clip Evans directed, for the insallment timed around July 1969, when the Apollo moon landing occurred. As for the other three episodes, there was little revealed, other than to say this season will find everyone feeling professionally low after the merger into the Thames Constabulary, where many of them have gone from decent sized fish in a small pond to tiny minnows in a vast sea full of sharks. This seasons will see all of the characters trying to rebuild in the new setting.
Also, in news I think everyone cares about, Evans was asked about this season's choice of facial hair, and it turns out he is pro-mustache. (Full disclosure: We here at Telly Visions have deemed it dreadful.)
But at least Evans has a reason behind it other than aesthetics. To him, it's the type of choice that works in long-form storytelling spanning decades. It's a moment in his life when Morse grew a mustache. He'll later shave it off again as time passes. Also, Evans talked a bit about his relationship with Joan, and how he wanted the show to give them a single night, only for Morse to wake up the next day unsatisfied and ready to move on. From the looks of the trailer though, this is not how things will play out.
There's a new vicar in Grantchester and he has some very big shoes to fill. @tombrittney charmed the room today with a little sneak peek at the charm he brings as the town's newest amateur sleuth. #SexVicar (Photo by Frederick M. Brown) #TCA19 pic.twitter.com/ZOqsq1ig1x

— The TCA (@OfficialTCA) February 3, 2019
As for Grantchester, Brittney says he hasn't felt much blowback over replacing Norton, though a quick trip to Twitter was enough to make him understand why everyone told him not to. He does feel very welcome on set and says that co-star Robson Green, who plays Inspector Geordie Keating, has gone out of his way to make him feel welcome, and the two of them are getting on fabulously. 
He also emphasized that his character, Will Davenport, will be very different from the soft-spoken jazz-listening Chambers, whose main angst in life stemmed from his starcrossed relationship with Amanda Hopkins (Morven Christie). Davenport has an underlying anger in his character that fans didn't see with Chambers, for one thing. Additionally, and this is the big one, Davenport has taken a vow of celibacy. American readers may not know this, but this is not actually required by the Church of England, so for the character to have made this choice suggests something in his past pushed him to do so. As Brittney put it, this choice is one of the main things putting daylight between his character and Norton's:
James was the sexy vicar, the Sex Vicar.
But if fans are concerned about a new Grantchester with a Non-Sex Vicar, not to worry. Brittney says part of his character's arc focuses on this vow, which he hopes will change. Because it can't be a proper PBS show without a little bit of Sex Vicar. (And, yes, PBS did offer a shiny new tote bag to anyone who could get #SexVicar trending.) 
Grantchester Season 4 is confirmed for a July 14th premiere on Masterpiece. Endeavour does not as yet have a release date on this side of the pond, but is expected to start airing in the U.K. later this month, with a U.S. release date to follow.
---
By
for on February 5th, 2019
More to Love from Telly Visions