By
for on March 9th, 2023
Masterpiece's New 'Tom Jones' Trailer Promises a "Fearfully Romantic" Tale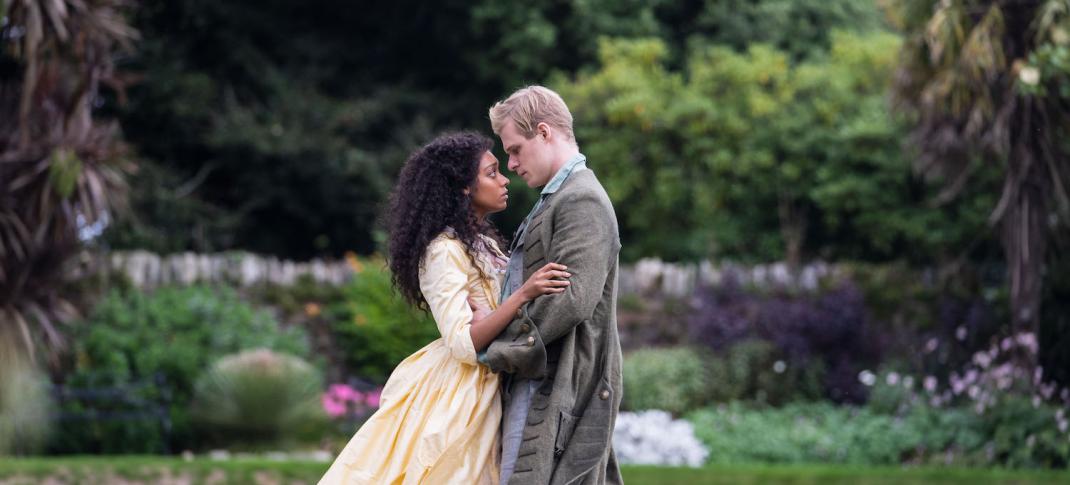 Henry Fielding's classic eighteenth-century novel Tom Jones: A Foundling is one of the first works of literature that can rightly be called a novel as modern readers understand it, yet its story is much less frequently adapted than stories by several of the later authors his work influenced, like Charles Dickens and William Makepeace Thackeray. (Think about how many times you've seen an onscreen version of, say, Great Expectations or Vanity Fair, is what I'm saying.)
This is one of the reasons that Masterpiece's upcoming Tom Jones adaptation is such a tantalizing prospect: It may be a very old story, but we've seen it on our screens so infrequently it almost feels like something new. And, if the latest Masterpiece trailer is anything to go by, the show is positioning itself as a swoony event for spring, leaning pretty heavily into the romantic elements of Fielding's story. (How, or whether, the series will tackle the bawdier elements of the novel is a question that we'll have to wait until April to answer.)
The story follows the unlikely romance between titular hero Tom Jones (Solly McLeod) and Sophia Western (Sophie Wilde). An orphan with an uncertain heritage, Tom has limited prospects and no fortune. Sophia's a wealthy heiress, and this is a combination that, in class-conscious eighteenth-century England, means that their path to a happily ever after will be slightly (a lot) more complicated than most. 
The official description of the four-part is pretty basic. 
This four-part television miniseries reimagines The History of Tom Jones, A Foundling, Henry Fielding's classic novel. A picaresque story of the title character's complicated journey to find real love, Tom Jones has delighted and scandalized readers since it was originally published in 1749. Solly McLeod (The Rising) stars as the hero Tom, alongside Sophie Wilde (You Don't Know Me) as the heroine Sophia Western.
The series' impressive ensemble cast includes James Fleet (Bridgerton) as Squire Allworthy, Tom's warm-hearted adoptive father, and Alun Armstrong (Little Dorrit) as Allworthy's hard-drinking but loveable neighbor, Squire Western, who is Sophia's doting grandfather. Felicity Montagu (The Durrells in Corfu) plays Allworthy's reserved sister, Bridget, with James Wilbraham (In My Skin) as her odious son, William Blifil—an unrelenting antagonist to Tom. He and Tom eventually battle for Sophia's hand, a contest Blifil seems destined to win. Sophia has a trio of watchful aunts, played by Shirley Henderson (See How They Run) as the headstrong Aunt Western, Tamzin Merchant (Carnival Row) as the diffident Aunt Harriet, and Hannah Waddingham (Ted Lasso) as the seductive and vengeful Lady Bellaston. Former Doctor Who companion Pearl Mackie plays Sophia's worldly-wise servant, Honour, whose deft ability to suss out gossip ends up being beneficial to her employer. 
Tom Jones premieres on PBS Masterpiece beginning Sunday, April 30. (But, as always, check your local listings.)
---
By
for on March 9th, 2023
More to Love from Telly Visions