By
for on May 5th, 2012
Masterpiece 'Sherlock' Series 2 NYC Screening & Q&A Report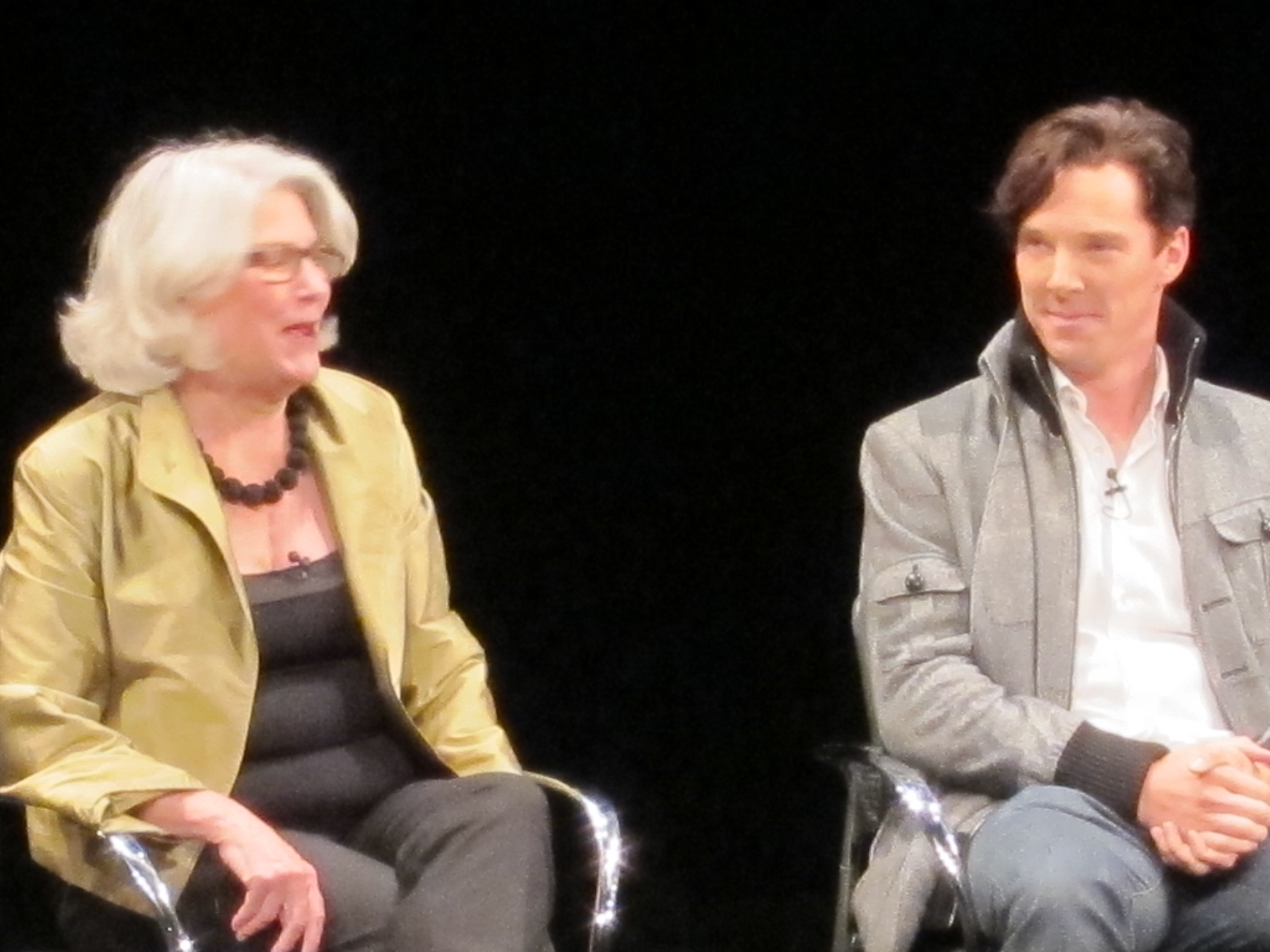 This past Wednesday night in New York City, PBS and Masterpiece held a fabulous Sherlock Series 2 preview screening for several hundred lucky fans, with special guests Benedict Cumberbatch, Steven Moffat and Sue Vertue all on hand to participate in a Q&A session and discuss the new season.
Now, originally, I meant to tweet most of this during the event as it was happening, but unfortunately, my dodgy internet/cell phone reception totally defeated got the best of me. (And then my phone battery died entirely at the very end of the event. I really did try, you guys, I did!).  So, you'll have to settle for my best attempt to write up everything that happened after the fact.
So, if you're curious about everything that was said during the Q&A, or wondering if Mr. Cumberbatch really is as lovely in real life as you've always imagined, click on through for a full report. And, yes, there are lots of photos – though you'll probably be able to tell pretty quickly why I'm a writer and not a photographer. But I'll also make sure you link you through to some people who've clearly got much nicer cameras than my point-and-shoot.
I'll try to keep the write-up bit on the shorter side, since I know most of you are probably here for the pictures anyway. (ETA: I have failed epically at this promise. I'm sorry.)
PBS and Masterpiece held a contest that gave Sherlock fans a chance enter to win two passes to this special Series 2 premiere event. Approximately 150 pairs of tickets were given away, and over 10,000 people entered to win seats.  Yeah, let's take a moment and let that sink in. The morning of the event, an additional stand-by ticket line was created, to give people a chance to get in if there turned out to be no-shows or something like that. I have no idea how many folks showed up for that stand-by line, but I spoke to a group of super excited fans who'd been there waiting since 7AM that morning, just on the off chance that they might get in. Dedication, Sherlock fans have it.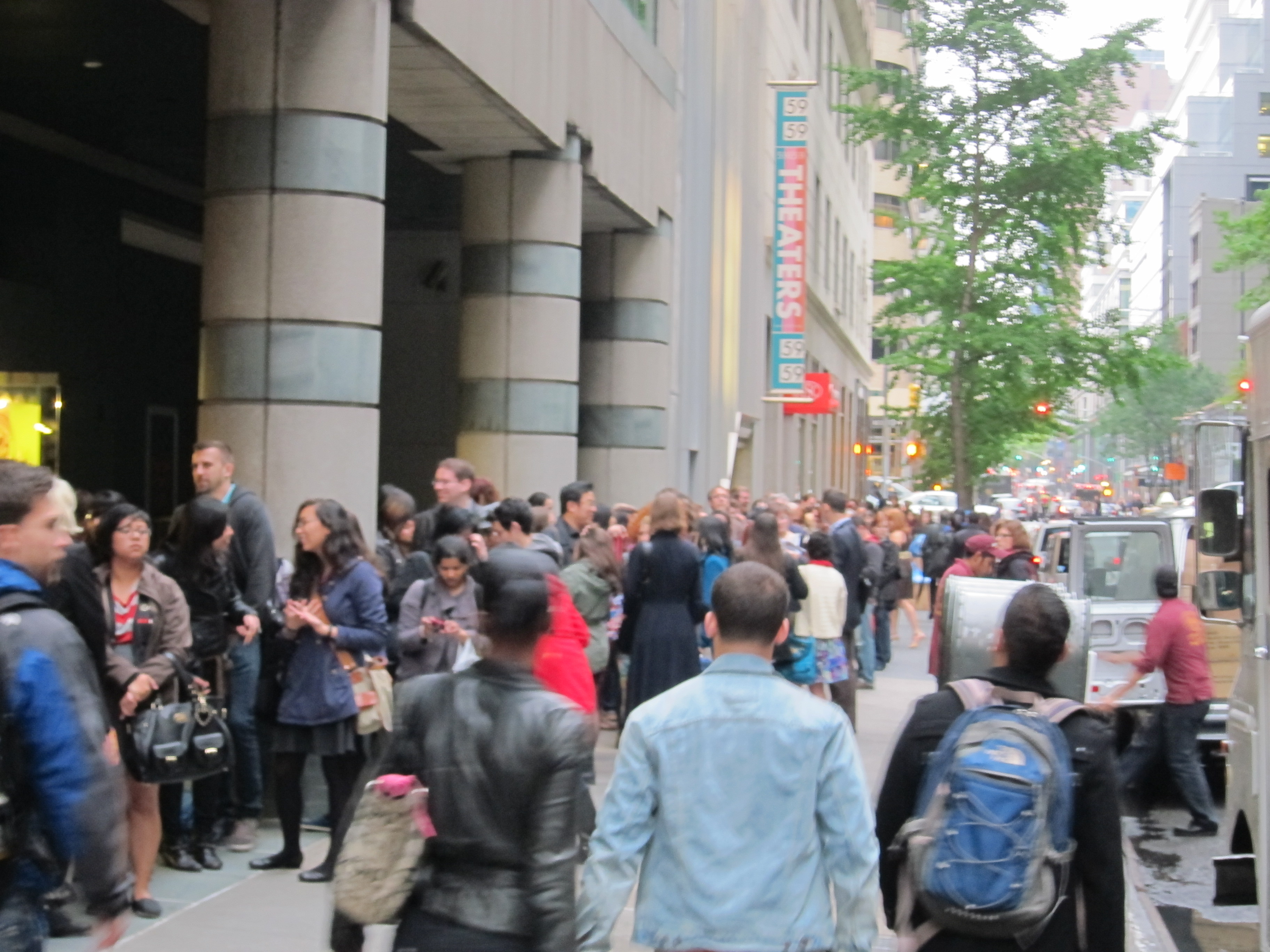 In case you're not aware of just how popular this show and its cast happen to be, well, the above is a picture of the line waiting to get in to Florence Gould Hall, where the event took place. You can't see this entirely in the frame, but that line goes all the way down to the end of the block. (A crosstown NYC block, just FYI. So many people!)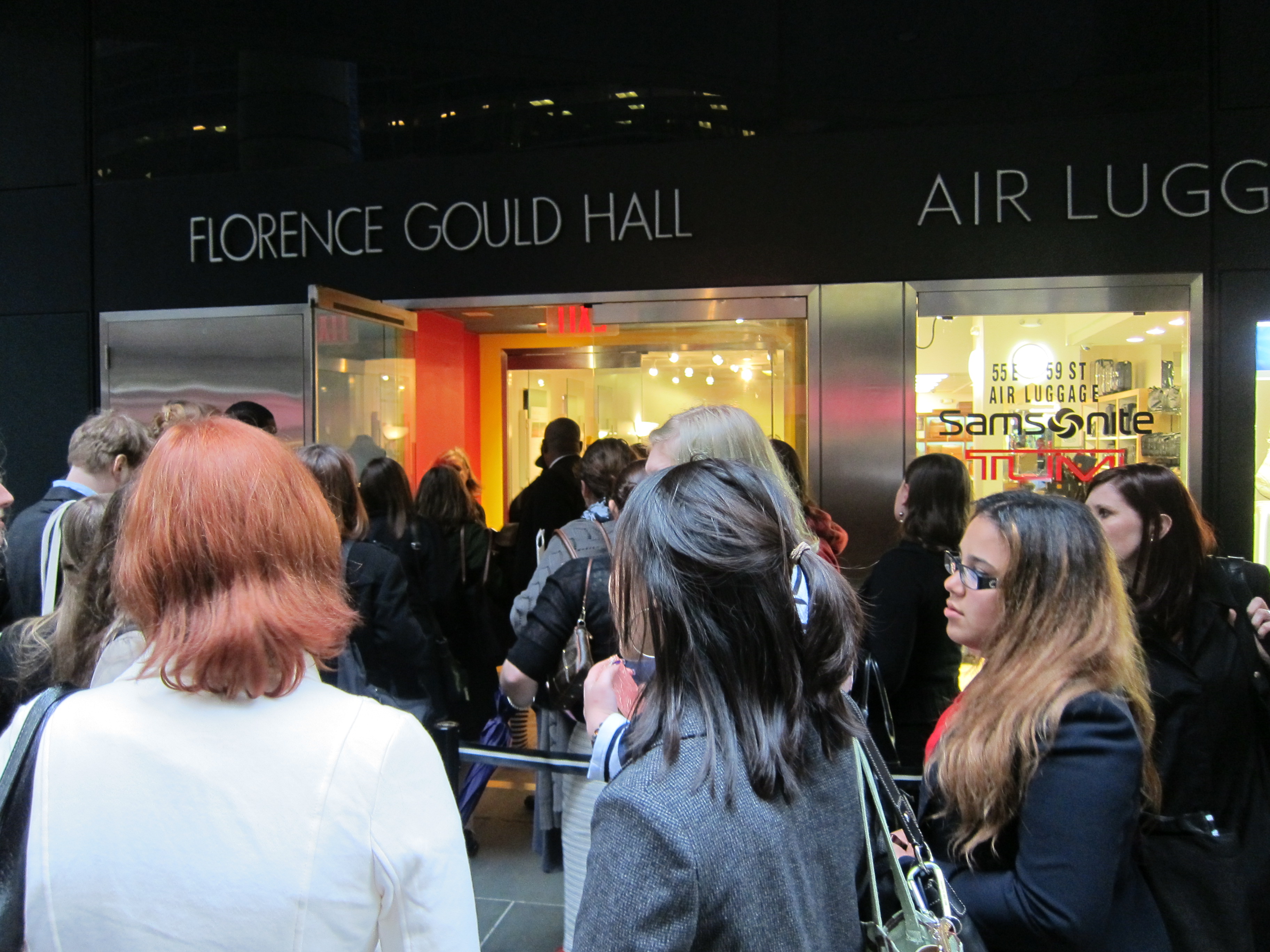 The venue was opened officially somewhere around 6:30. We all initially mingled for a bit in the main reception room, checked out the fabulous screens that showed off the tweet stream for the #SherlockPBS hashtag, and tweeted a bit before the sheer volume of people made all our internet connections untenable.  I have to say, Sherlock fans on the whole are exceptionally lovely people – friendly, excited, and full of obvious love for this show and the folks that make it. It was so fantastic to get to meet so many people who were so excited for the opportunity to be there and just wanted to share their love for such a wonderful program. (If I met you at any point during this made rush of an evening, and I've yet to friend/follow/whatever you on the interwebs – please click either here or here. I'm so terrible with names and I'd love to keep in touch!)
The main screening was held in an auditorium downstairs. We waited a bit and then the lights went out – and the excited cheering started. An opening promo reel for PBS programming popped up on the (giant) screen – and let me just say, as someone who works in public media, that it was fantastic to not only hear rock star levels of cheers for the Sherlock and Downton Abbey clips, but also a fair amount of whooping and hollering for things like NOVA, Nature and Frontline.  So, thanks, guys,that was really awesome.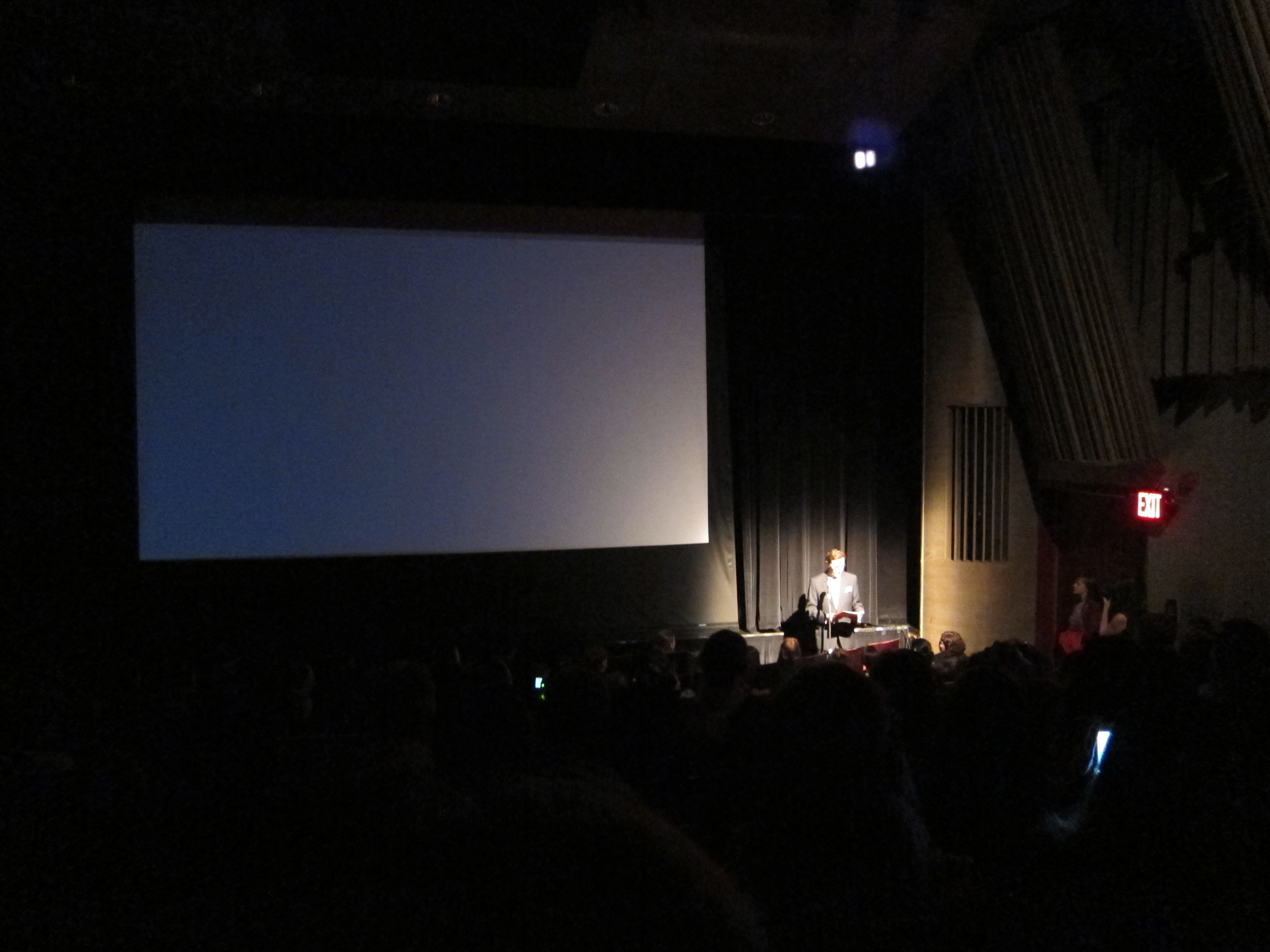 The Vice President of Programming for WNET Channel 13, Stephen Segaller came out after the video to welcome us all to the event, thank fans for supporting the show, and encourage everyone to get involved with supporting their local public broadcasting station. He quickly introduced the special guests who would be joining us onstage following the episode preview, Masterpiece executive producer Rebecca Eaton, Sherlock co-creator Steven Moffat, Sherlock producer Sue Vertue and "that other guy," who apparently doesn't need introduction anywhere, judging by the deafening screams that erupted following his statement. Mr. Sellegar wraps up with an "It's elementary" pun, I have my standard internal desire to correct the entire world that that "elementary" bit never appears anywhere in the actual Sherlock Holmes stories, and the lights dim again.
We were all treated to the first 35 minutes of "A Scandal in Belgravia," which is just as good the [redacted because my viewing total could be considered embarrassing]th time you see it as it is the first. I'll save my comments on the episode itself for a bit later on in the weekend, but it was obvious right from the start that most of the crowd had not only seen this episode before, but could probably recite it.  It was really fun to watch it again with this kind of crowd though – up on the big screen, everyone was super into it, laughing, clapping, etc. in all the right places. And honestly, the level of shrieking and squealing during several scenes was amazing; it was honestly really like being at a rock concert. And trust me, people were willing to cheer for any reason at all - character appearances, favorite lines, basically the entirety of the scene that takes place in Buckingham Palace (and if you've seen it, you know why.) Welcome to America, Sherlock.
Following the episode preview, the panel assembled for our Q&A session: Rebecca Eaton came out first, followed by Moffat, Vertue and, finally, star Benedict Cumberbatch. (Talk about deafening screams!) The full Q&A was livestreamed online straight from the stage Wednesday night and the video of it will be available to watch soon – probably next week – so I won't try to directly quote everything, just give you some highlights – and mainly as an excuse to post a lot of photos.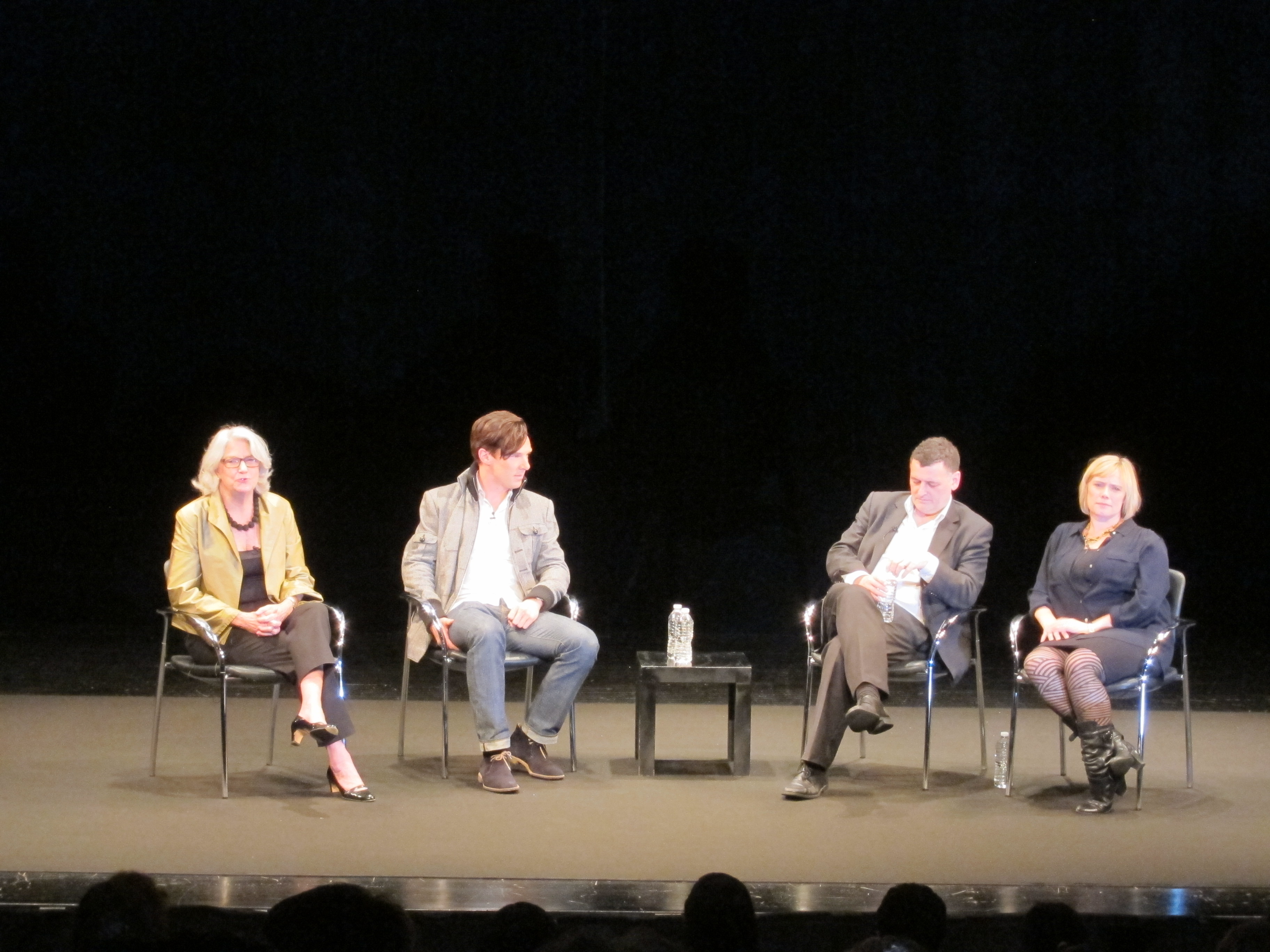 The entire Q&A session was pretty fantastic – full of laughter and love and just a genuine sense that everyone was pretty much over the moon about the fact that they had this tremendous opportunity to be there.
People From All Over the World Were There! People flew in from all over the country – literally all over the world – to attend this event. There were folks from as far away as London, Phoenix, Los Angeles, Florida, South Carolina, even South Korea. The dedication of the Sherlock fans out there is really is incredible, and events like this are a wonderful testament to how many people this show has really managed to touch and inspire.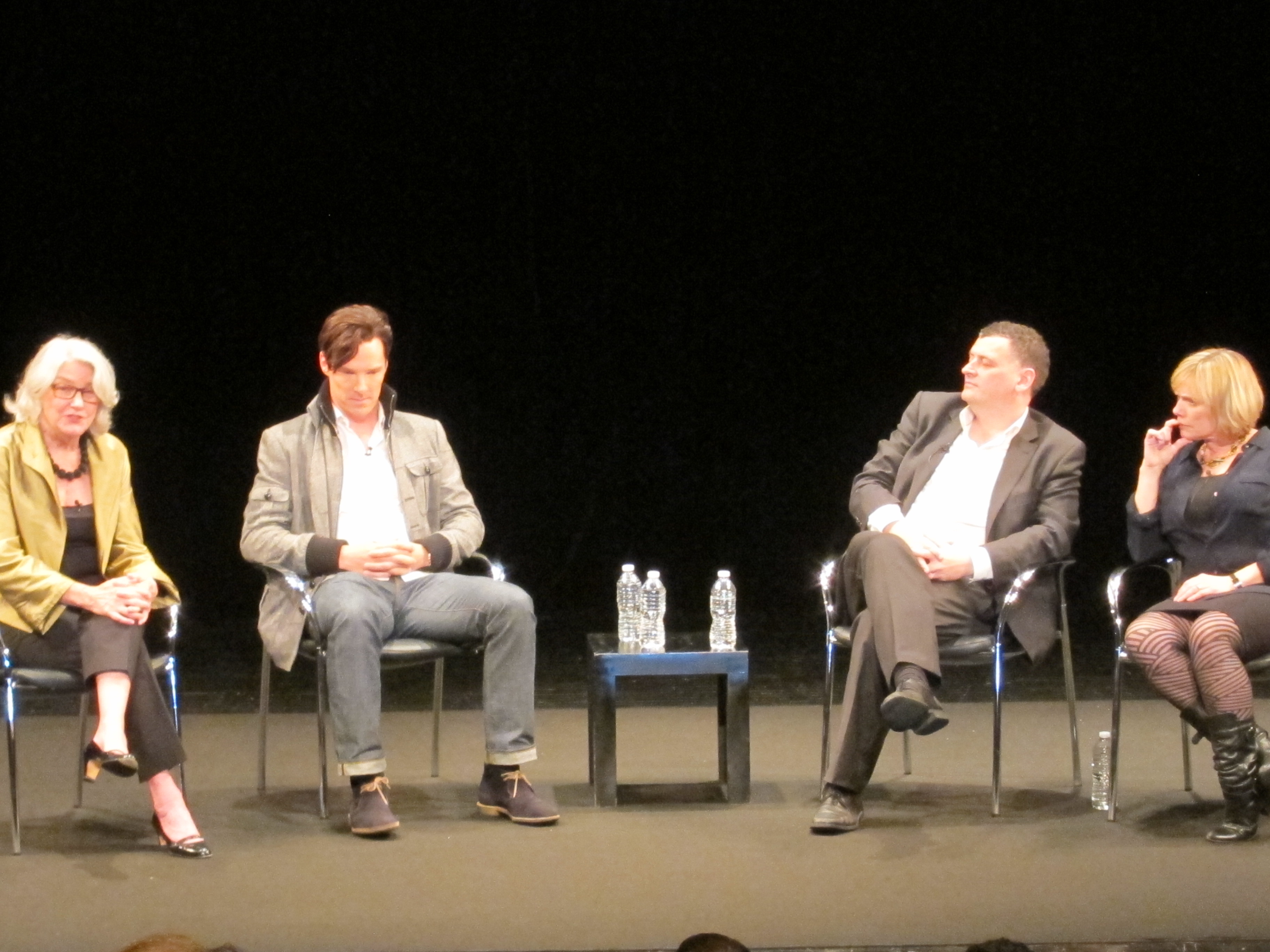 Serious Fans Only, Obviously. I know I keep harping on just how much everyone at this event loved Sherlock, but it was so incredible to watch that actually play out in a room of several hundred people! It led to some of the best moments of the night. Ms. Eaton had a moment where she hesitated for a second when naming some of the items on Benedict's resume, and the audience immediately came alive with the voices of people filling in the gaps, shouting out his lesser known projects like Cabin Pressure and Van Gogh: Painted with Words.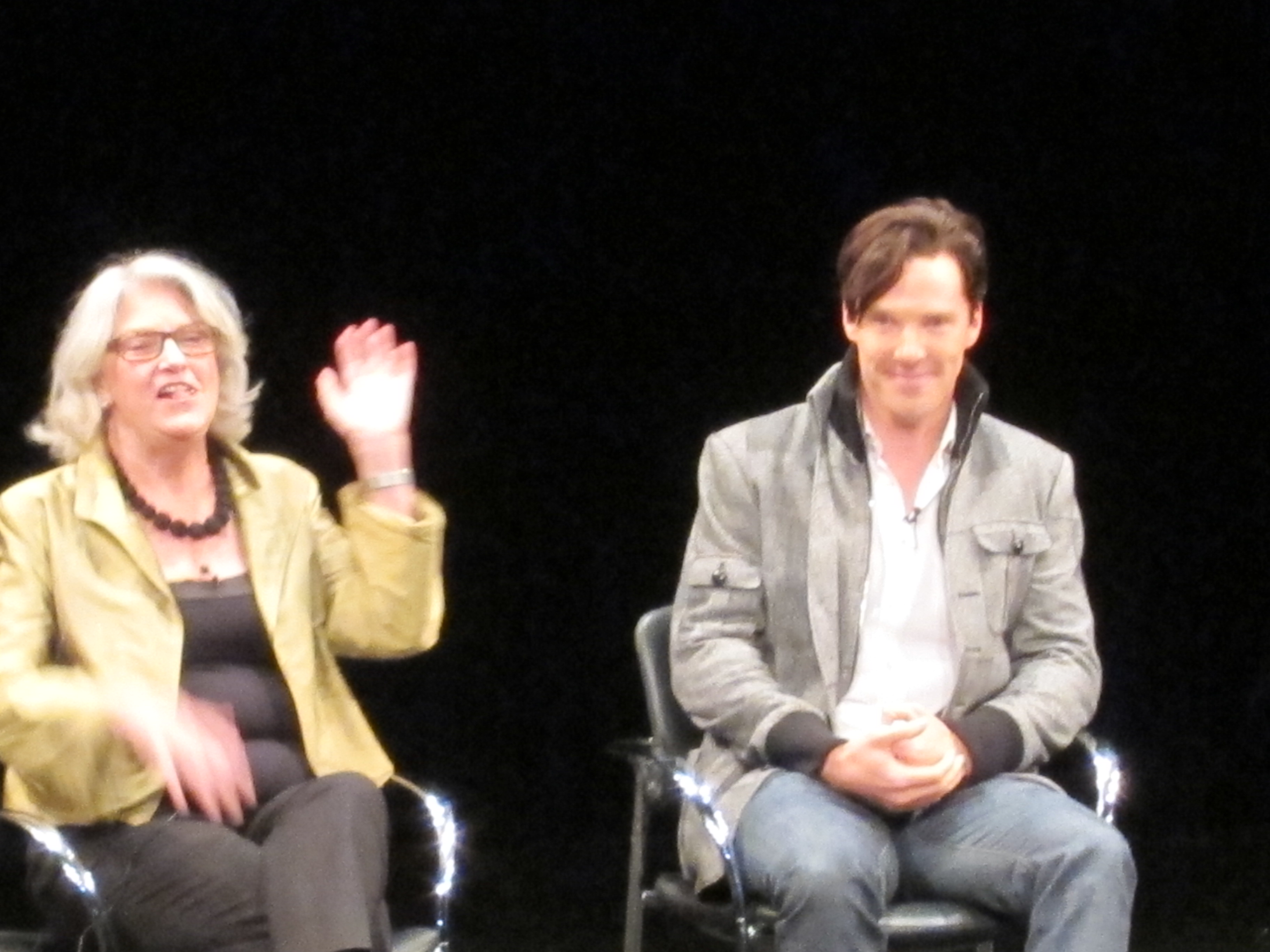 One attendee attempted to ask a question without spoiling the ending to "Belgravia," because she was sure that there were people at the event who hadn't seen the episode yet. This sparked a burst of laughter from the crowd and a dry "I really don't think that's true" from Moffat. An impromptu poll of the audience followed and, while I couldn't see the entire room so take this with a grain of salt, it looked like about six people raised their hands when asked to speak up if they hadn't yet watched the S2 premiere.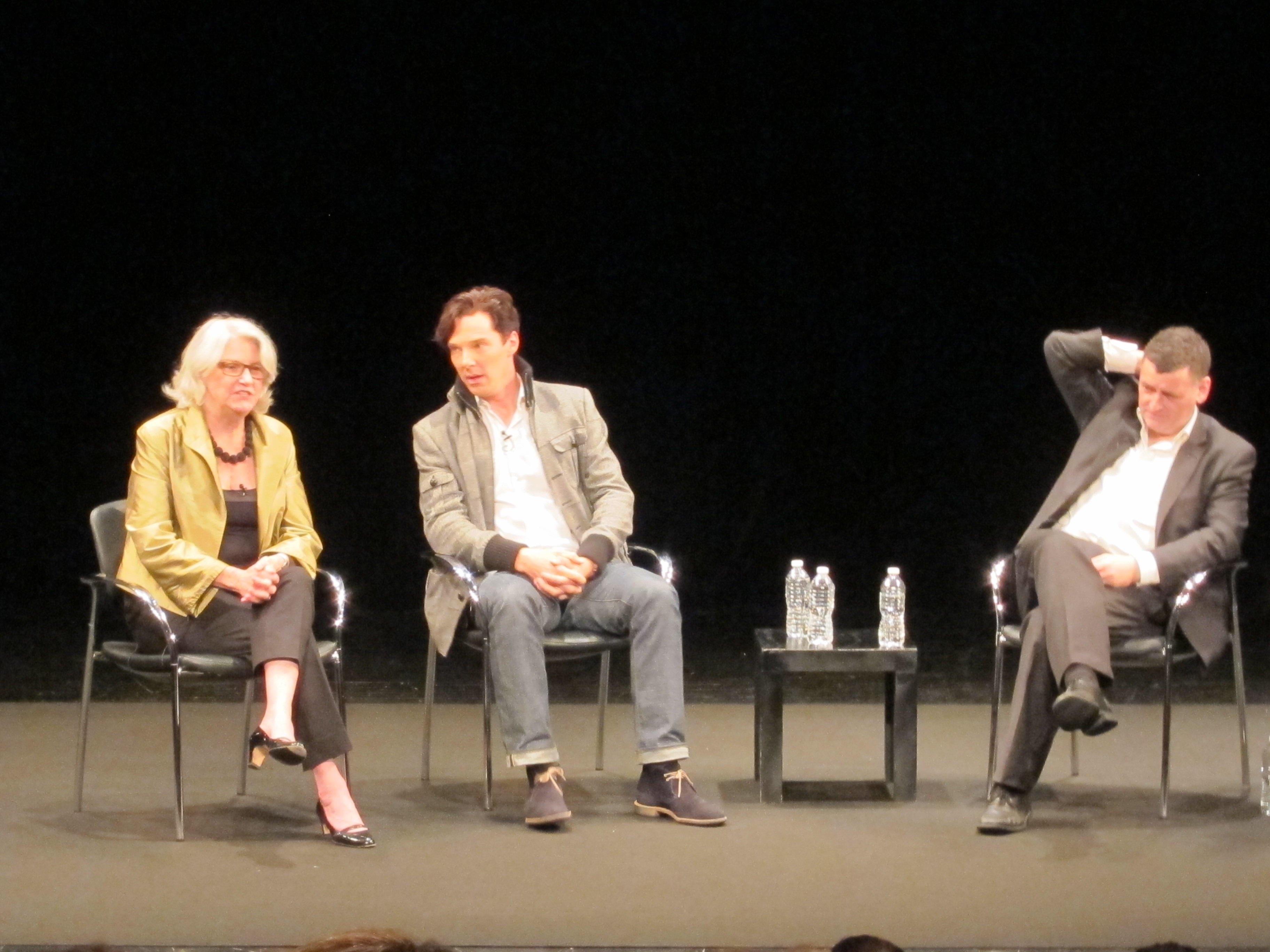 On Series 3: It was officially announced that Sherlock Series 3 will be a coproduction with Masterpiece. The third series is slated to start filming early in 2013 and should air sometime next year. (Of course all such things are subject to change, but at least rest assured that it's coming and hopefully not too far in the future.)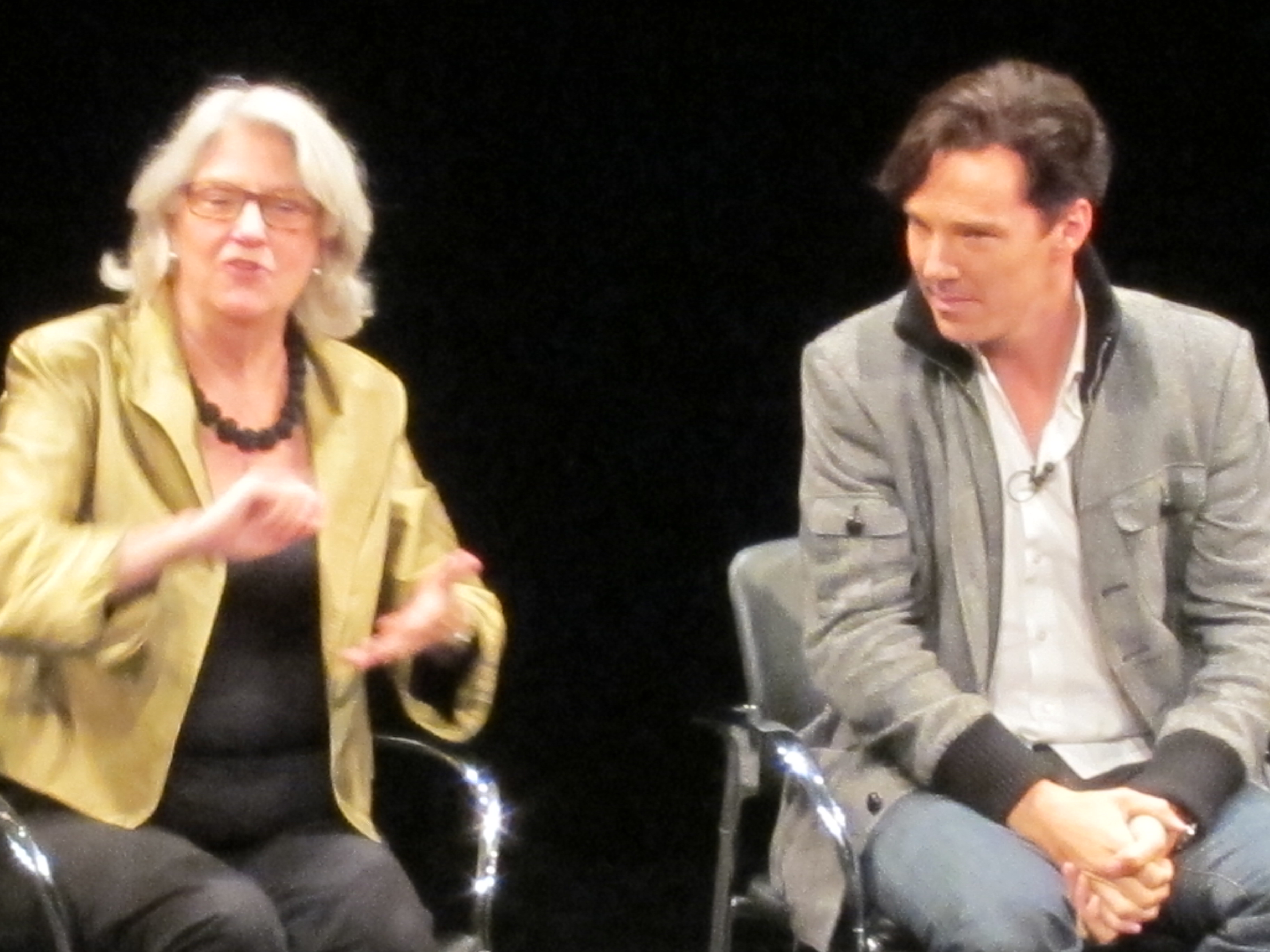 On Playing Sherlock: Benedict said that the deduction scenes are the most difficult bits of the show to perform, stating that "the birth of them is quite painful." He described long shooting hours, but also said that he was deeply grateful for the chance to play the part and that appreciated the dedication of the show's fanbase.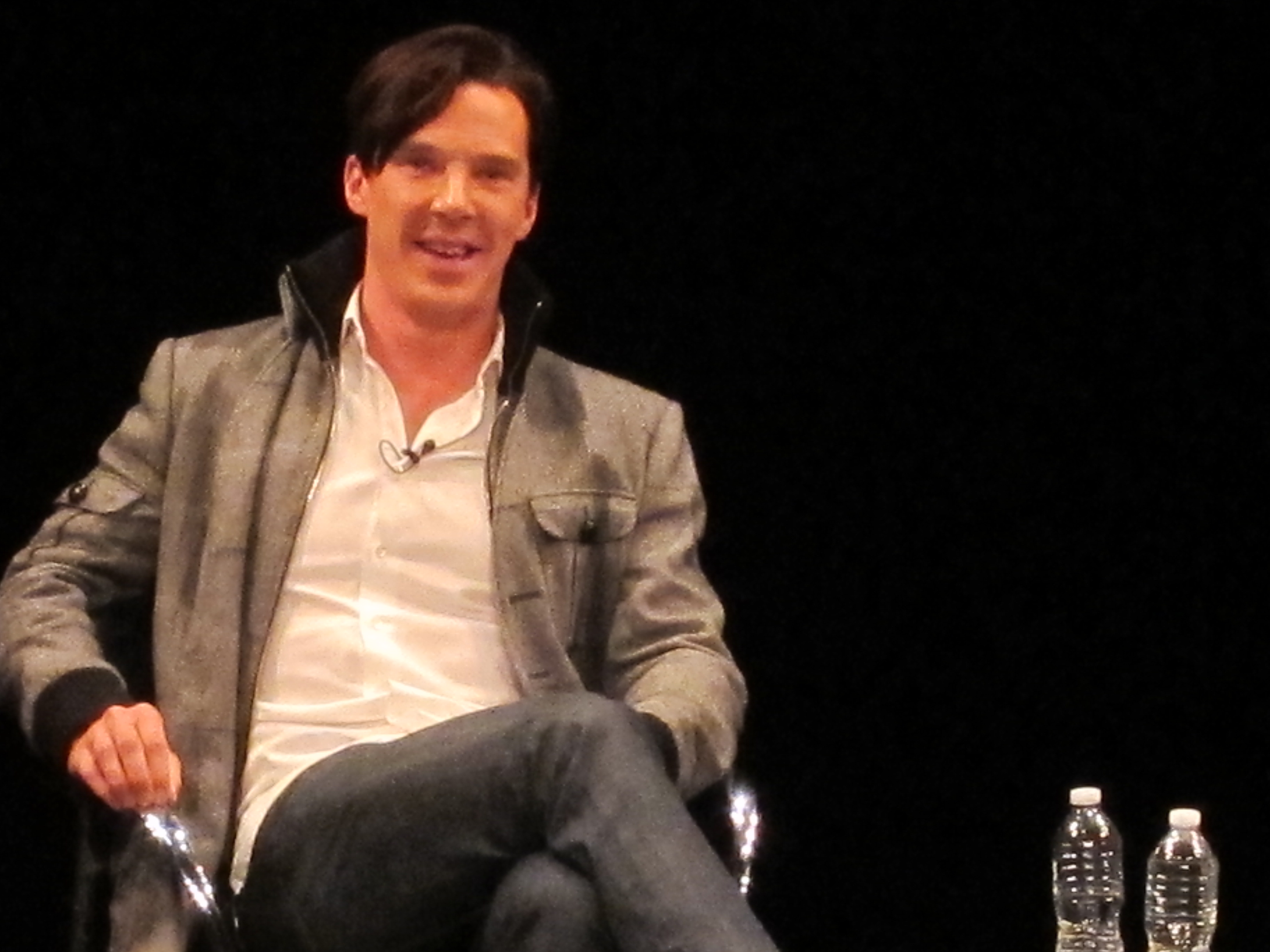 Someone a bit later on asked him if he'd started to pick up any mannerisms or characteristics thanks to playing the famous detective, and he told a fantastic story about doing interviews earlier that day and seeing a woman with scratches on her hand and deducing that she had been travelling with a cat. So, apparently he's picked up a bit of Sherlock's deductive skills over the past couple of years!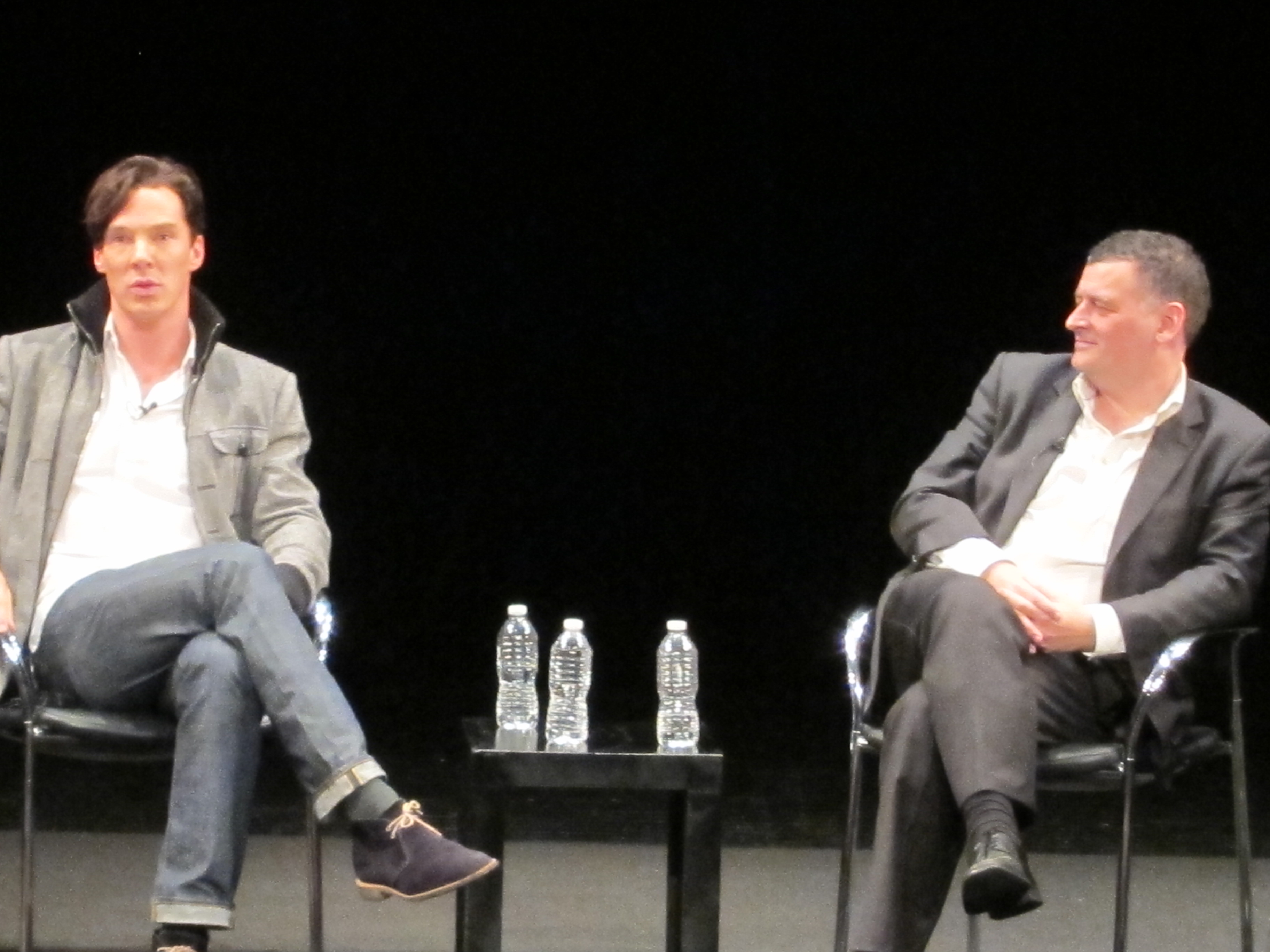 On the Editing of American Broadcasts. The one thing that I will mention about the episode itself is that, if you've seen "Belgravia" already, when you watch tomorrow night you'll notice that there are a few moments here and there that are missing from the American broadcast. This topic came up during the panel discussion and a fun fact many of you may not know came up – PBS isn't in charge of editing the episodes to fit American time constraints, Sue's production company, Hartswood Films, handles trimming the eps. At least if anything has to be cut from these (fabulous) episodes, I am glad that the producers are the ones in charge of trying to determine where to take things out. I assume that at least protects the flow of the episode to a greater degree.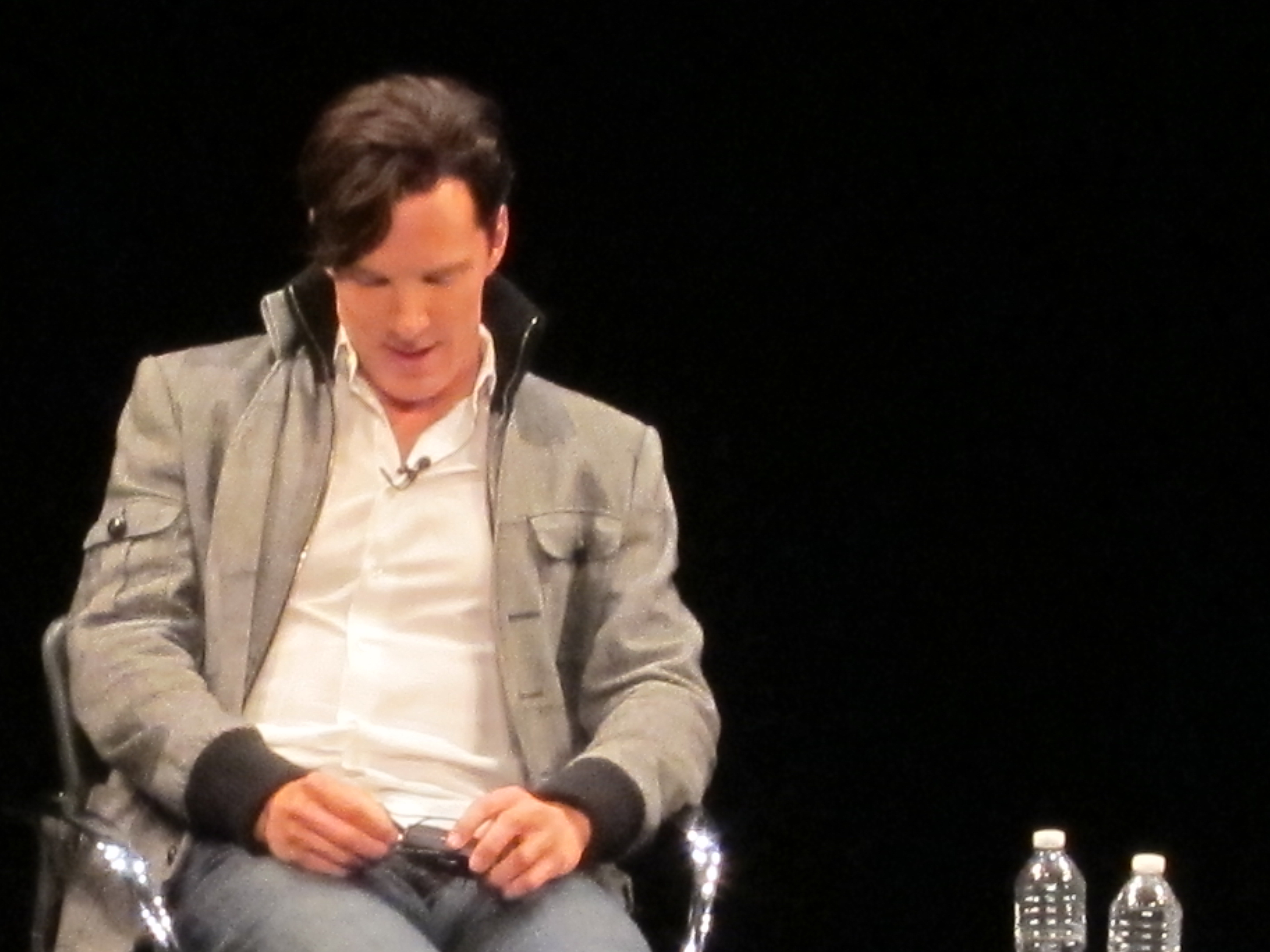 And I know, I really do – honest, I understand all the reasons that this has to happen re: American programming time blocks, etc. etc., and I know it's a relatively small bit that's been removed, on the whole. But, I am still sad to see that one of my favorite little "Belgravia" moments (the bit in the cab with the ashtray) has been cut. SNIFF. Benedict himself agrees with me – well, maybe he's not heartbroken about the ashtray thing, but he did say he hates that the episodes are edited.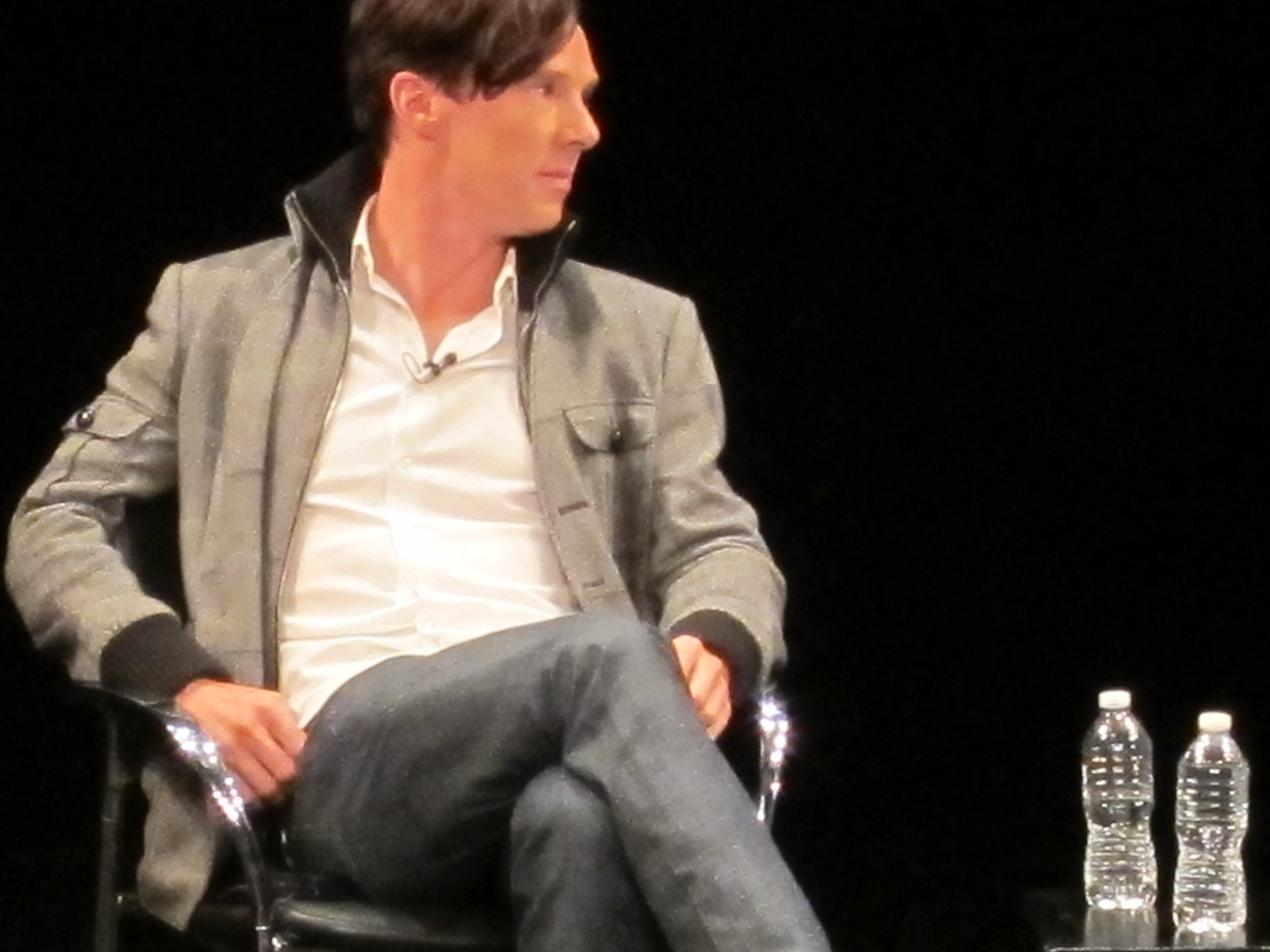 On the Theater: Benedict had a lovely moment where he talked about how much he loved performing on stage and would always love the theater and come back to it. (Swoon. Sorry. I'm such a stage geek at heart still.) And he also let the cat out of the bag that there are currently ongoing talks to bring Danny Boyle's all-sorts-of-award-winning play Frankenstein to Broadway. I have all my extremities crossed for this, and will see you guys in line for tickets hopefully.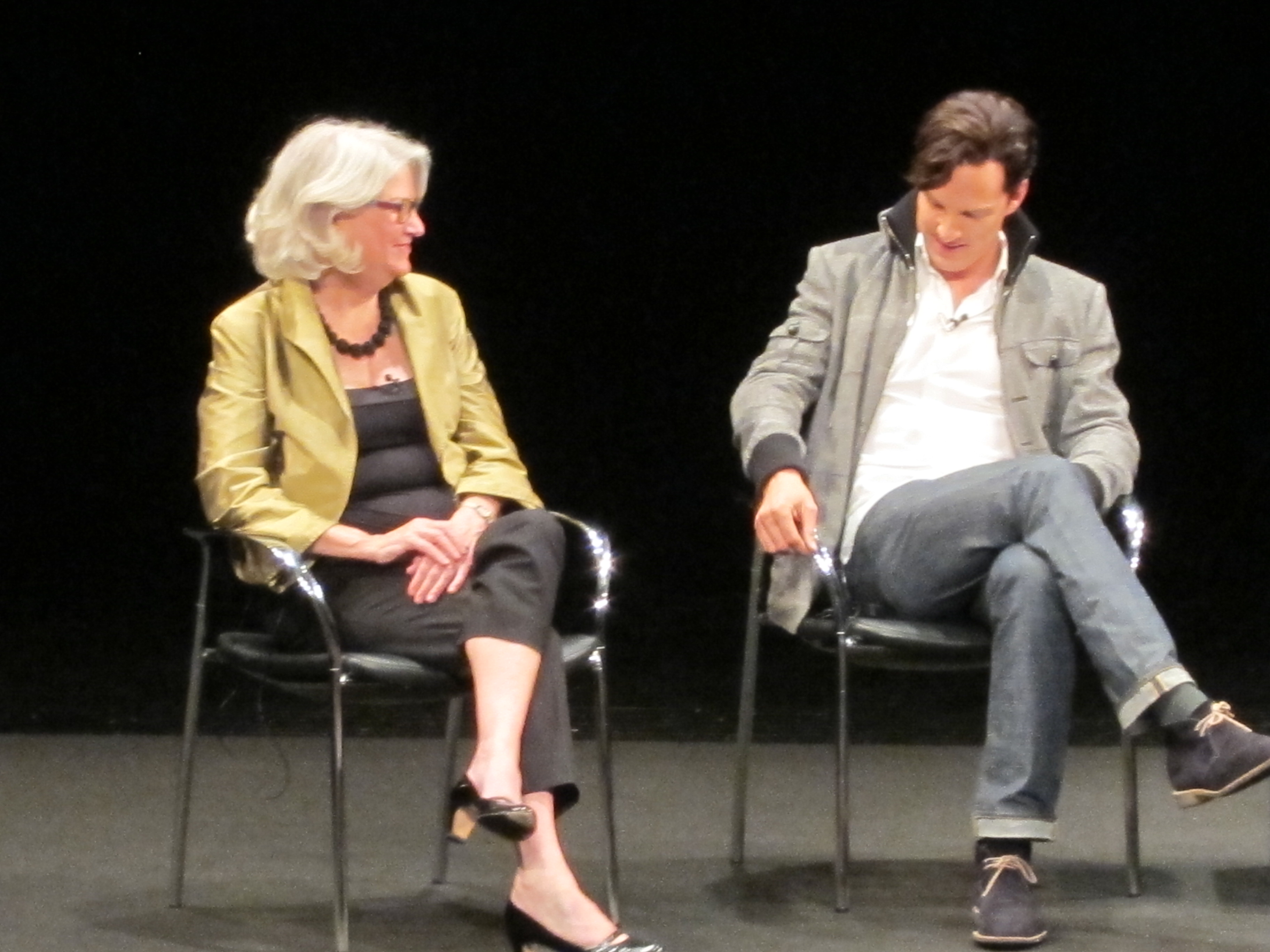 On the Subject of That Other Sherlock Show. Rebecca posed a question to the panel about CBS' pilot – and possible series – Elementary, another modern Sherlcok update which will star Jonny Lee Miller and Lucy Liu as Holmes and Watson. Sue denied rumors that she was a consultant on the show and everyone stressed that they've no involvement with the American incarnation at all.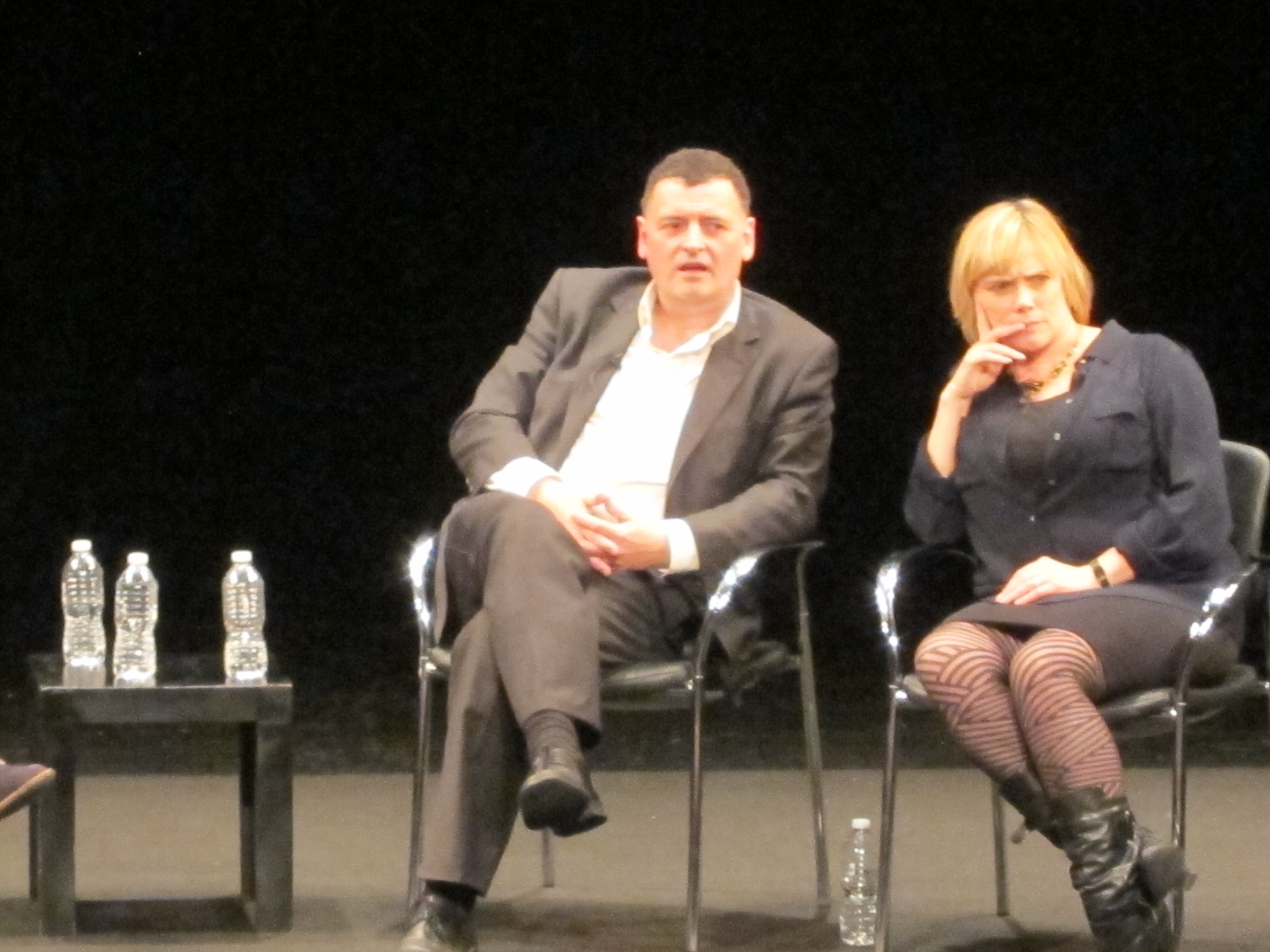 A sort of – interesting – moment happened when someone mentioned not wanting the CBS version to succeed, to which Benedict gave a very delicate and diplomatic answer. He said that since there are two Sherlock Holmes-based franchises doing well currently (BBC's TV series and Guy Ritchie's films), why can't there be room for a third? He then went on to wish the best to Miller, his co-star from Frankenstein and co-winner on a slew of theater awards this year.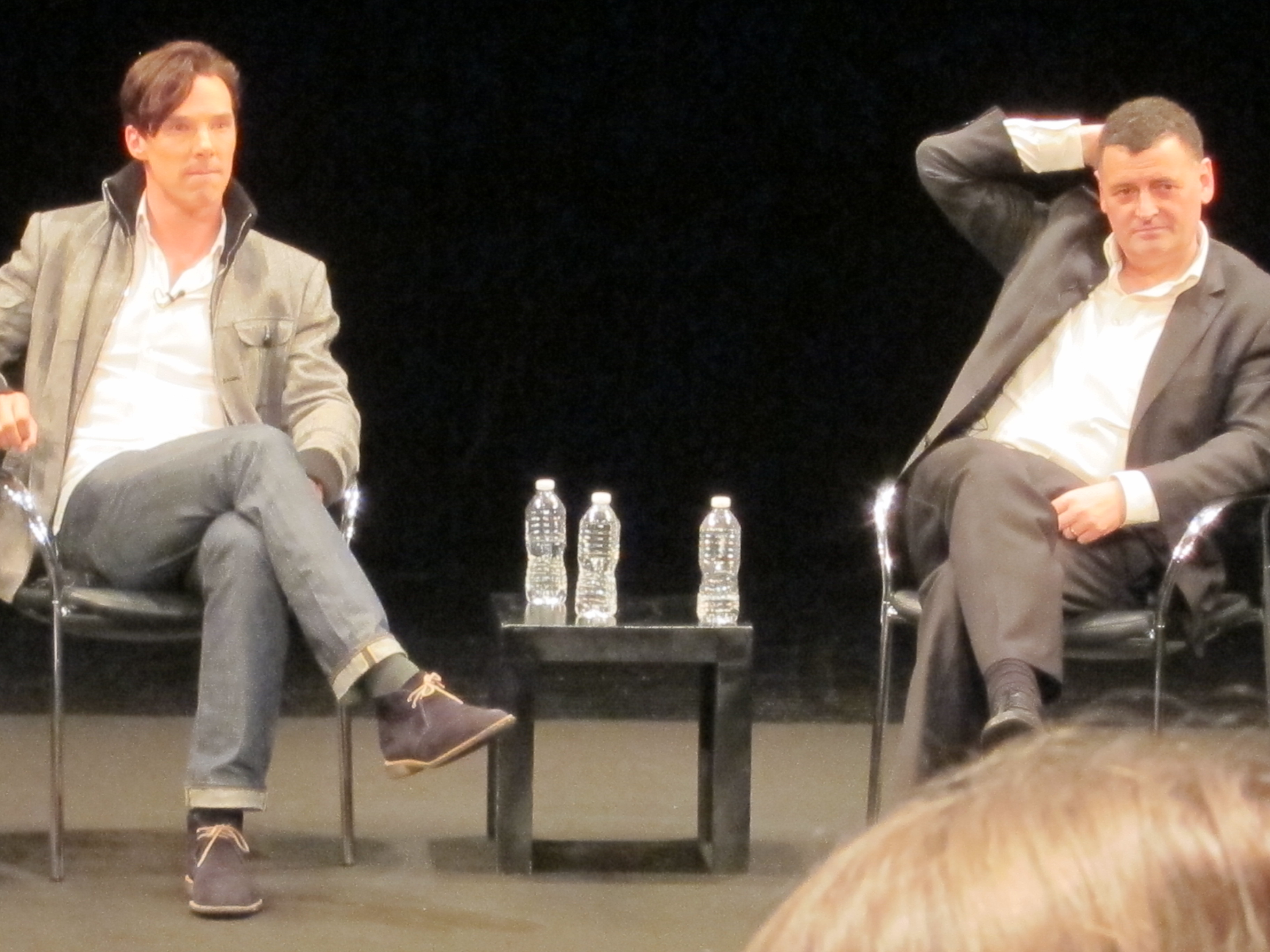 On Having Tea (Or, My Personal Favorite Question.) One attendee posed a question to Benedict and Steven – if they could have tea with one character that they've either played or written, who would they most like to do so with. Somehow the name Stephen Hawking came up (I think someone may have shouted it out in the crowd?"), but Benedict admitted "I've had tea with Stephen Hawking." It was very adorable. (Cumberbatch played Hawking in a BBC drama called – surprise – Hawking, and if you haven't seen it before, it's well worth your time.)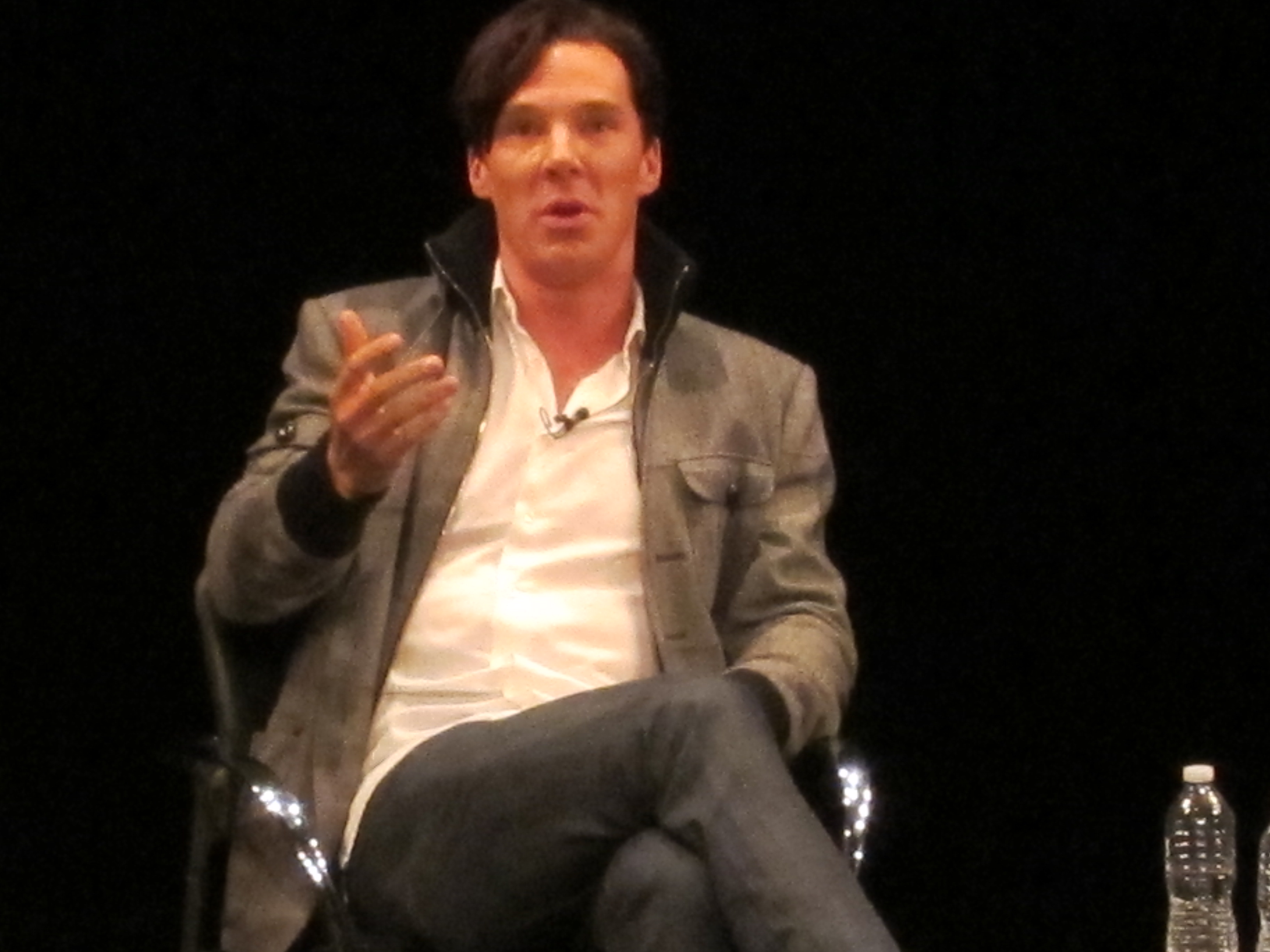 On Doctor Who. Someone – who is probably my hero – asked the panel if we might ever see a crossover between Moffat's two productions – Sherlock and Doctor Who. Moffat admitted that a meeting between Sherlock and the Doctor "would be very very odd" and that he "didn't think either of them would like it." Unfortunately, Moffat said he's got no plans to mix the worlds of Baker Street and Gallifrey, though I suppose we can all still dream about Benedict showing up for a Who guest spot someday in some other capacity. Who knows? It could happen one of thse days!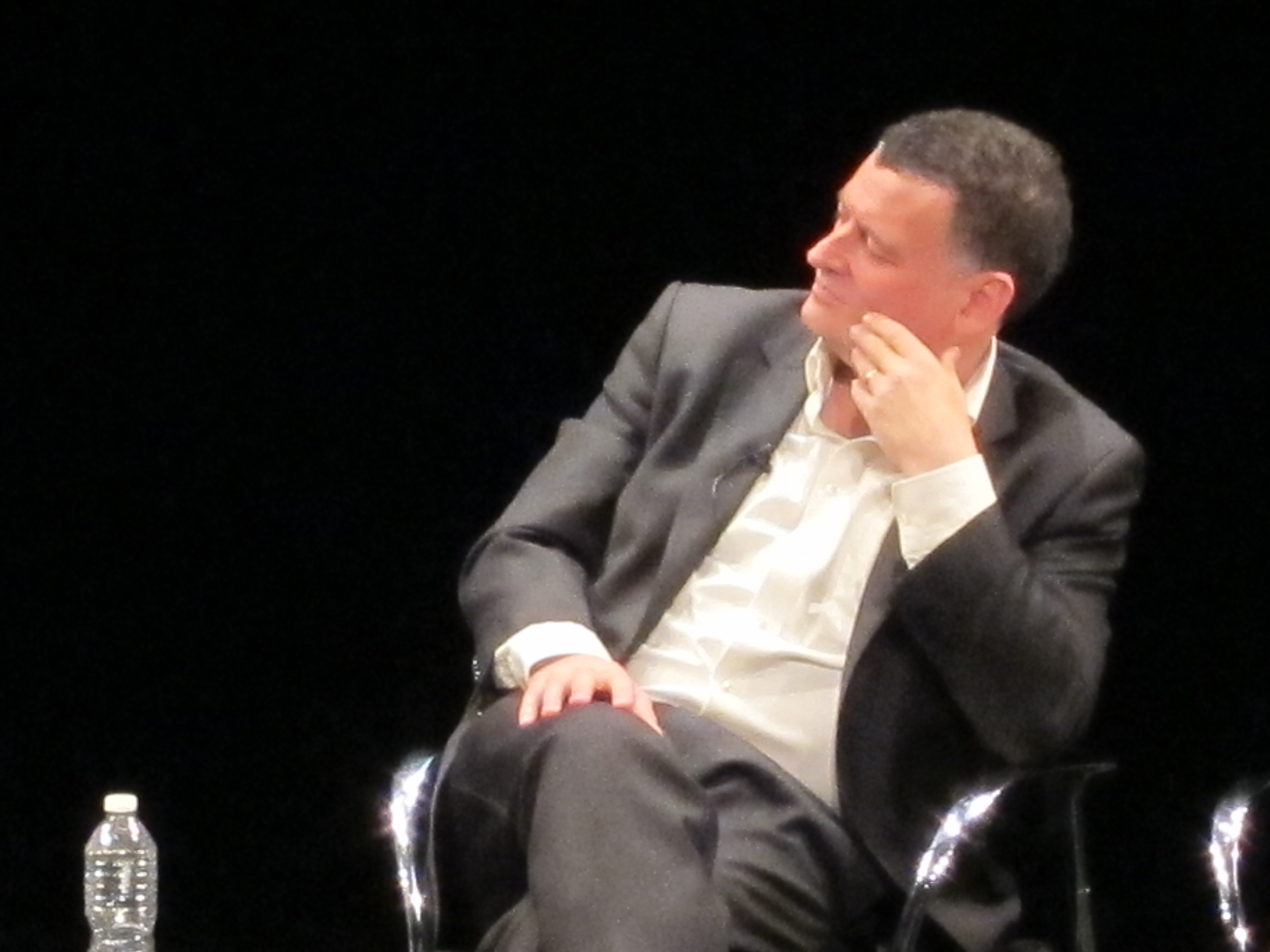 Other Topics of Note. So many great questions were asked that it's impossible to cover them all here – I'll direct you to the full video once it's up. But other interesting topics that were covered included whether a lot of backstory was developed for Sherlock Holmes (Moffat says no, Benedict says he has his own personal backstory in his head), the critical response to Moffat's modernization of Irene Adler, dream projects (Benedict's is Kavalier and Clay), and a hilarious bit about strangest fan experiences, including Benedict receiving a whip in the mail (which actually turned out to not actually be from a fan, but everyone had assumed that it was).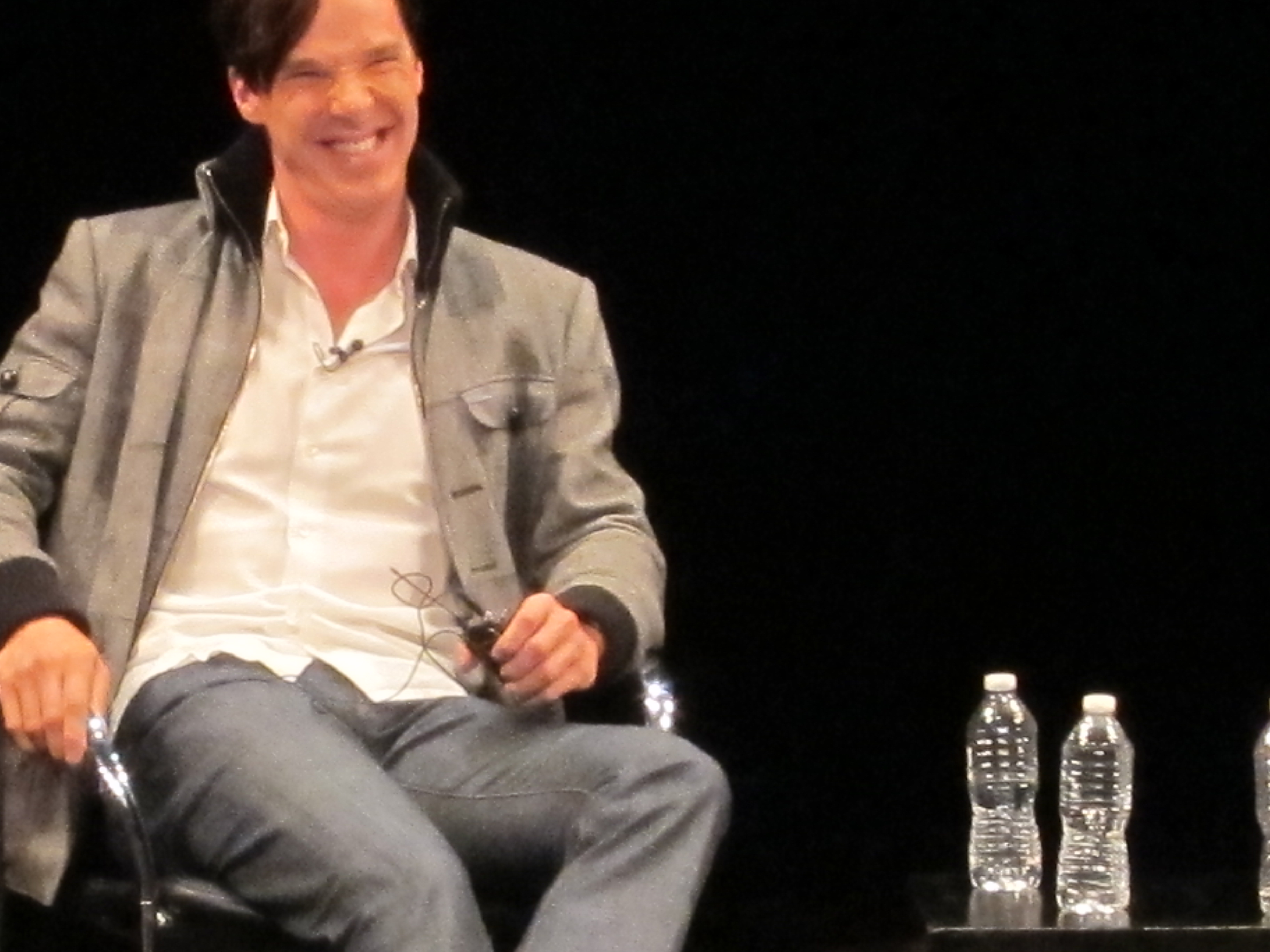 And, of course, what you really want to know… The panel was gracious and wonderful and fantastic, by the way.  And, yes, I swear, Benedict Cumberbatch really is exactly as lovely as you'd imagine him to be. Possibly even more so - he's incredibly thoughtful about his work as an actor, thoroughly charming and wonderfully personable with fans.  Did I mention charming? And sweet? Because, yes.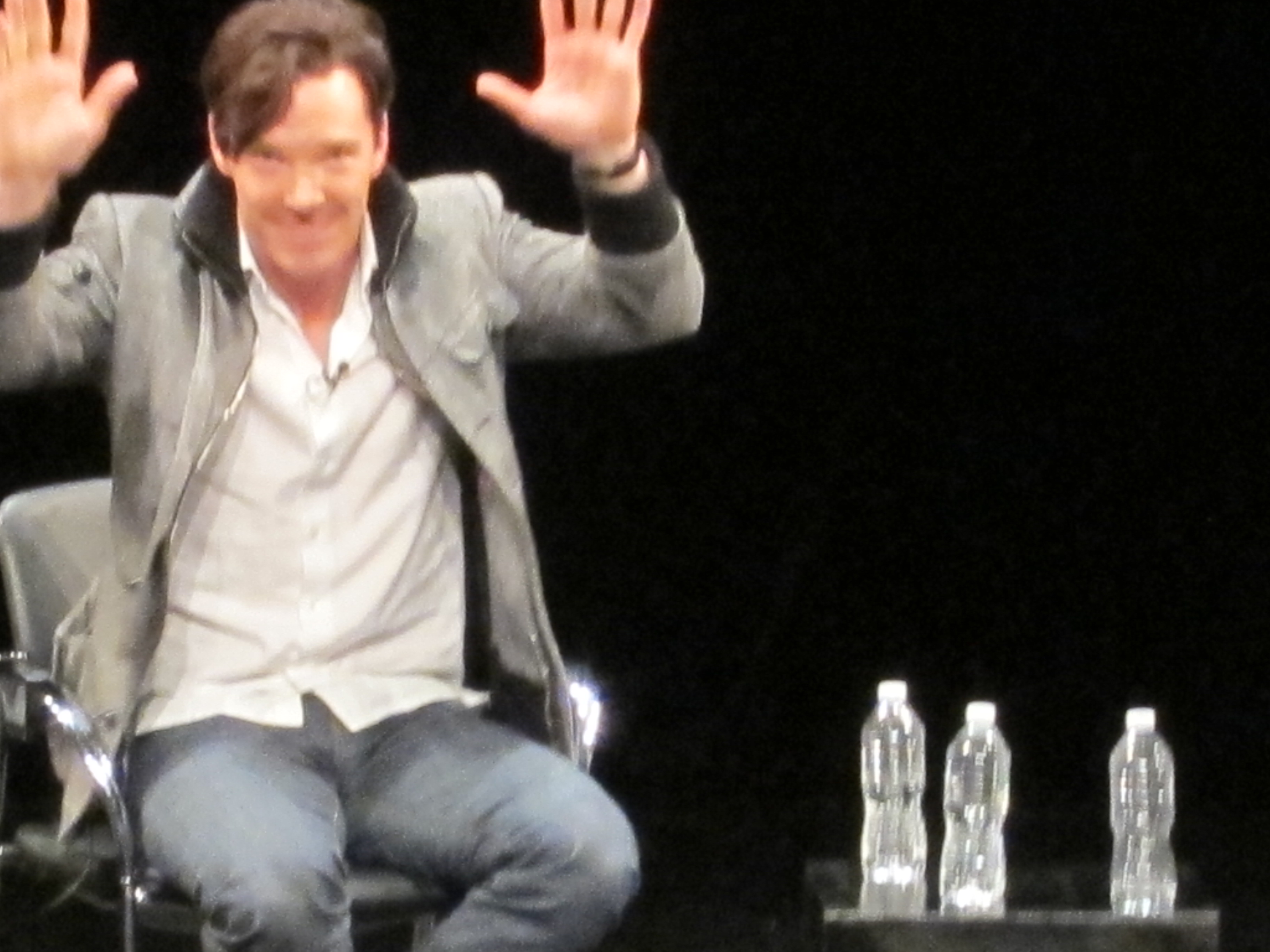 Everyone signed autographs for as long as the building would let them (we all got kicked out around 11pm), chatted briefly with everyone that came through the autograph lines and posed for pictures. The line to meet Benedict was particularly ginormous – it extended all the way out of the reception area, around the corner, up the stairs, and outside of the building to the sidewalk. (I should have gotten a picture of that!)
The lines were so long that unfortunately not everyone got the chance to meet with all the guests (though I think almost everyone got through at least one of the lines). It was an amazing experience – fantastic people, great atmosphere, wonderful level of excitement. I'm so glad I got the chance to be part of it – and got to meet so many wonderful folks including Benedict, Steven, Sue and Rebecca, who were all just lovely. Definitely ranks up there on the Coolest Things I've Ever Done list, for sure.
If you'd like to see much better pictures than I managed with my point-and-shoot, check out the absolutely gorgeous shots taken by Melissa Caric of The Baker Street Babes.
And if you want a quick three-minute montage that gives you a bit of a feel for exactly how amazing/fun/insane/fantastic this whole experience was, well, just watch this:
[This video is no longer available.]
Stay tuned for more on the new season of Sherlock – we're a little over 24 hours away!
---
By
for on May 5th, 2012