By
for on September 7th, 2023
'The Marlow Murder Club' Convenes in the Series' First Images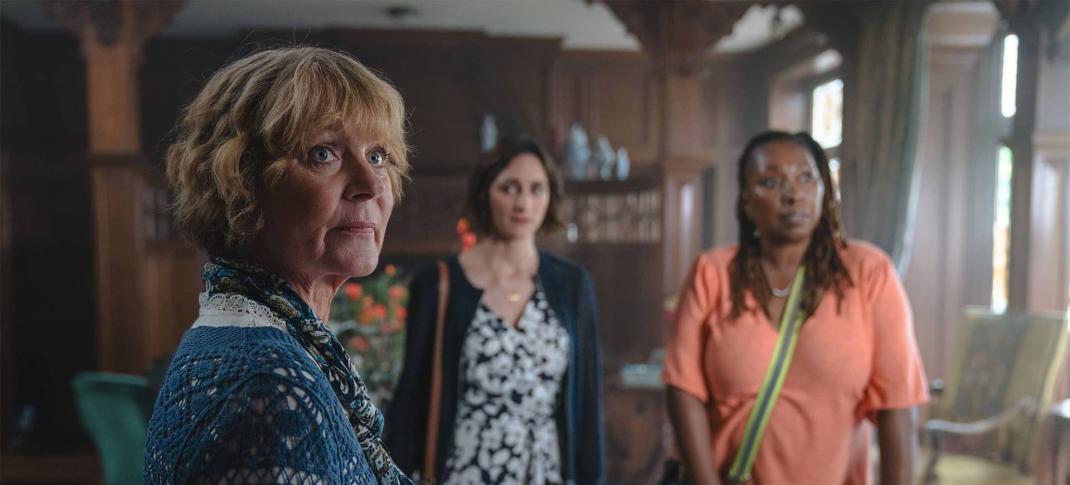 Masterpiece has released the first images from The Marlow Murder Club, its latest co-commission with UKTV. The series is an adaptation of author Robert Thorogood's best-selling novels; he is best known as the series creator of Death in Paradise, which has been a smashing success since its debut in 2011 and later turned into his first set of published novels in 2015. With The Marlow Murder Club, Thorogood is taking the more traditional route of writing them first as novels and then adapting them for TV instead of the other way around.
Thorogood took a step back from Death in Paradise in 2020 when he announced plans for The Marlow Murder Club, only contributing one episode a season since Season 8 in 2019. But he's all in on the new show, credited with writing all four episodes, with The Durell's Steve Barron directing. "After over a decade of working on Death in Paradise, I'm thrilled to be creating a brand-new murder mystery series for TV," Thorogood said as part of the press release. "I can't wait for audiences to join Judith, Becks, and Suzie on their adventures as they solve a series of fiendishly puzzling murders."
The series was initially announced in June 2023, just as it started production, with Samantha Bond (Downton Abbey) and Jo Martin (Doctor Who) as leads. No official release date was attached at the time, but with the arrival of the first images, Masterpiece has confirmed the show will premiere in 2024. Check out the pictures.
Here's the series synopsis:
In The Marlow Murder Club, when murder strikes the quiet riverside town of Marlow, retired archaeologist Judith Potts feels compelled to solve the whodunnit at hand. As Potts begins to uncover a series of puzzling clues, she comes to rely on the help of other local women to investigate the case: Suzie Harris, a local dog walker, and empty nester; Becks Starling,  an unfulfilled vicar's wife; and DS Tanika Malik.
Bond plays Judith Potts, with Martin as Suzie Harris. They'll be joined by Cara Horgan (The Sandman) as Becks Starling and Natalie Dew (The Capture) as DS Tanika Malik. Other co-stars currently listed include Mark Frost (Sherwood), Rita Tushingham (Ridley Road), Tijan Sarr (Shadow & Bone), Daniel Lapaine (A Spy Among Friends), Mark Fleischmann (Enola Holmes 2), Phill Langhorne (Miss Scarlet & The Duke), Holli Dempsey (Murder in Provence), Juliet Howland (The Wheel of Time), Rufus Wright (Endeavour), Phillipa Peak (Home Fires), and Niall Costigan (Vera).
Barron and Thorogood also serve as executive producers, alongside Suzanne Simpson for Masterpiece and Debra Hayward, Alison Owen, and Alison Carpenter for Monumental Television
The Marlow Murder Club will premiere on PBS in 2024.
---
By
for on September 7th, 2023
More to Love from Telly Visions