By
for on January 7th, 2015
Listen: BBC Radio 4's Production of Neil Gaiman and Terry Pratchett's 'Good Omens' is Online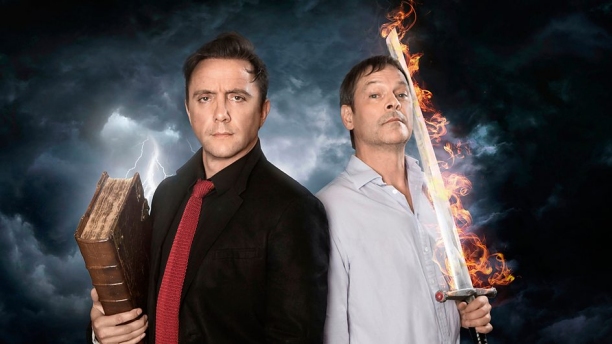 In case your holidays were a bit too hectic to fully appreciate the fabulousness that was BBC Radio 4's recent dramatization of Neil Gaiman and Terry Pratchett's cult classic novel Good Omens, well you're in luck. While the radio drama has finished its on-air run, the entire series is available to stream for free – regardless of where you live! – on the BBC iPlayer website.
First published in 1990, Good Omens subtitled The Nice and Accurate Prophecies of Agnes Nutter, Witch, tells the story of the End Times. Sort of.  It involves an angel (Aziraphale) and a demon (Crowley) who quite like living on Earth, actually, and take it upon themselves to thwart the plans of the Antichrist, whose name is Adam. It's kind of complicated. (But it's awesome.) 
The BBC Radio 4 adaptation boasts a truly all-star (and rather huge) cast, led by Peter Serafinowicz as Crowley and Mark Heap as Aziraphale.  They're joined by a veritable raft of British acting talent that includes such familiar faces as Merlin's Colin Morgan. Game of Thrones' Harry Lloyd, Peep Show's Paterson Joseph, Fresh Meat's Charlotte Ritchie, Whitechapel's Phil Davis. Sherlock's Louise Brealey, Doctor Who's Nicholas Briggs and loads more. There's even a quick cameo from authors Gaiman and Pratchett in the first installment!
While the novel has been a cult hit since its publication, this radio adaptation marks the first time that Good Omens has made it into another medium. (I believe there was some discussion of a TV series once back in the day, but obviously nothing ever really came of that.)  Dirk Maggs – who also handled Hitchhikers Guide to the Galaxy and Neverwhere – pulled triple duty as the series' writer, producer and director.  
All six parts of Good Omens can be found on iPlayer Radio for the next two weeks, after which you can actually purchase the entire production on CD from the BBC Shop.  The best part about iPlayer Radio, though, is that – unlike its video player counterpart – it isn't geo-locked. So, you can listen to Good Omens from basically anywhere in the world, anytime, with no regional restrictions. Huzzah for radio drama indeed.
Have you listened to Good Omens yet? What did you think of it? 
---
By
for on January 7th, 2015
More to Love from Telly Visions