By
for on November 10th, 2017
'Last Tango in Halifax' Finally Returns with Some Holiday Cheer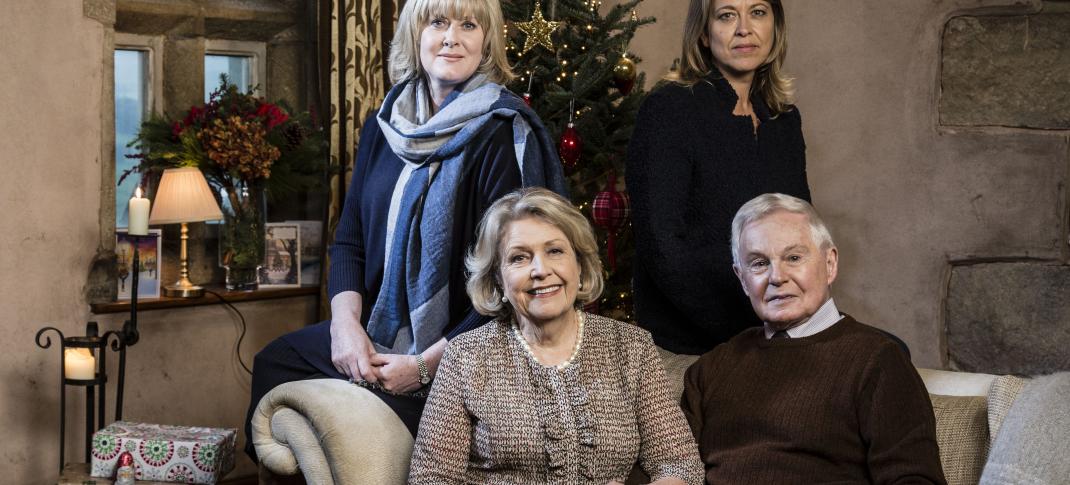 In 2013, PBS audiences were charmed by the love story of Alan Buttershaw and Celia Dawson, a pair of childhood sweethearts who found each other on Facebook after nearly sixty years apart. Starring Derek Jacobi and Anne Reid, the BAFTA award-winning BBC drama Last Tango in Halifax tells the story of the newly reunited couple and their respective daughters plagued by relationship problems and other various family crises.
When we last saw the Buttershaws and the rest of their clan, a wedding was in the offing. It was touch and go, but Alan's daughter, Gillian (Nicola Walker) and her betrothed, Robbie (Dean Andrews) eventually tied the knot with the gentle nudging of Celia's daughter Caroline (Sarah Lancashire). If you want to refresh your memory, check out our recap of the Last Tango in Halifax season three finale here. 
It's hard to believe that over two years have passed since we were treated to a Last Tango episode, but fear not! Viewers are in for a brief but welcome respite from this particular televisual drought. The series is returning in the form of a two-part Christmas special on Sunday, December 17 and 24 at 8pm ET. Check your local PBS listings just to be safe.
The new episodes (which aired in the UK last December) pick up two years after the aforementioned nuptials. We find the perpetually floundering Gillian grappling with issues from her past that threaten to damage her relationship with Robbie. On the other hand, Caroline is moving forward after the tragic death of her wife Kate and is making big changes in her life including a new home and job. Meanwhile Alan and Celia's distress about Caroline's relocation is temporarily set aside as Celia is cast in a local theater production.
After these the specials air in the US, however, the future of the series is not so clear. While doing a press junket interview with the Radio Times for his new film, Murder on the Orient Express, Jacobi was asked about the future of Last Tango. His responded that the show would not return due to the busy schedule of writer Sally Wainwright.
"She's written out, she's writing so many things," Jacobi said. "She's a wonderful writer, but she's got so much work that Tango is finished. It's very sad, we all loved it."
However, following Jacobi's comments the BBC responded with this clarification: "Sally is presently engaged with another BBC project, but has every intention of revisiting Last Tango when she is able to."
To be fair, Jacobi is 79 years old and his co-star Mrs. Reid is 82. Depending on when Wainwright's schedule frees up, her stars may not be up for another season. So my advice to fans of the show is, no matter the official line of the network, relish these two episodes because, at this point, nothing new is in the works on the Last Tango front. And check back here as we'll be doing recaps for both installments!
Are you looking forward to the return of Last Tango in Halifax? What would you like to see happen in the Christmas specials?
---
By
for on November 10th, 2017
More to Love from Telly Visions