By
for on August 2nd, 2015
'Last Tango in Halifax' Recap: Series 3, Episode 6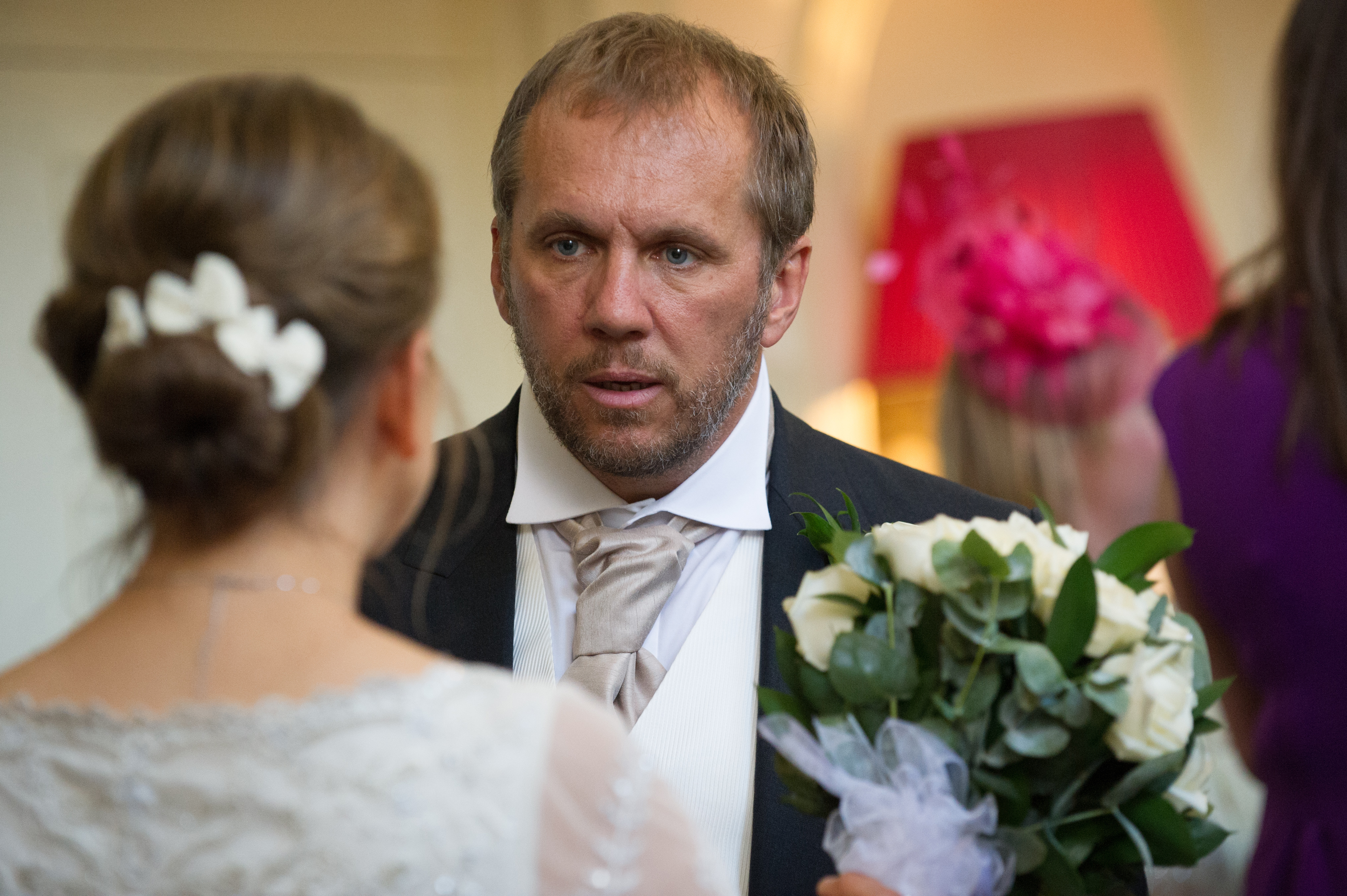 Previously on Last Tango in Halifax: Last week's recap is right this way. 
Here comes the bride and she's none too happy about the whole thing. The sixth and final episode of this series takes place on the day of Gillian and Robbie's wedding with quite a few flashbacks thrown in. Any more and we would have needed a TARDIS to keep up.
Because of so much back and forth, I'm going to structure this last recap a bit differently. I'll narrate the wedding day as normal, but for the flashbacks I'm going to list the information learned in shorthand of sorts. The events that take place in the flashbacks will be designated with bullet points. Here we go!
Robbie and the some of the wedding party are already arriving at the venue (that Gary paid for) while, not surprisingly, Gillian and her cold feet haven't even left the farmhouse. Alan asks Caroline to go upstairs to see what's keeping his daughter. Caroline finds Gillian holed up the bathroom, freaking out considerably about the wedding and blaming it on Gary, her dad, Raff, Robbie and her need to be the family peacekeeper. 
Multiple flashbacks (level of difficulty 8.3)
Raff and Gillian both try to explain to Gary why Alan was upset and embarrassed by the newspaper story.

Alan sees the article as an implication of his infidelity all those years ago and a public humiliation that should be private family matter.

Gary tries to mend fences with a visit to Alan and Celia (whom he suspects is behind this most recent kerfuffle),

He claims while was talking to a journalist about his charity, he mentioned Alan and the reporter took the article in a whole other direction. 

Alan is not having Gary's excuses and accuses him of knowing exactly what he was doing; getting back at Alan for not helping his mother, for not knowing about him. Gary pronounces Alan's allegations rubbish and takes his leave.
Back to the farmhouse, Gillian explains that to keep the family from fracturing further, she accepted Gary's loaded offer to pay for the wedding. Ever the voice of reason, Caroline tries to convince Gillian that what she's feeling is normal and that if she allows herself, she might actually have fun at her own wedding.
At the wedding venue, Robbie is looking green in the gills after a late stag night though he wonders if he might be coming down with flu. We also discover that Robbie and Gillian will be staying at Gary's house in Majorca for their honeymoon. That guy's generosity has gone amok and his wife's none too happy about it. Gary has also paid Harry's court fines in hopes that it will soften Alan's attitude towards him. Felicity sees it as undermining her father, the judge's, authority.
Back in Halifax the bride has finally conceded to move from the bathroom to Caroline's car. Gillian is still not convinced this ceremony is a good idea. She and Robbie have fought more over the wedding plans than anything else ever between them.
Barn flashback  
Gillian and Robbie are still arguing over the big wedding do. She tells him she doesn't like not being in control of her own life.

We also find out Raff has rejected Gary's job offer so he will be staying the course and going to university.
Caroline makes a pit stop at a petrol station and Alan goes inside to pay. Gillian continues her list of reasons why marrying Robbie is not a wise move.
She confesses to shagging cheese boy Ollie in a van just a month before the wedding.
Gillian assumes Caroline considers her a slapper but Caroline remains non-judgmental and explains Gillian's behavior away as lashing out. Gillian agrees she really doesn't like feeling trapped or owned. 
While still waiting for Alan to come out of the shop, where he's phoned Celia to fill her in on the delay, Gillian has one more bombshell to drop. She admits to having another sexual encounter with John sometime after Greg moved into Caroline's place. Alan comes out and interrupts the Gillian's newest revelation.
Back on the road, Gillian starts to lose it again and Caroline asks if Gillian wants to call off the wedding and go back home. She doesn't think it would be a fair thing to do to Robbie, but she will if Gillian wants it. Gillian takes this statement as a challenge and states Caroline never thought she should marry Robbie in the first place. This puzzles Alan and Caroline has to think fast on her feet saying her issue was with Eddie and all the trouble that came of that. Caroline tries to change the subject by bringing the subject back around to John.
Series of John flashbacks
John has tracked Gillian down at her new job despite her wish that he not come to see her anymore.

They meet after Gillian's shift where a gloomy John pours on the self-pity. He is jealous of Greg because his whole family loves him and John's afraid Caroline might be sleeping with him.

John exaggerates about his offer to help Caroline with Flora and rehashes the Judith fiasco.

Apparently Gillian suggests that John insinuate himself into the situation with Greg – if you can't beat Greg, join him. Seems to be working as John is being helpful and even impresses Lawrence with his knowledge of Watchman.
The previous flashback is interrupted by a near miss with an oncoming car and a resulting flat tire. Gillian is in full wedding attire and Alan, being an old man with a heart condition, it's up to Caroline to change the tire. Alan is walking up and down the road trying to get a mobile signal which gives the two women a chance to finish the John flashback.
At a later meeting between Gillian and John, he is happy with his progress with the family and seems to be trying to convince himself that Caroline is bi-sexual.

Gillian, jealous of John's fixation on Caroline, expresses doubt that she chose the right man to marry. Everyone needs a little madness, right?

This conversation leads to a fumble in John's car. 
Caroline finally gets the tire changed, not without totally soiling her outfit, breaking one of her shoe heels and getting rained on.  When the trio finally arrives at the wedding twenty minutes late, Robbie is drinking at the bar. He pressures Gillian to move immediately ahead with the ceremony, but she insists on taking Caroline into the restroom to tidy up. Of course, Gillian finally comes to the heart of why she can't marry Robbie.
Another barn flashback
On his way out to his stag party, Robbie admits that he knew about Eddie's abuse of Gillian. He should have done something, but it involved his brother and Robbie was a coward. He sincerely apologizes.

When Gillian was investigated for Eddie's death, Robbie was convinced she had something to do with it because of his violence towards her.

Gillian asks if he would blame her if she did kill Eddie. He replies he wouldn't blame her, but thank God she didn't because murder is murder.
Gillian can't marry Robbie because he would never forgive her if he knew that she actually murdered Eddie. He's a copper and that's how he thinks. On the other hand, Robbie's a good guy who has had a lousy life and he doesn't deserve the humiliation of being stood up at the altar. Caroline suggests she can always divorce him later so Gillian goes ahead with the ceremony despite a sick Robbie vomiting during her vows. It was definitely flu!
After the wedding, Gary approaches Alan who is still irritated with him. He says he wants to find a better way forward with his dad. Gary admits he may have been angry with Alan at some level and that all the what-ifs got to him. Alan's frosty demeanor still hasn't thawed so Gary suggests they meet after he and Celia return from New Zealand. Alan later finds out from Celia that Gary has offered to upgrade their flight status and she would very much like to fly first class. Alan takes the bait, thanks Gary for his generosity and takes him up on his generous overture.
As Caroline readies to leave the party, she and Gillian embrace as true sisters after their series of emotional ordeals. Caroline puts Flora in the car and we see Kate in the backseat. Caroline tells her she loves their baby more every day and wouldn't be without her now. She thanks Kate for suggesting she contact Greg. Kate tells her that she's got to go; she won't be showing up anymore. Caroline acknowledges this and seems at peace with it.
So our Yorkshire friends are off to all corners of the world – Gillian and Robbie to Spain for their honeymoon, Caroline and Flora to New York to visit Kate's mother and Alan and Celia to New Zealand, of course. What will we find upon their return? Raff and Ellie married before Raff goes off to uni? Will Gary be less of a self-centered sod (Alan's words) or just as paranoid and needy? How long will Gillian and Robbie last? And what of Celia; will she, as she suggested, be the bigger person when it comes to her family members' mistakes? That's rich, eh? I'm so glad Alan called her out on that one when it comes to Caroline. 
Thanks for joining me this for this series of Last Tango in Halifax recaps. It's been a tough one this time around. Some of the characters got tiresome and others had to suffer more than their share. It's rumored that series four might be the last, so here's hoping the next year will bring a bit of peace and happiness for the whole gang.
Please keep the comments coming and feel free to chime in on any part of the series, not just the finale. Ta'ra til next time!
---
By
for on August 2nd, 2015
More to Love from Telly Visions