By
for on December 17th, 2017
'Last Tango in Halifax' Christmas Special Recap: Part One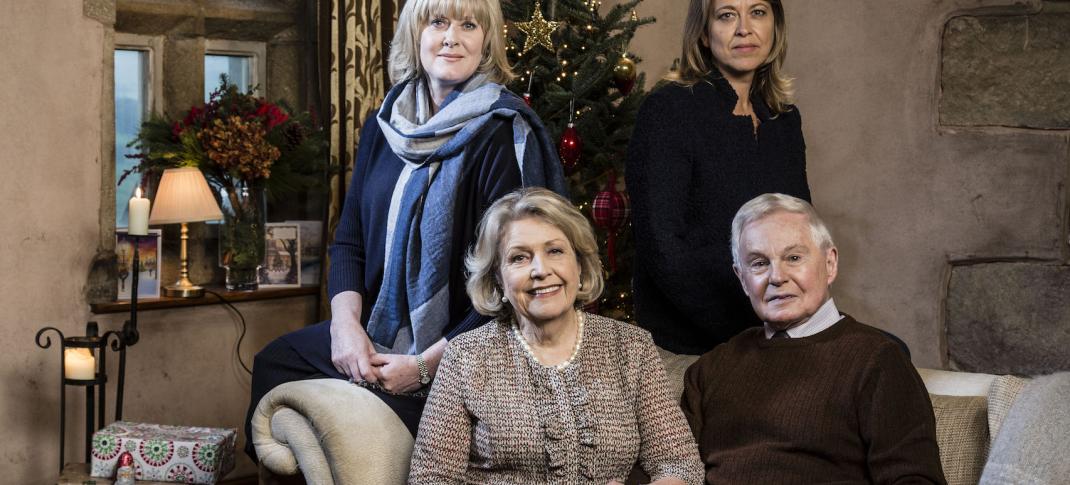 After a considerable hiatus, the Buttershaws and their kin have returned to U.S. airwaves just in time for the holidays. At the start of this festive Last Tango in Halifax special, we find that while life has moved on in Halifax and its environs, no major shakeups have occurred…yet.  Let's look at where we find the major characters almost two years on.
Gillian
After a rocky start, Gillian (Nicola Walker) and Robbie (Dean Andrews) are still married. In fact, the discussion she and Caroline had about Gillian divorcing her new groom shortly after the wedding seems to have slipped her mind. What concerns Gillian now is how to cope with "retired husband syndrome". After leaving the police force, Robbie is at loose ends and he's following Gillian around the house like a lost puppy.  This is making her noticeably irritable. So irritable, in fact, that she throws a hissy fit and disinvites her whole family to a dinner with Caroline's clan. Fortunately, Caroline (Sarah Lanashire) shows up solo as well after annoying her relatives by living her own life. More on that later…
However, when a serious accident involving power tools sends Robbie to the hospital, we learn that something more ominous has been troubling Gillian. (Also that when plunked down into an emergency situation, she employs the interesting strategy of distracting victims from the seriousness of their predicament by moaning about her own problems.) In the emergency room waiting room, Gillian confides to her step-sister Caroline that Robbie has now had three increasingly severe injuries in recent months and they've all happened in the barn. You know, the barn where Gillian murdered her abusive husband all those years ago? She has the feeling that something evil (Eddie's spirit, to be exact) still resides there and is pissed off that she has married his little brother. Despite Robbie's insistence that their life has never been better, Gillian is not convinced.
A bit less dramatic but still upsetting is the knowledge that Gillian's father, Alan (Derek Jacobi) has made some changes to his will. First and understandably, he and his wife Celia (Anne Reid) have made the stipulation that whomever goes first, all their estate will go their spouse rather than to the respective daughter. Then when that survivor dies, the whole lot will be divided equally between Gillian and Celia's daughter, Caroline. The kick in the gut for Gillian, however, is that the couple want their ashes buried together rather than the original plan to have Alan's remains scattered with this first wife/Gillian's mum. Surely this is a predicament for most widows and widowers who remarry later in life. But considering what we know about how Gillian's mother effectively tricked Alan into marrying her by failing to deliver Celia's goodbye note to him all those years ago, it's gotta hurt. Despite his characteristic attempts to handle this delicately, Alan has chosen his final resting place and it's not with Gillian's mom.
Caroline
Caroline, on the other hand, is grappling more with the future than the past. While she continues to grieve for the loss of her wife, Kate, she's doing her best to raise their daughter, Flora. But that hasn't kept her from indulging in what she seems to consider an ill-advised dalliance with local wine merchant Olga (Lorraine Burroughs).
No matter how foolhardy this fling might be, it turns out it also may have been the impetus for a significant life change. Caroline claims it was Olga's taunting about her being a privileged rich bitch that pushed her to consider a more challenging gig at a rougher school. Now she's found out she's been chosen for a headship at a state comprehensive school in Huddersfield, no one (including Olga) is happy about it. Caroline is everyone's rock so what she does affects them all. And what she wants to do is move closer to her new job.
That means Alan and Celia must chose to move with her, move in with Gillian or find a place of their own. (HINT, HINT!) Of course, they choose to move along with Caroline to the rustic, old farmhouse in Huddersfield which has "a lot that needs doing." Celia finds mouse droppings and complains of the damp (i.e. mold) in her bedroom. On the other hand, Alan is concerned with keeping the lads who are working on the house happy and insists on making them a cuppa. After all, the kettle is the last thing packed and the first thing unpacked when one is "flitting."
It doesn't help that Caroline's youngest son, Lawrence (Louis Greatorex) is being your typical moody teenager. It seems, for a while at least, he was living in a fancy, modern house with his father John (Tony Gardner) and Judith (Ronni Ancona). Yes, Judith who seems to have gotten back on the sobriety wagon and has even received a medal for her children's book!  Now John has caved to Judith's demands and says Lawrence needs to move up to Huddersfield with Caroline. This is his plan despite the fact the boy will be spending most of his days commuting back and forth to school in Harrogate. Naturally, Lawrence blames his mother for being selfish and moving rather than his father for effectively kicking him out so close to Christmas.
And finally during dinner at Caroline's new abode, there is an unexpected knock at the door. It's Alan's friend Harry (Paul Copley) and his "new girlfriend" Olga whom he's just met in the pouring rain on the doorstep. Olga has brought a case of wine as a housewarming gift. Only Caroline's older son William (Dean Smith) seems to notice the lipstick on his mother's cheek and her discomfort with the uninvited guest who has barged in on their family meal. Meanwhile, Harry can barely contain his excitement about the fact that Caroline has purchased a house haunted by Matthew Normanton, a member of an 18th century counterfeiting ring. Apparently, the ghost shows his face at the window just before a death. (Am I the only one who began to think this was meant to be a Halloween/Yuletide mash-up special?)
Alan and Celia
And speaking of haunting, Celia has won (or let's just say, inherited) the role of the eccentric medium, Madame Arcati, in the Halifax Players' production Blithe Spirit. And she can't stop talking about it. Even supportive and patient Alan seems bored of her constant bragging.
Nor can she stop nagging poor Caroline. When Celia is first asked to fill in for the actress who broke her hip, Caroline agrees to drive her mother down to Halifax for the rehearsal only to be bombarded with negative comments about her grooming habits and her mother's continued insistence that Caroline's same-sex marriage was merely a phase. It's one of their classic rows with Celia accusing her daughter of throwing cold water on her dreams just like Caroline's father always did and the fed-up Caroline advising Celia not to let the door hit her arse on the way out. In the end, Caroline knows that Celia is nervous about the play and just needs some encouragement which she compassionatley offers. Can anybody remember the days when Celia was ever a likeable character?
It would appear that the Halifax players are cursed since the play's director/supporting actor suffers a stroke only days before the first performance. Celia wants to appear in the play so badly that she lies about Alan's resume and volunteers him to take on the role of Dr. Bradman. To which Alan replies "I can't act" and bemoans that he's too old to learn lines. Now if that's not an obvious "wink wink" from Tony and Olivier award winner, Sir Derek Jacobi, I don't know what is!
Before sitting down to write this recap, I admit I went back to glance over the comments made by our readers regarding the Last Tango season three finale. To be honest, it was less than warmly received by many fans. So now the question that begs to be answered is this: Did the Christmas special do anything to redeem the show in the eyes of those viewers who felt let down last season? For one thing, Alan's newly discovered (and very needy) son Gary, played by Rupert Graves, was nowhere to be seen. That's an improvement, in my book anyway.
Please share your thoughts about this episode and/or the evolution of the show as a whole in the comments section below. And don't forget to join us right back here next week when we recap part two of the Christmas special!
---
By
for on December 17th, 2017
More to Love from Telly Visions