By
for on January 20th, 2023
Acorn TV Sets March Premiere Date for 'The Larkins' Season 2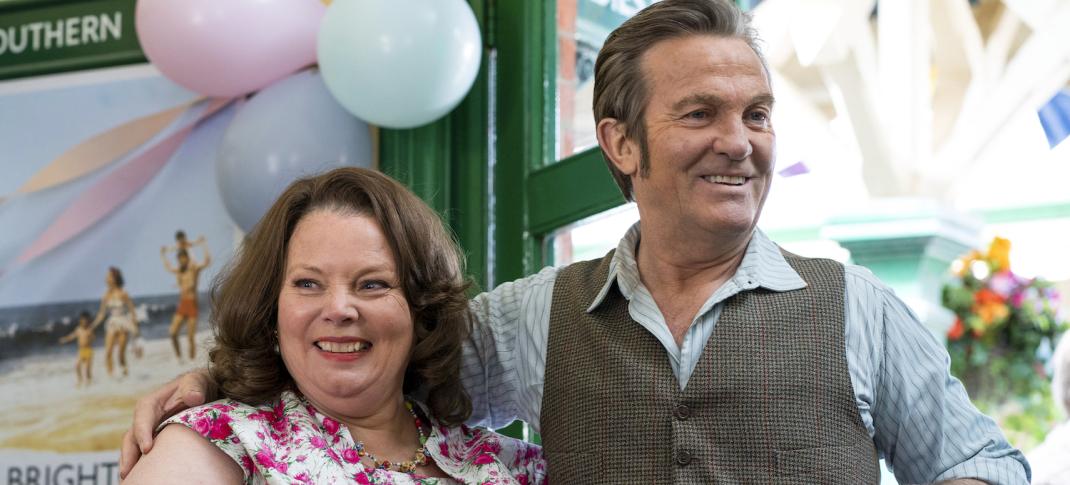 Get ready to head back to the idyllic village of Littlechurch; The Larkins is officially returning to Acorn TV this spring. Season 2 of the heartwarming series will premiere on the streamer on March 30. 
A new adaptation of the classic family drama The Darling Buds of May, The Larkins is a bucolic 1950s-set tale of life in the Kentish countryside based on H.E. Bates's novels. It follows the adventures of the sprawling Larkin clan as they navigate family issues, financial struggles, and the occasionally uncomfortable politics of life in their rural village town. 
Bradley Walsh (Doctor Who) and Joann Scanlan (The Thick of It) star as Pa and Ma Larkin, who must wrangle their six children (both natural and adopted), all while Pa finds himself involved in all manner of complicated schemes. Happily, things almost always manage to turn out for the best, and there are very few problems that can't be solved with a heaping dose of love and neighborliness. 
Season 2 finds the Larkins getting some dubious new neighbors in the Jerebohm family, Ma playing Cupid between her daughter Primrose (Lydia Page) and the handsome new Rev Candy, and a trap set for Pop, landing him in trouble with the law. 
New cast members for the drama's second season include Julian Rhind-Tutt (Britannia) as Mr. Jerebohm, Morgana Robinson (Stuck) as Pinkie Jerebohm, and Maxim Ays (Sanditon) as Rev. Candy. 
Eagle-eyed viewers will undoubtedly notice that the Season 2 trailer seems to very deliberately avoid showing us a glimpse of the eldest Larkin daughter Mariette, who got engaged to her boyfriend Charley during the Christmas special that closed the series' first season. Therefore, we still haven't gotten a good look at Starstruck's Joelle Rae, who took over the role of Mariette Larkin from Bridgerton's Sabrina Bartlett, who announced that she wouldn't be returning for Season 2 last year. (Tok Stephens, who plays Charley, remains with the show.)
Bartlett's departure is said to be for "scheduling reasons." However, given the high-profile nature of both the show and the role, it seems likelier than the tabloid reports citing uncomfortable friction between the actress and her co-star Stephens may have something to do with her exit. Bartlett's sparkling portrayal of Mariette was a highlight of Season 1 and has certainly set a high bar for Rae, particularly given that Charley and Mariette's wedding will be a rather significant subplot of this second outing.
The Larkins Season 2 will premiere on Monday, March 20. Season 1 is streaming now on Acorn TV. 
---
By
for on January 20th, 2023
More to Love from Telly Visions