By
for on April 6th, 2021
Lara Maiklem's 'Mudlark' is a Love Letter to England's River Thames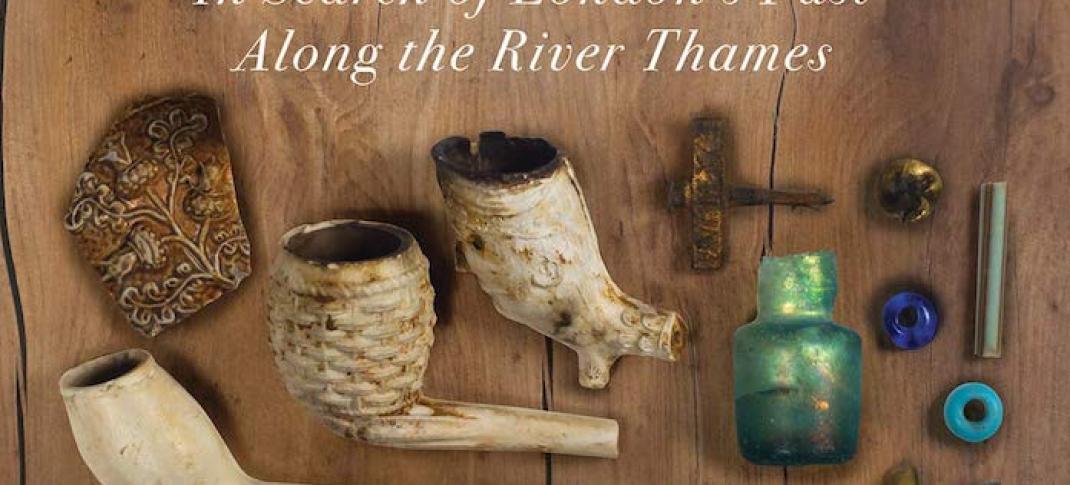 Time stands still in the fog. With all modern references obscured, the river is ageless, static, ghostly. The spirits of the foreshore rise up in the mist, just out of sight. Through the swirling whiteness, a medieval fisherman pegs his fish traps to the riverbed, a Victorian scavenger wanders barefoot through the mud, and a Georgian shipwright checks the hull of his newly built ship. On the river, invisible galleons and sailing barges glide past, wherries are carried swiftly downstream, and a phantom paddle steamer pushes through the currents. Thames fogs are quite literally the mists of time. They are daydreams manifested, swirling visions of the past.
Lara Maiklem's book Mudlark: In Search of London's Past Along the River Thames is a deeply personal account of her experiences on the shores of the River Thames that speaks to us all of the beauty of small, forgotten things, unexpected joys, and the thrill of discovery. Mudlarking is her calling, her respite from a troubled world.
Maiklem is a Mudlark, one of those licensed to search for treasure—often others' trash—washed up on the low tides of the River Thames. She has made some remarkable finds, a few of museum quality, but most of them small, humble items that were the everyday stuff of past lives, now lost, broken, and discarded. Her gorgeous, elegiac prose allows us time to think, reflect, and dream on a journey from the river's tidal head to the sea, and wander in time from prehistory to our recent past.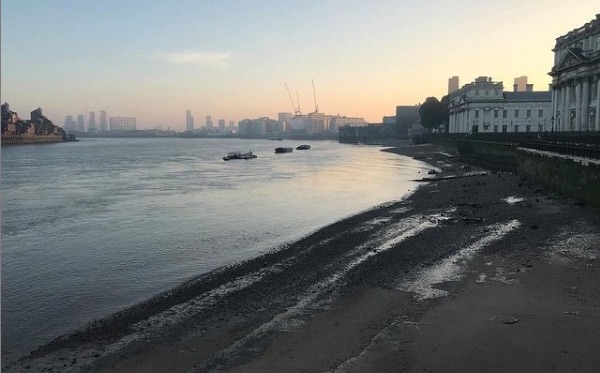 The River Thames is a tidal river, which means the water level in Central London can rise anywhere between fifteen to twenty-two feet at high tide. The tide takes six hours to flow in from the North Sea, turns at Teddington Lock, about thirteen miles west of Central London, and takes six and a half to flow back. Material, natural and man made, is constantly churned, rearranged, washed up, or taken away.
We're all familiar with the shape of the Thames in London, the elegant squiggles culminating in the bold swoops that create the Isle of Dogs and Canary Wharf, as well as the iconic buildings along its shores. Humans have attempted to bend the river to their will, building bridges and docks, using it for entertainment, industry, and travel. Yet the river is an unpredictable force, subject to flooding, only partially controlled by technology that was not designed for global warming and rising sea levels.
The term "mudlark" has been around for at least centuries, dating back to a time when everything and anything could be gathered and used. The river, as now, provided rich pickings. Social reformer Thomas Mayhew, in his 1851 book London Labour and the London Poor, describes with horror children and elderly women picking through sewage for anything that could be sold.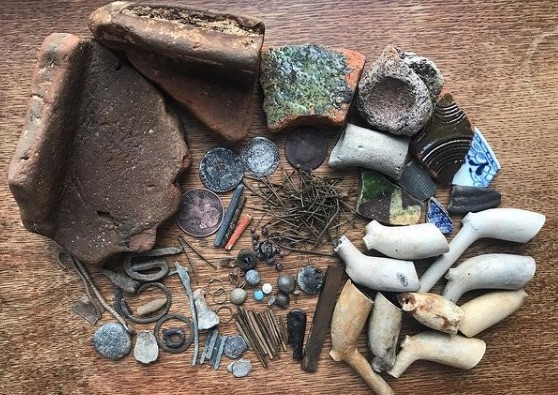 The river is regarded as an archaeological site over 200 miles long, rising in the Cotswolds and flowing through London to the North Sea, with a tidal section of 95 miles. You may wonder why, then, are people allowed to scavenge along its edges? It's because as the river yields its treasures, it destroys them—stone, ceramic, wood, bone, metals, leather, glass—with pressure from the tides and friction with the riverbed. If no one gathers these items, they will be gone. Mudlarks work closely with the Museum of London which maintains a database of significant found objects. Additionally, Mudlarks are now regulated and required to carry permits from the City of London. Standard Permits are for those who, like Maiklem herself,  are "gatherers"—committed to searching surfaces and digging to less than three inches.
Those she describes as "hunters" are the holders of Mudlark Permits, allowed to use metal detectors and dig to a depth of just under four feet, and are members of the exclusive and secretive Mudlark Society. In this way, the deep buried organic treasures of the anaerobic Thames mud—such as wooden structures, or ancient prehistoric trees—remain safe. For instance, during very low tides at Vauxhall Bridge, two rows of wooden posts emerge, dated to the Bronze Age (about 1500 BC). Queenhithe, used as a dock from the ninth century, is a Scheduled Monument that has the same level of protection as Stonehenge and all mudlarking is forbidden there.
Meanwhile, the river eats away at the remains of structures built to maintain the London docks, warehouses, and shipbuilding yards that were once the pride of the Empire, spilling out yet more finds. The shipping industry ended in about 1970, and the only working dock now on the Thames is far east of the city at Tilbury, used by cruise ships and container ships. It's where the first large group of immigrants from the West Indies arrived in 1948 on the Windrush, to rebuild Britain, and where Elizabeth I rallied the troops for the Spanish Armada.
What really excites Maiklem—and us, as we accompany her on her Thames journey—are the items that have a personal touch. Clay tiles, laid flat to dry, often sport animal footprints, because cats have centuries of experience going where they aren't supposed to.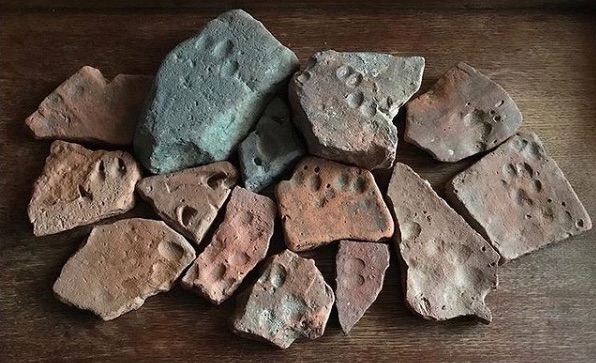 How did this silver poesy ring, dating from the 16th-17th century, which reads I live in hope end up in the river? Was it lost, or thrown into the water in anger during a lovers' quarrel?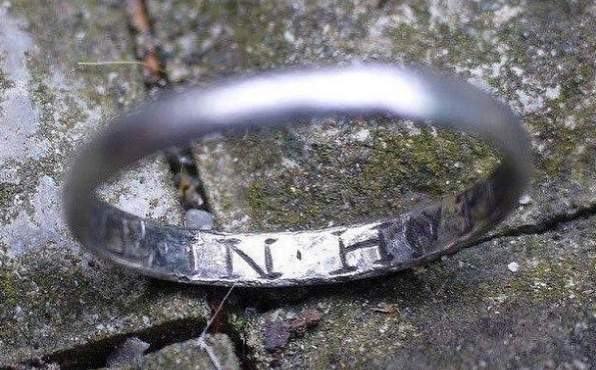 As I have discovered, it is often the tiniest of objects that tell the greatest stories. … My best spoil heap find was from here: a chevron bead smaller than a pea that because of its rarity and collectability is worth more than its weight in gold. But I'm not interested in its value. I'd waited for years to find one and I'd never sell it.

Because the Thames's anaerobic mud preserves organic matter so well, mudlarks tend to find lots of leather items, particularly shoes, or parts of shoes. The other reason for the appearance of so many shoes is that the viscous Thames mud also has the property of ripping shoes from people's feet.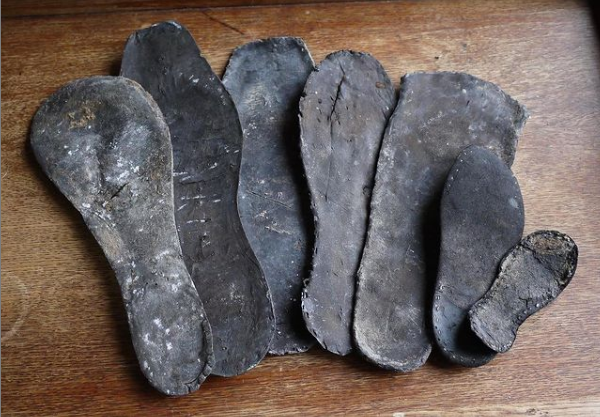 The Thames is now the cleanest urban river in the world, although it was declared biologically dead in 1957 and took over a dozen years to revive. For centuries, Londoners' sewage was disposed of into the Thames, until 1856, famously the year of the Great Stink. London's growing population, freak low tides, and high summer temperatures caused a stink Parliament could no longer ignore, since it was right under their noses at Westminster. As a result, a new sewage system was built. That system, straining under the curse of fat bergs, is still in use although a Super Sewer, a tunnel below the river, is being built to prevent the raw sewage overflow that spills into the river after heavy rains. Similarly, Victorian London's refuse was taken out east of the city to the Estuary.
The Thames is slowly regaining its native species, and acquiring new ones, stowaways on ships that could become invasive. There is a colony of yellow-tailed scorpions on the Thames which arrived in ships bearing stone from Europe that have thrived for two centuries. Eels, which the Thames was once famous for, may be returning and the river is home to seals and migrating birds. The occasional dolphin or whale also visits.
Maiklem's final chapter is about a visit to the Estuary and includes a terrifying account of wading through heavy mud as the tide comes in, reminding us that the river is a dangerous and wild place.
The Estuary is the wildest part of the river, a strange mix of industry, history, and nature, ugly and beautiful, patched with marshland and drainage ditches, medieval fortifications, and World War II defenses. This foggy marshland is where young Pip meets convict Abel Magwitch in Charles Dickens's Great Expectations. The City of London's jurisdiction ends there, and the area is under threat from development, as well as pollution from carelessly dumped twentieth-century waste.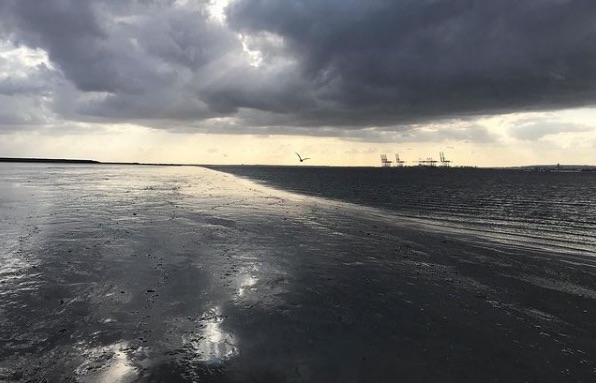 Malaria was a killer in the Estuary wetlands for centuries and frequently human remains turn up. They may have been prisoners, some awaiting transportation to Australia, who died on the hulks, decommissioned ships that acted as floating prisons. Maiklem herself has an ancestor who was transported from Wapping, but so far the trail has gone cold. She did, however, find partial human remains that were two or three centuries old and have been sent, ironically, to Australia for testing and possible facial reconstruction.
You may be disappointed that the book has no illustrations, other than the gorgeous cover—you can find many pictures and anecdotes on Maiklem's Instagram account, @london.mudlark. More importantly, the book has a map of the tidal Thames and of Central London, with names of places you'll read about (Cuckold's Point?). A bibliography that corresponds to each section of the book, and many links, will keep you curious and entertained. This book will take you on a journey that is almost impossible in normal times, to the hidden nooks of the Thames, as well as the locations that Maiklem has "discovered" and wants to keep to herself. But she shares her experiences, reflections, and her treasures with great generosity, and I am grateful for this wonderful, inspiring book.
Have you read Mudlark? Do you yearn to see London and the Thames again? Let's share memories of visits to England.
---
By
for on April 6th, 2021
More to Love from Telly Visions