By
for on September 16th, 2023
Liam Neeson is Wasted 'In the Land of Saints & Sinners'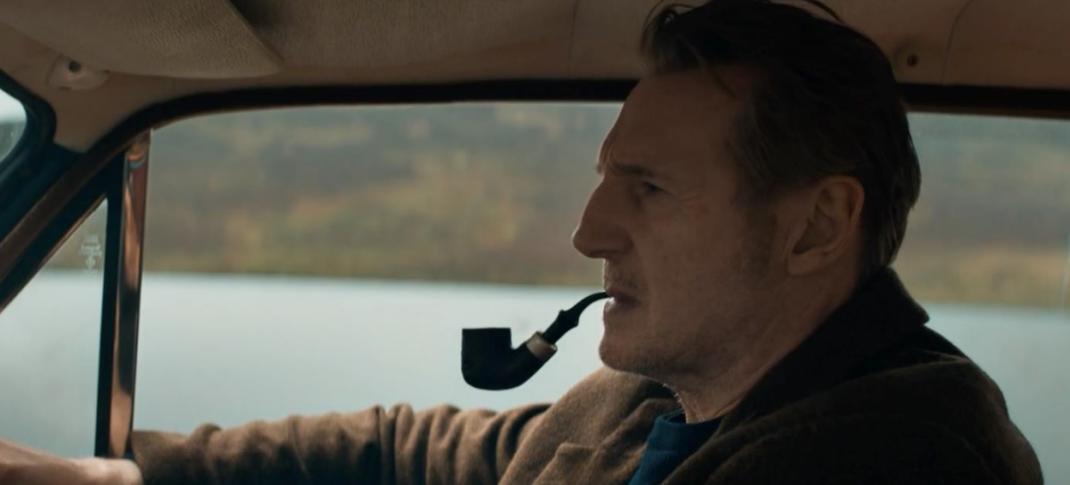 You know something's severely wrong with a film if you find yourself fixating on the casting – not just mulling over who's in the ensemble, but how they all got assembled together. If you're stuck on the mechanics of how brilliant actors ended up alongside each other, there's an implicit judgment that the film is much lesser than their collective talents.
Enter In the Land of Saints and Sinners, a film with one of the strongest Irish casts in recent memory and a script with frighteningly little to offer them. Inexplicably premiering at the Venice Film Festival, Saints and Sinners reeks of a lack of polish and sophistication; its 70s-set story of violent secrets coming back to haunt Irish hitmen and IRA terrorists in small-town Donegal feels like it's riffing on the back catalog of Troubles-era fiction rather than sprouting an original tale from a country's lived history. While the cast is top-notch, they only reveal how undeserving they are of this suboptimal thriller.
A trio of Oscar-nominees leads the pack: Liam Neeson (Widows) as Finbar, a hitman nearing retirement; Kerry Condon (The Banshees of Inisherin) as Doireann, an IRA agent hiding out in Finbar's village after a Dublin explosion claimed the life of child bystanders; and Ciarán Hinds (The Dry) as Vinnie, the local Garda officer (Ireland's national police service) whose kinship with Finbar is predicated on him not knowing his friend's violent past and true identity.
But the cast boasts greater pleasures than just seeing lifelong friends Neeson and Hinds onscreen together or Condon embracing nastier shades than she did in The Banshees of Inisherin. There's a rich sampling of Irish TV talent elsewhere in the ensemble, with Star Trek: Deep Space Nine's Colm Meany, Game of Thrones' Jack Gleeson, and Industry's Conor MacNeill welcome additions to the perfunctory narrative. Sarah Greene rounds out the team with a touch of Tony-nominated class. (Incidentally, Greene was nominated for her role in the Broadway revival of Martin McDonagh's The Cripple of Inishmaan, which tells you everything about the dramatic heights Saints and Sinners wished it was emulating.)
The symptoms of moral rot in the Donegal town are, of course, more nuanced than just hurting children, and it's refreshing to see Neeson star in one of his modest thrillers that isn't a chore to sit through. To his credit, he's more enthusiastic in a leading role than he's been in years, excluding the genuine artistic films he's been a supporting player in (Martin Scorsese's Silence or Steve McQueen's Widows) or his 2022 triple-bill of winking, playful cameos (Derry Girls, Atlanta, Obi-Wan Kenobi). 
Maybe Neeson's visible effort is down to the joy Irish actors get from working in their homeland – it's tough to imagine anyone in the cast having a tough time filming in such beautiful places with such exciting talents. But we again draw back to the main problem with the film: the best thing we can say about Saints and Sinners is that all these great actors must have had a lovely time making it. The same can't be said for watching it.
Newcomer writer Mark Michael McNally joined forces with TV director Terry Loane to pen the screenplay, which floats along on solid enough thriller plotting, complete with an overindulgence of sweary, angry Irish characterizations. As Finbar's warped sense of justice gets him into bother, tensions with the IRA faction threaten to further disrupt his idyllic bliss, setting Doireann on the warpath that's pleasantly watchable when it's not exploding in gunfire and homemade explosives (i.e. right up until the climax). There's something so reality-shattering about Saints and Sinners' violence – as if the screenwriters were more concerned with making their action and murder stand out in the crowded neo-Western genre rather than grounding it in a specific, realistic time and place.
Maybe the underwhelming script would have been better served by more interesting direction; after directing him in 2021's The Marksman, Clint Eastwood protege Robert Lorenz again encourages Neeson to trade in muted, murky waters of lone wolf-ness that, although they're cliched, still compel to some degree. West Donegal, one of the most beautiful places on Planet Earth, is done a disservice by Tom Stern's cinematography, which captures the stunning hills and coasts with all the energy of a daytime nature program. Stern is also a regular Eastwood collaborator, but Saints and Sinners' unfussy, sterile camerawork is lackluster even for someone accustomed to Eastwood's minimalist style.
As of now, Saints and Sinners is set for a theatrical release but will debut internationally on Netflix. The current moment in Hollywood has revealed how important it is to root against streaming giants, so hopefully, modest but eager crowds can be drawn for a Liam Neeson vehicle that, although it can't deliver the strengths of his pre-Taken career, feels like a step in the right direction. We can only hope that In the Land of Saints and Sinners will be remembered for course-correcting Neeson's career away from American action towards darker, grounded Irish stories. But as it stands, it's likely to end up like those that Finbar knocks off – buried.
Netflix has not yet announced a release date for In the Land of Saints and Sinners, but it is expected out before the end of 2023.
---
By
for on September 16th, 2023
More to Love from Telly Visions