By
for on November 16th, 2023
'Julia' Season 2 Overindulges a Bit, But We Still Love It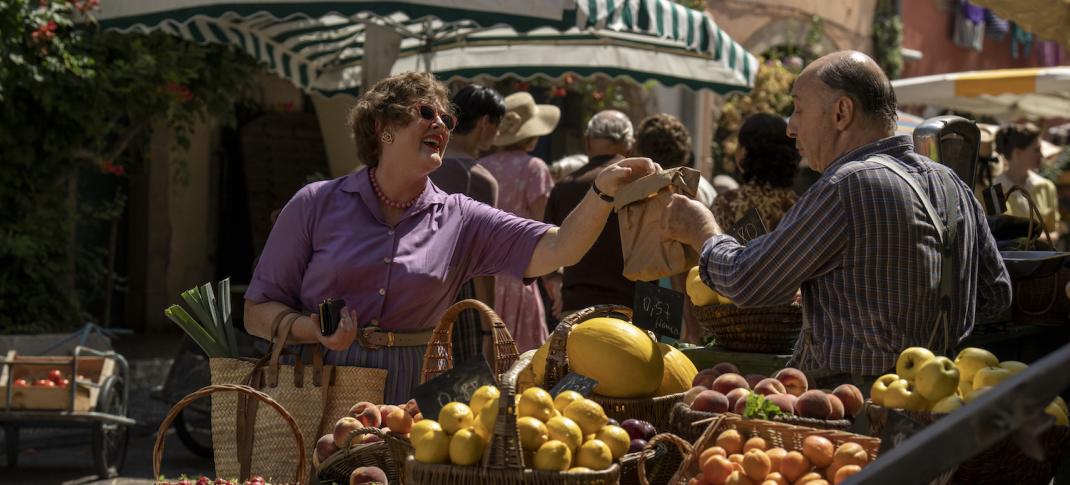 The phrase too much of a good thing came to mind while watching the second season premiere of Julia. The Max series about the rise of famed and beloved chef Julia Child was truly a delight in its first season, and so much of its creative success hinged on Sarah Lancashire's performance as the treasured title character. Lancashire (Happy Valley) inhabited Child so fully, from her very specific accent, to the cadence of her speech to the absolute infectious joie de vivre in her interactions with others. But something is off in the second season premiere. Suddenly, Lancashire's take on Child borders into caricature territory. The performance is too broad, and too over the top. That might also be because the first three episodes of the season separate all the characters.
Julia and her husband Paul (a lovely David Hyde Pierce) are in the French countryside with Simca (Isabella Rossellini), trying to finalize the recipes for their next cookbook. The two women cannot stop arguing. Simca is constantly frustrated by Julia's willingness to tamper with authentic French cuisine. "We start cooking real food in the morning," she tells Julia after one afternoon in the kitchen. Simca is also perhaps a little jealous of Julia's fame. One character meets Simca, the co-author of Mastering the Art of French Cooking, and asks Simca how she knows Julia.
Meanwhile, back in Boston, Alice Naman (Brittany Bradford) has hired a new director for Julia's show, The French Chef. Rachel Bloom (Crazy Ex-Girlfriend) joins the cast as Elaine Levitch, a hotshot CBS producer who brings new ideas and energy to WGBH. Russ Morash (Fran Kranz) is no longer the director of Julia's show and is busy trying to become a documentarian with varying degrees of success. Julia's best friend, Avis DeVoto (Bebe Neuwirth), is embarking on a new romance that literally allows her to let her hair down. Julia's editor, Judith (Fionna Glascott), is still clashing with her increasingly fragile boss, Blanche Knopf (Judith Light). The show seems fractured, as so many of the character's storylines are in their individual silos.
The guest stars are fun, including Christian Clemenson (Masters of Sex) as James Beard and Stockard Channing (MaryLand) as his lady friend who doesn't mind that Beard is gay. Avis befriending Jean-Paul Satre and engaging him in philosophical conversations is probably something that never happened, but is still a lot of fun to watch. "You expect me to live by my own philosophy," he asks Avis. Other plot points seem to wander without much point. Like a suave European man hitting on Judith. "I'm married, but boy oh boy, did I have fun tonight," she tells him. 
It isn't until the fourth episode of the eight-episode season that the gang is all back together, and the dramatic thrust of the second season, which Julia and Paul's storyline dabbles in while they are in Paris, begins to reveal itself. For a show that still bills itself as a comedy, the plot line surprisingly involves the FBI trying to root out "leftist dissidents."
Waiting until the season's midpoint for everything to come together is a creative misstep. But one that I'm willing to overlook because the show is so charming and the performance so fantastic. By the second episode, Lancashire has hit her groove once again as Julia. I'm particularly partial to Alice and Judith, both of whom represent women making it in fields dominated by men. "Ninety-nine percent of my job is saying no to men just like you," Judith tells one male author who is horrified that Judith rejected his manuscript. Alice's humiliating appointment with a gynecologist will make you shudder, but, given the state of things in 2023, it doesn't seem that far off from our present-day reality. 
Like AppleTV+'s Lessons in Chemistry, Julia offers viewers a peek into the nascent days of television and also the inherent sexism that existed not only in the industry but for all women. Although Julia and Chemistry's Elizabeth Zott couldn't be further apart on the personality spectrum (not to mention that one is a fictional character), the inherent misogyny they faced while trying to change the face of television was similar. Comparisons between the two shows are inevitable, especially in moments when both shows feature storylines about product placement being forced upon their stars. 
The lovely marriage between Paul and Julia is once again on full display. They are devoted to each other and even wear matching pajamas. This season also offers up two David Hyde Pierce performances for the price of one, which is a hilarious delight. I'm not quite sure why the show is again revisiting the fact that the couple didn't have children. Julia Child is one of the most successful TV stars of all time. She pioneered an entire genre of television. She is an icon. Would a TV show about a man keep revisiting why he didn't have children?
Complaints aside, Julia remains an amuse-bouche on the television landscape. A little something extra for viewers to devour. "Life doesn't come to you when you're six foot two and look like me . . . I had to find what I love," Julia says. And it's easy to once again love Julia.
Julia Season 2 premieres Thursday, November 16, with the first three episodes, followed by weekly releases on Thursdays until the finale on December 21, 2023. Season 1 is currently streaming on Max. 
---
By
for on November 16th, 2023
More to Love from Telly Visions