By
for on February 24th, 2015
ITV Confirms 'Broadchurch' Will Return for a Third Season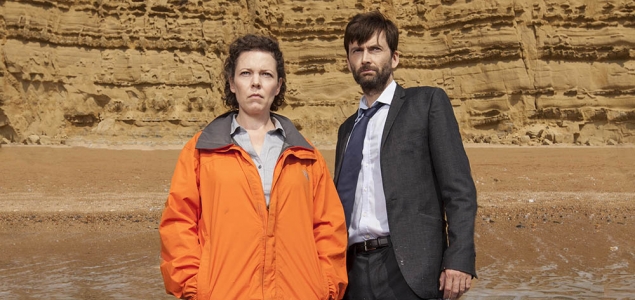 Good news for fans of dark, interesting and occasionally creepy detective shows! British network ITV has officially confirmed that
Broadchurch
has been renewed for a third season.
The announcement that the detective drama would return for another go-round came as the credits rolled on its Season 2 finale. Stars David Tennant and Olivia Colman are both set to return as Alec Hardy and Ellie Miller. Other cast details and filming details will be announced at a later date apparently, but word around the internet is that Season 3 is currently slated to air in early 2016 in the UK, much as it did this year. 
Here's official confirmation, straight from the horse's (er…press office's) mouth, as it were: 
Confirmed: ITV commissions a third series of Broadchurch. Full details > http://t.co/B7CUJzU9CV pic.twitter.com/InnlFaJovK

— ITV Press Centre (@itvpresscentre) February 23, 2015
"We've been overwhelmed that nine million people every week have continued to join us on the twists and turns of Broadchurch," says creator and writer Chris Chibnall. "This third chapter has been a glint in my eye for a long time and I'm thrilled to be writing these characters once again."
As I haven't seen Season 2 yet myself, I can't comment on its general level of quality – and let me just request right now that if you have see Season 2 please don't spoil it in the comments for the rest of us, thanks – but I loved the show's first outing. Loved it so much in fact that I actually feel kind of uneasy that it's coming back for a second season at all; in fact, part of me feels like the general perfection of that first season should just be left as it is, on its own. But, that's why I'm not a television executive, I expect.
Season 2 of Broadchurch is currently set to begin in early March on BBC America, premiering on March 4.  (The trailer for Season 2 looks really creepy and awesome, BTW.)  If you haven't seen Broadchurch before, get yourself to Netflix right now.
It always feels so weird when British shows get renewed before us Americans see the most recent season – but, since I loved S1 so much, I'm just going to proactively be excited about this. Tennant and Colman are fantastic together. 
Thoughts about a third season? 
---
By
for on February 24th, 2015
More to Love from Telly Visions