By
for on September 12th, 2023
Irvine Welsh's 'Crime' Returns to ITV for Season 2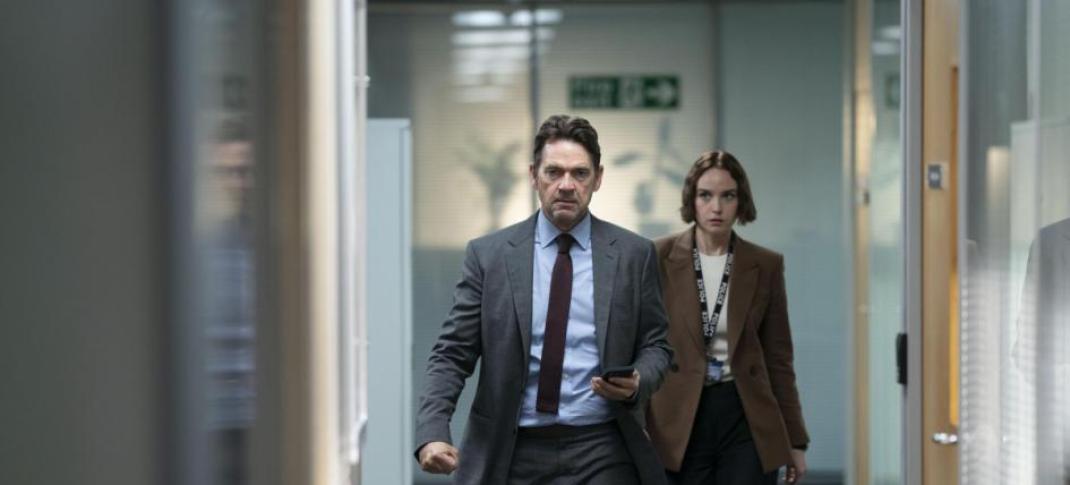 One of the lesser-known mysteries on BritBox, Crime (known here as Irvine Welsh's Crime), is returning for a second season. The series, developed and written by Trainspotting's Irvine Welsh, with his regular collaborator, journalist-turned-novelist Dean Cavanagh (The Secret Life of The Novel), is a Scottish police procedural based on Welsh's own novel of the same name. The series initially premiered on BritBox UK in 2021 before it was folded into the larger flagship ITVX streaming service and followed on BritBox US. The series is expected to stay on BritBox for Season 2 in America but will debut first on ITVX. 
The series stars Dougray Scott (My Week with Marilyn) as troubled detective DI Ray Lennox (for which he landed an International Emmy), with Joanna Vanderham (Dancing on the Edge) as his partner in crime-solving, DS Amanda Drummond. In the first season, the two teamed up to solve a schoolgirl's abduction. The two return for the second season with an all-new case, and Lennox back on the job, after Season 1 left him post-mental breakdown from the stress of the first case. In a clip from Season 2, Lennox is back in action with the show's usual blend of horror and biting humor.
Check out the first clip from the new season:
Here's the new season's synopsis:
In the second season of Crime, Ray Lennox is ready to return to the fray at Edinburgh Serious Crimes, keen to prove he is fully recovered from his breakdown induced by bringing Mr. Confectioner to justice. But he's surprised to find that it's all changed: Bob Toal has lost his mojo, while Amanda Drummond is newly promoted. And there are two new faces on the team in the form of the devious Tommy Stark and failed actor Norrie Erskine. 

When one of Lennox's former colleagues is attacked, Lennox and Drummond quickly realize that all is not as it seems, as they become embroiled in a case about vengeance, identity, and social justice. The attack is linked to a gruesome attempted murder of a high-ranking establishment figure at a posh hotel, which has been hushed up by the police. As Lennox investigates via Edinburgh's saunas, crack dens, and poshest hotels, he finds doors slammed in his face; there is an Establishment cover-up at play.

It's not until the killer targets one of Lennox's own team that the pieces start to fall into place. Tracing the motivation back to an unsavory incident 30 years ago, Lennox begins to realize that there is more to this case than meets the eye, and the killer he has been chasing may not be the driving force behind these murders after all.
Scott and Vanderham lead a stellar lineup of Scottish talent, including returning cast Ken Stott (The Missing), John Simm (Grace), and Derek Riddell (Happy Valley). Season 2 will also feature Rebecca Root (Heartstopper), David Elliot (The Cry), Laura Fraser (The Pact), Fiona Bell (Shetland), Sarah McCardie (It's A Sin), Brian McCardie (Line of Duty), John McLarnon (Outlander), Ewan Miller (Skin), and Gordon Morris (The Terror). Dougray Scott's son, Gabriel Scott (House of Dragon), will also guest-star in the new series.
The six-episode series was once again developed for television and written by Welsh and Cavanagh. Directors Trygve Allister Diesen (Wisting) and Anthony Neilson (I Hate Suzie) split helming duties. The series is produced by Buccaneer Media (The Burning Girls) and Off Grid Film and TV. Welsh, Cavanagh, and Scott are executive producers alongside Pamela Hansson, James Strong, Richard Tulk-Hart, and Tony Wood.
Crime Season 2 will debut on ITVX on Thursday, September 21, 2023. The second season, under the name Irvine Welsh's Crime, is expected to debut on BritBox in the coming months.
---
By
for on September 12th, 2023
More to Love from Telly Visions