By
for on October 21st, 2017
Irish Actors You Should Know: Domhnall Gleeson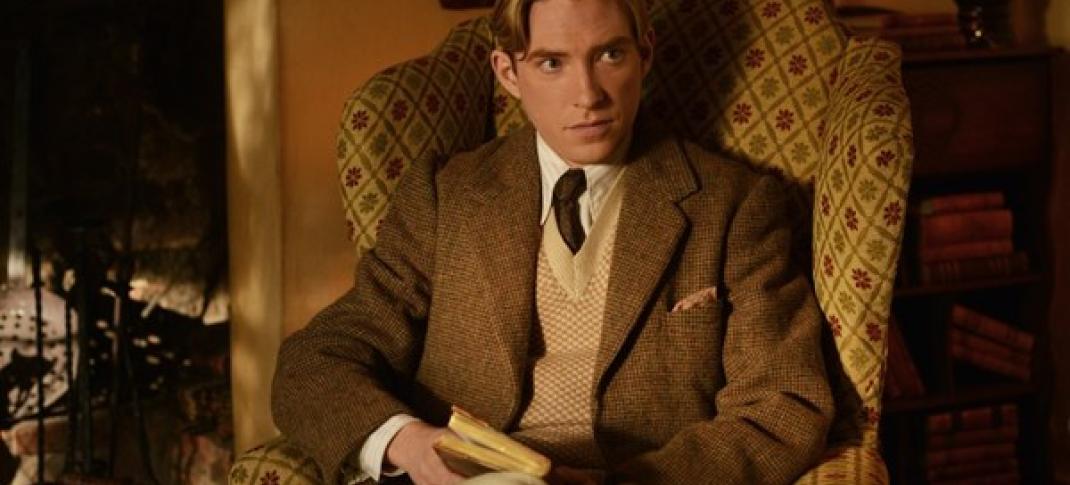 Back in 2013 I wrote a post about the next generation of actors from across the pond and suggested that a certain Irish actor's star was on the rise.  And boy, was I right! Over the past few years young Domhnall Gleeson, son of acclaimed actor Brendan Gleeson, has been winning roles left, right and center.
In fact, he's featured in the cast of two films released just last month - Mother!, a horror/thriller starring Jennifer Lawrence and American Made, an action-comedy with Tom Cruise. The rest of the year promises to be even busier, as he will reprise his role as the ruthless General Hux in latest Star Wars film, The Last Jedi, and star in love triangle comedy Crash Pad with Christina Applegate and Thomas Haden Church.
But what I'm most looking forward to is Goodbye Christopher Robin, in which Gleeson portrays Winnie-the-Pooh creator, A.A. Milne.
It looks to be rather beautiful and definitely a tear-jerker. Just out in limited release, this biopic also stars Margot Robbie and Kelly Macdonald.
Looking back at young Gleeson's career thus far we can see how he's ticked just about every box across multiple roles and genres. For example, he appeared in the final two blockbusterHarry Potter films as Bill, the eldest sibling in the Weasley clan. He starred in "Be Right Back", my favorite episode of the dark dystopian TV anthology Black Mirror, and had a small but pivotal role in the 2015 Oscar-winning survival drama, The Revenant. He also played a World War II Air Force pilot and prisoner of war in the 2014 biopic Unbroken.
Let's go a bit more in depth to discover how Domhnall's acting talents have been honed in the past five years or so genre by genre.
Classic Literary Costume Drama
In 2012's Anna Karenina, Gleeson plays Konstantin (Kostya) Levin , a wealthy land owner who prefers the simple virtues of life despite his aristocratic background. He falls in love with Princess Kitty (Alicia Vikander) and despite an initial rejection of his affections, the young woman wisely reconsiders her choice of husband.
Romantic Comedy
Domhnall stars in the Richard Curtis rom-com About Time as Tim, a young man who learns that all the males in his family have the ability to travel back in time. Rachel McAdams is Mary, the object of his affection and the woman around whom much of Tim's time travel is focused.
But when I recommend this film, and I often do, I tell people that the most touching love story is that of Tim and his father (Bill Nighy).
Quirky Independent Comedy
In Frank, Gleeson plays Jon, an aspiring songwriter who's going nowhere when he happens upon an avant-garde band in need of a keyboard player. The band's leader is an eccentric and innovative musician named Frank (Michael Fassbender) who takes refuge in an over-sized papier mache head.
When Jon's vision for the band clashes with Frank's fragile psyche, the future of the band is shaky at best.
An Almost Unrecognizable Cameo
Domhnall's father Brendan stars in Calvary, a brilliant drama about a priest who, when confronted with an anonymous death threat in the confessional, continues to serve his parishioners rather than run away from his fate.  
Domhnall plays Freddie Joyce, a man in prison for murder who requests a meeting with Father James. It's such a transformation that I didn't recognize the younger Gleeson the first time I watched it!
Sci-Fi Thriller
The 2015 cerebral fantasy Ex Machina stars Gleeson as Caleb Smith, a programmer at a Google-esque company who wins a competition to spend a week at the remote private compound of the company's intense head honcho Nathan Bateman (Oscar Isaac).
Upon his arrival, Caleb discovers that his role during this visit is to help evaluate Nathan's latest experiment, Ava (Alicia Vikander), a ground-breaking A.I. who proves to be more sophisticated and manipulative than either man can contemplate.
Nostalgic Romance
The visually beautiful Brooklyn is the story of Eilis, a young woman (Saoirse Ronan) who travels to America in the 1950's to escape the dead-end life she faces in her small Irish village.
After facing extreme homesickness and loneliness, Eilis finds friends, a career and love with an earnest, and slightly height challenged, Italian boy. When a family tragedy requires her return to Ireland, the young woman finds that home has opportunities not on offer before. Here Domhnall plays, quite frankly, the guy I would have chosen!
Do you have a favorite role or film that has featured Mr. Gleeson? Are you looking forward to any of soon-to-be released projects? Feel free to share the Domhnall love in the comments! And just in case you are struggling with the pronunciation…
---
By
for on October 21st, 2017
More to Love from Telly Visions