By
for on August 2nd, 2022
Irish Actors You Should Know: Andrew Scott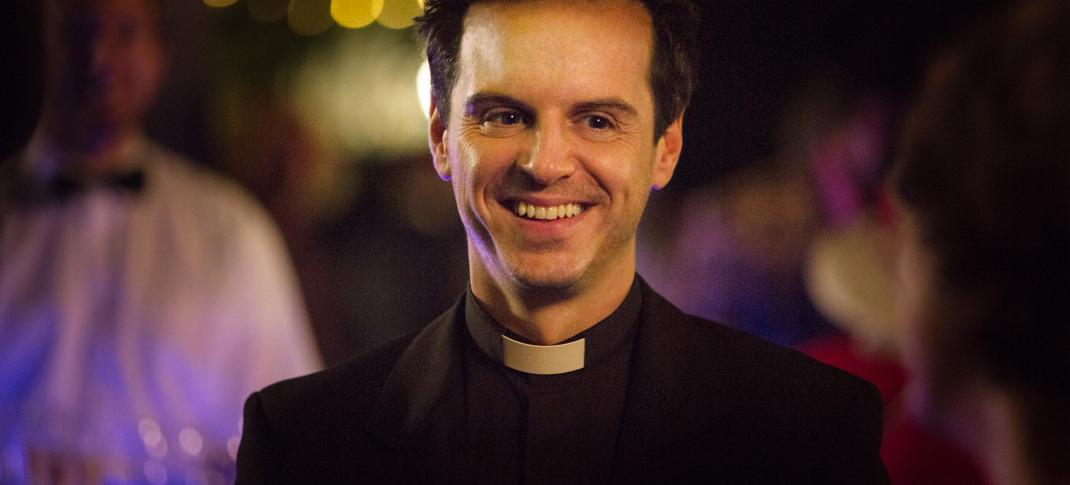 Where to start when profiling such a talented and charismatic actor as Andrew Scott? How about the fact that, aside from some youth theater workshop experience, this Dublin-born actor has had no official drama training? At 17, he was cast in a substantial role in an Irish film called Korea and, from there, joined the prestigious Abbey Theatre company in Dublin. His move to England in the late 80s corresponded with small parts in British, Irish, and American films and TV series and paved the way for his career to take off.
Among other projects, Andrew Scott appeared as an extra in Saving Private Ryan's Omaha Beach sequence, as well as several guest starring roles in British TV series like Garrow's Law and Foyle's War. All in all, he spent the first decade or so of his career building a solid body of work that would soon catapult him into pop culture stardom.
Let's take a look at some of Mr. Scott's iconic characters and lesser-known projects.
Sherlock (2010 – 2017)
Who can forget when Sherlock first revealed the character of Jim Moriarty to audiences in "The Great Game" episode? Scott played Mr. Holmes's famous nemesis as a deranged mastermind with a playful sing-song creepiness and a palpable presence of malice. He won the Best Supporting Actor TV BAFTA for that role in 2012.
The Bachelor Weekend aka The Stag (2013)
Some may have missed the delightful indie comedy, The Stag, about a group of friends who set out on a hiking excursion in the Irish countryside. Mr. Scott leads the ensemble as Davin, the groom's best man, in charge of their mild-mannered weekend. Their plans are wholly upended when The Machine (Peter McDonald), the bride's laddish brother, crashes the party. Lest you expect an Irish Hangover clone, emotional confrontations ensue between Davin and our groom, Fionnan (Hugh O'Conor), when unresolved issues from their past rise to the surface.
Pride (2014)
The feel-good, historical dramedy Pride depicts a group of London-based lesbian and gay activists who raised money to help families affected by the Welsh miners' strike in 1984. Scott plays Gethin, owner of a gay bookshop, who lends support to the group but hesitates to get actively involved due to his experiences as a gay youth coming out in Wales. He earned the best supporting actor trophy for his performance from the British Independent Film Awards.
Spectre (2015)
Once an actor is lauded for playing a baddie well, you have to expect the 007 franchise will come calling. In the 24th Bond film Spectre, Scott played Max Denbigh, aka C, Director-General of the Joint Security Service, an organization created by merging MI5 and MI6. While at first his disagreements with M (Ralph Fiennes) seem to be internal power struggles, it turns out C is a danger to democracy worldwide.
This Beautiful Fantastic (2016)
This Beautiful Fantastic is a quirky fairytale for adults and tells the story of Bella (Jessica Brown Findlay), a young woman who aspires to be a children's author but lacks the skills to navigate her out-of-control garden, let alone her nebulous career. Befriended by a kindly chef/housekeeper named Vernon (Scott), Bella begins to conquer her issues and blossom into the person she wishes to become. The film also stars Tom Wilkinson as Bella's gardening mentor. 
Denial (2016)
A biographical legal drama, Denial depicts the libel case brought against American professor Deborah Lipstadt (Rachel Weisz) by Holocaust denier David Irving (Timothy Spall). Mr. Scott plays Anthony Julius, the lead solicitor of Deborah's legal team, who guides her through the UK justice system and their arduous path to obtaining justice.
1917 (2019)
In the innovative war drama 1917 (which starred a who's who of British talent), two English soldiers run a harrowing gauntlet through enemy territory to deliver a message that could save the lives of over 1500 troops. Along the way, the young men meet up with a handful of officers who help them on their journey, all played by respected British actors, including Messrs. Cumberbatch, Firth, Strong, and you guessed it – Scott. His portrayal of Lieutenant Leslie stands out a mile for its humor and hopelessness.
Present Laughing (2019)
Mr. Scott garnered theatrical acclaim for his performance as Garry Essendine in Present Laughing, a semi-autobiographical piece by Noel Coward performed at the Old Vic. Farcical in tone, the play depicts the harried life of a successful and self-obsessed light comedy actor facing an impending mid-life crisis. Andrew won the Laurence Olivier Award for Best Actor in a Leading Role in a Play.
Fleabag (2019)
Andrew Scott's name may have been synonymous with Moriarty until the world witnessed his portrayal of a character known only as "Hot Priest" in Fleabag. In the second season of Phoebe Waller-Bridge's award-winning dark comedy, Scott was introduced as the cleric who would be marrying Fleabag's dad and his fiancé. The couple has an immediate connection at the dinner table, and a trinity of friendship, spirituality and physical attraction ignite throughout the six-episode season. Scott's contribution was perfection!
This is only a brief sampling of Andrew Scott's work and impressive range. Do you have a favorite role? Are you looking forward to the release of his Showtime series, Ripley?
---
By
for on August 2nd, 2022
More to Love from Telly Visions