By
for on May 24th, 2023
Hulu's 'The Clearing' is Muddled Yet Entertaining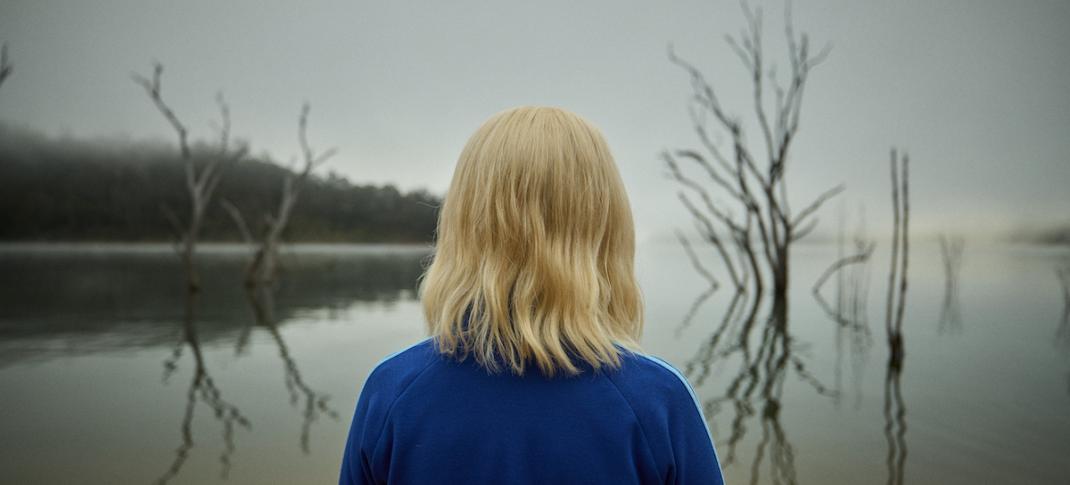 The Clearing opens in isolation: A lone woman in a lake, disappearing below the water's surface — a young girl walking home from school on a deserted country road. Even without reading the first episode's summary, it is clear from the moment Sara (Lily LaTorre) engages with Amy (Julia Savage) that Sara is in danger. 13-year-old Amy baits the trap, distracting Sara until her cohorts pull up in a white van and steal the young girl. Amy seems dreamy and preoccupied, while the other kidnappers — whom we shortly learn are her fellow cult members — are harsh and focused. 
The series is based on the novel In the Clearing by J.P. Pomare, which in turn is modeled on the real-life Australian cult called "The Family." This atmospheric miniseries about a cult with stolen children, set in a small Australian town in the 1980s, brims with eerie foreboding. Some things work here, such as the solid cast, and some things don't, like the character development. The show has some great reveals and an undeniable ambiance, but something doesn't quite gel. 
Savage is captivating as Amy. She is the oldest daughter in "The Kindred," one of ten children raised as siblings who were fraudulently adopted or stolen as infants. Sara is introduced to the other children as "Asha." Each of the children's names starts with the letter A; all but two have dyed platinum-blonde hair and identical outfits. There's a Village of the Damned vibe, but all this is at the behest of the adults who control them through fear, conditioning, and corporal punishment. They eat meager portions, and the fridge is padlocked. They are not allowed toys or entertainment. They exercise and meditate together and are not permitted to leave or disobey. 
Sara's arrival plants seeds of doubt in Amy, who is a fraught character: she's brainwashed but begins to question the rules she and the other children live under and the abuse they suffer. She seems to have empathy and compassion, frequently protecting Sara from harm, but Amy is also manipulative and can be cold. 
The children are cloistered away from society and live for the approval of Mummy (Miranda Otto), the cult's leader. Otto, best known in the U.S. for playing Eowyn in The Lord of the Rings films, is convincingly creepy. She does well in this role, but the series is a bit sparse in showing what exactly Mummy's followers get out of her leadership. Why are they so devoted? It is also unclear what her ultimate goal is exactly. Mummy, also called Adrienne and Matrea, is less charismatic than you would expect for someone running a cult of personality. I'm not sure if this is a failure of the writing or a comment on how easy it is to manipulate people.
Mummy is cruel, threatening, and malicious with the few adults tasked with managing her "children." Her inner circle is clearly afraid of her, but their fear seems more motivated by not wanting to disappoint her or of being cast out. Dr. Bryce Latham (Guy Pearce) is perhaps the only member of the inner circle treated as Mummy's near-equal. 
Amy is given the responsibility of assimilating Sara into the Kindred. This does not go well. Sara fights back at every turn, resisting being renamed Asha, defying the adults, breaking the rules, and attempting to run away or get help several times. Actress Lily LaTorre turns in a stellar performance as the tenacious Sara. Amy's failure to get Sara in line leads to physical punishment, but more than that, Sara's continued resistance sparks a crisis of faith in Amy. 
Interspersed with Amy's tale of growing rebellion is a separate story featuring single mom Freya (Teresa Palmer) and her son Billy (Flynn Wandin). Freya and the entire town have heard about the missing girl, and her disappearance has triggered a deep paranoia in Freya that Billy will be taken as well. It is soon apparent that Freya has a dark past and that she may be an unreliable narrator. 
What's unexplored in this story is a sense of the Kindred children's inner lives and insight into what they believe. Aside from Amy, the other children are mere set pieces, or in the case of eldest brother Anton (Jeremy Blewitt), one-note. Part of the point is that they have practically no identities, but it often makes for empty viewing. Similarly, the women in charge of the children — Tamsin (Kate Mulvany) and Hannah (Anna Lise Phillips) — are flat, with anger being their only trait. The third caretaker, Henrik (Erroll Shand), has some levels to his personality but barely. Amy is a compelling character, but she isn't supported by the writing as much as by the acting. 
The series misses the opportunity to delve into the psychological depths of cult society, instead seeming to focus on surface tensions. This is disappointing because the plot is actually well-crafted. A description of the novel suggests this story was a portrait of Amy and her breakthrough, and while that is still mostly the case in the series, she is simply not fleshed out enough.
Then there is the seemingly disconnected story of Freya, which leaves us wallowing in her monotonous paranoia — we get it, she's terrified of losing her son, but the repetitiveness is tiresome. Full disclosure: Reviewers were only given three out of the eight total episodes, so it is still possible that the remaining installments explore the missing elements of character and behavioral study. Despite my ambivalence, The Clearing did succeed in holding my interest. The reveals are impressive; I want to know what happens next. 
The Clearing debuts the first two episodes on Wednesday, May 24, 2023, with the rest of the eight episodes released weekly on Wednesdays.
---
By
for on May 24th, 2023
More to Love from Telly Visions