By
for on January 12th, 2020
'Howard's End': Episode 1 Recap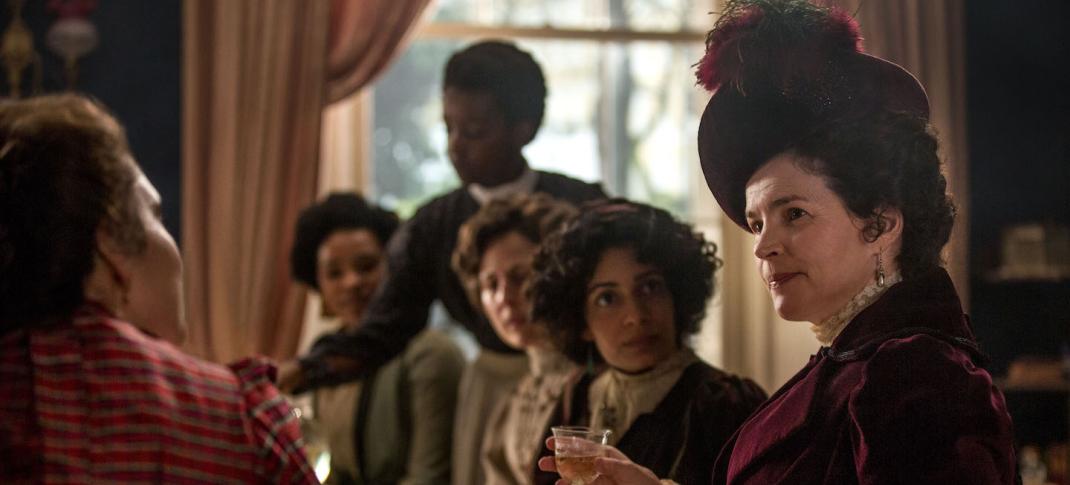 Masterpiece's careful, visually gorgeous new adaptation of E. M. Forster's 1910 novel Howards End has a tough act to follow, namely the much-loved 1992 Merchant Ivory film starring such British acting greats as Anthony Hopkins, Emma Thompson, and Vanessa Redgrave. The four-part BBC-STARZ adaptation, written by Kenneth Lonnergan, whose writing/directing credits include Gangs of New York and Manchester by the Sea, and directed by Hettie Macdonald (Fortitude, Doctor Who), takes up the challenge admirably. Although the first episode starts off as a farce of missed timings, postal deliveries, and misunderstandings,  we soon discover how intriguing, contradictory, and subtle the characters are. 
In this first decade of the 20th century, Queen Victoria has died, and change is in the air. The Bloomsbury Group is proposing revolutionary ideas about love and art, women's suffrage is a major issue, and Britain still rules the waves in empire and industry. The titular Howards End is a house that functions as a character in its own right, awakening deep feelings and yearnings among the various human protagonists. It can also be seen as a microcosm of Britain itself, reflecting the detrimental advance of modernity, and the urbanization of the countryside.
Howards End is a story about class, connection, and family dynamics as represented by three very different households: the Schlegels, half-German, cultured, intellectual, forward-thinkers who question everything; the Wilcox family, who represent empire and industry, and question very little because they are secure in their own entitlement; and the Basts, at the lower end of the economic scale, with little power or privilege.
The episode opens with a glowing description of Howards End, as seen through the eyes of Helen Schlagel (Philippa Coulthard in her breakout role) in a letter to her elder sister Margaret (Hayley Atwell). She's a guest of the Wilcox family, whom the sisters met on a trip to Germany, and is a little in love with both the house and the family. Industrial magnate Henry Wilcox (Matthew MacFadyen) cheerfully dismisses the issue of women's suffrage ("Bosh!") , a cause the Schlegel sisters passionately support, yet Helen is far from intimidated. She is fascinated by the family and enjoys their directness, although she doesn't understand their obsession with sports and business. While Mr. Wilcox is the alpha male, Helen has noted that he and his adult children always defer to Mrs. Wilcox (Julia Ormond), the domestic goddess of the household.
Margaret is at home in London with her Aunt Juley (comedian Tracy Ullmann) with whom she has ongoing, fairly cordial, battles on the subject of her lifestyle (actresses and Bohemians are invited to the house!), her independence, and her aversion to marriage—"Your youth has been thrown away by your independence." Aunt Juley is very much old-school Victorian, but both she and Margaret are thrown into consternation when another letter from Helen announces that she and the youngest Wilcox son are in love. 
Margaret wants to travel to Howards End to find out what is going on, but her sickly aesthete brother Tibby (Alex Lawther) wants her to stay and read to him. He is suffering from hay fever which in this period, for the wealthy, required bed rest, and in Tibby's case, excessive coddling. So Aunt Juley, very concerned that her younger niece has been compromised, is sent to the rescue (incidentally wearing a stupendous hat. The clothes in this series are great!).
Naturally a telegram from Helen arrives, too late, that she made a mistake and it's all over. Aunt Juley, meanwhile, has inadvertently broken the news of the romantic entanglement to the Wilcox family, to the shock and embarrassment of all. Helen returns home, and everyone breathes a sigh of relief. So do we, and presumably so does the Schlegels' postman.
We've already seen evidence of the Schlegel's lifestyle and beliefs, their arty household and colorful, casual clothes, their tendency to discuss and analyze just about everything, and now we accompany all three to a concert where Beethoven's Symphony No. 5 is performed. Needless to say ,Tibby has brought a score and is one of those annoying people who conducts while he listens. Helen decides to leave the concert early, and as she does so, takes an umbrella belonging to the stranger sitting next to her. Margaret hands him her card and insists that he come to their house after to collect his property. This is Leonard Bast (Joseph Quinn). And at this point we realize that Margaret, despite her good intentions and generosity, blunders. It's obvious that Bast is lower class and poor by his accent and his frayed cuffs. Very ill at ease, he tells Margaret that he's also gone to operas and art galleries to improve himself, which prompts Margaret to riff on whether music and the visual arts serve the same purpose.
Bast is intimidated by the family's status and wealth, and embarrassed when Margaret retrieves his damaged umbrella and tries to give him a better one. He refuses to stay to tea and returns home to a shabby apartment and his partner Jacky (Rosalind Eleazar). And you can tell that not all is well in this relationship. And then the Wilcox family pops up like prairie dogs at dawn. Because, by a remarkable coincidence, they have rented a flat in the neighborhood, opposite the Schlegels. Margaret meets Mr. Wilcox in the street and there is a surprising warmth and connection between them (uncharitably, I wondered whether this was why Helen was invited to Howards End and not her elder sister). 
Aunt Juley is terribly upset by the proximity of the Wilcox family. They will be able to see in each other's windows if they forget to draw the curtains! They will be obliged to meet after the dreadful business of the engagement-that-wasn't and act politely! And Aunt Juley, having had enough of Bohemian life, leaves, and Margaret, left to her own devices,  is "not home" when Mrs. Wilcox calls to leave a card. Margaret decides not to pursue the acquaintance, although we're not quite sure why. Helen, despite her assurances that the close proximity of the Wilcox family won't bother her, decides to go back to Germany.
However, Mrs. Wilcox, a woman used to getting her own way, writes to Margaret, chiding her in a friendly sort of way, and mentions that her son Paul, the object of Helen's infatuation, is safely in Africa, working for the family business, the Imperial and West Rubber Company. So Margaret rushes over to visit her, and finds Mrs. Wilcox taking a few days in bed, the rest of the family having gone to Yorkshire. Margaret, for all her likable qualities, is tone-deaf once again. Whether it's nervousness or inattention, she refers to the Wilcox son going to India and is gently corrected. And while it's clear that Mrs. Wilcox is unwell, Margaret doesn't notice. But a tender and tentative friendship develops between the two women and Margaret invites her to a lunch in her honor.
This is not altogether successful. It's yet another mix of disparate personalities. Mrs. Wilcox, beautifully dressed, sits in silence while Margaret's friends argue and talk loudly. When she's urged to share her views on women's suffrage, she quietly announces that she thinks some things are best left to men. An awed and horrified silence falls.  Margaret apologizes again. While you'd think that would be the end of the relationship, Mrs. Wilcox invites her to go Christmas shopping. During their outing, Margaret mentions that the Schlegels will be moving shortly, since their house is scheduled for demolition to make way for more luxury apartments like the one the Wilcox family has leased. 
Mrs. Wilcox invites Margaret to come to Howards End, but she says she isn't able to (again, it's not clear why). However, when Margaret sees Mrs. Wilcox's cab leaving for the railway station the next day, she dashes after her and meets her on the platform, about to board a train. And just as Margaret agrees to go with her… there's a Wilcox pop-up! Mr. Wilcox and various children (I've lost track here, we know the eldest son has recently married) swarm around Mrs. Wilcox with cries of delight and bear her off into the train. As she leaves, she throws Margaret a poignant look—slowed down to frame by frame—and we know they won't meet again. While watching I found this quite moving, but in retrospect I think I was being hit over the head by it.
There's a lot to talk about in this episode and discuss what worked and what didn't. The gentle satire of the book translates to inconsistencies in the characters: Margaret's impulsive acts of intended kindness come over mostly as self-centered, and her indecision—from a woman who early on took responsibility for her siblings—is puzzling. Is it shyness? Or is she as uncomfortable outside her own circle as Mrs. Wilcox or Bast are outside theirs? All the acting is top notch, particularly that of  Joseph Quinn who brilliantly portrays Leonard Bast's hunger for advancement, his simmering resentment, and social awkwardness. The locations in London and elsewhere are wonderful—Howards End is Vann in Surrey, a private historic house which has a famous garden. I love that London is portrayed as a multi-cultural city (as it always has been)=,  although I'll discuss that later. 
How do you think this adaptation compares with the Merchant Ivory version? Have you read the book? What's going on with the Basts? Will Margaret ever go to Howards End? And what's in store in the next episode? Let's discuss!
---
By
for on January 12th, 2020