By
for on September 28th, 2012
Hit British Drama Call the Midwife Premieres This Sunday!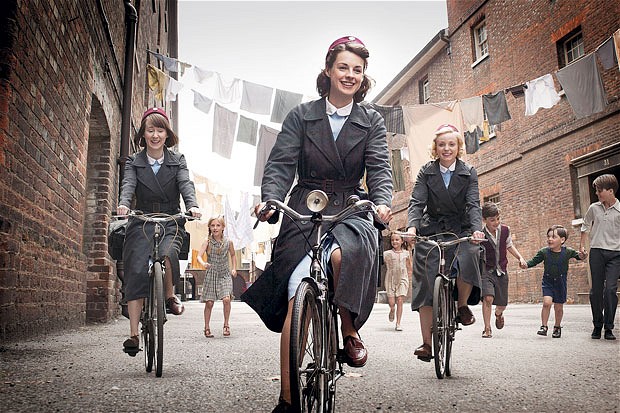 The BBC's highest rated new drama series is coming to America this weekend – Call the Midwife premieres on Sunday, September 30!
Call the Midwife is set in the East End of London in the 1950s and tells the story of young Jenny Lee (played by Jessica Raine), a newly qualified midwife who begins work at a nursing convent, Nonnatus House. The plot follows the stories of Jenny and her fellow midwives as they care for expectant mothers in the economically-deprived neighborhoods of London's East End. It's a very sweet and moving story about class and poverty and love and community and I think that almost everyone is really going to enjoy it. To be fair, the series can occasionally get a bit saccharine given the subject matter, but is generally excellent and a wonderful way to spend an hour on Sundays for the next six weeks.
Watch a preview of this new drama for yourself below, as well as a couple of clips and a look behind-the-scenes how much detail has gone into in recreating the atmosphere of 1950s London.
The series is based on the real-life memoirs of Jennifer Worth and written by Heidi Thomas, who has brought us such gems as Cranford and Upstairs Downstairs.
Preview:
[This video is no longer available.]
Clip: Jenny Lee Starts Her New Life as a Midwife
One of the best bits about Call the Midwife if you ask me is the performance of comedian Miranda Hart who plays the midwife Chummy. She's quite charming in this, and better than I would have expected in a dramatic role.
Clip: Chummy Arrives at Nonnatus House
Behind the Scenes: Working with Babies
---
By
for on September 28th, 2012
More to Love from Telly Visions