By
for on March 7th, 2023
HBO's 'Rain Dogs' Brings the Reals & the Feels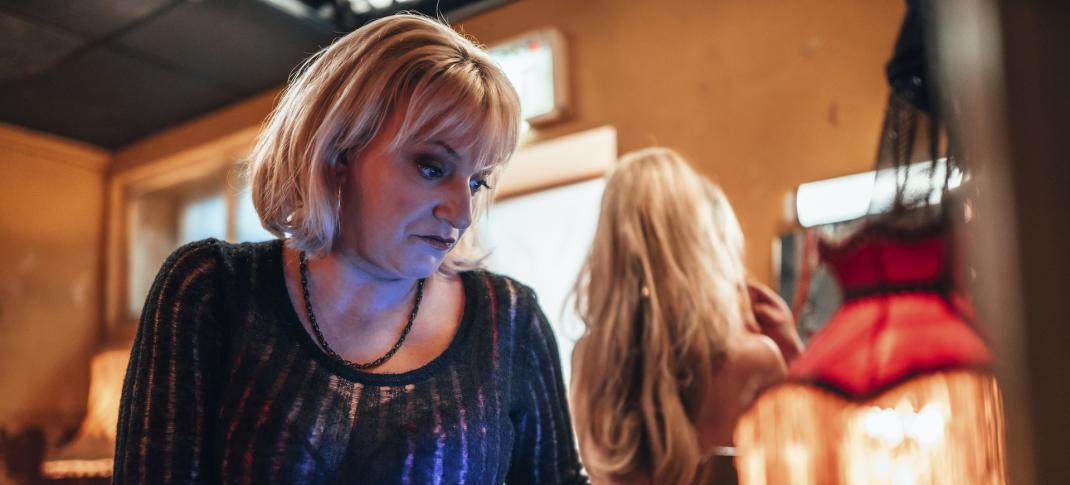 Early into HBO's new raw and worthwhile dramedy, Rain Dogs, Selby (Jack Farthing) uses the phrase "poverty voyeur" to characterize the date who just showed up for main character Costello Jones (Daisy May Cooper). In lesser hands, it felt like that could have easily described this show's audience, watching the misfortunes of others from the comfort of our cushy streaming services. But writer/creator Cash Carraway (author of bestselling memoir Skin Flint: Notes from the Poverty Line, which has informed this series) doesn't present Costello's life in an exploitative way. We see Costello for the very flawed human that she is, warts and all, and with dignity. 
Costello is one tough mother. The series premiere kicks off as she and her daughter Iris (Fleur Tashjian) are being evicted, and Costello can't help but mouth off to the police, who are there to roust them. What follows next in this series of eight half-hour episodes is a raucous tumble into their lives as Costello maneuvers and attempts to better their working-class plight. Adding to this mix, we have Selby, Costello's upper-class, volatile, and self-destructive gay best friend, who has just been released from prison.
The series explores the power dynamics of men and women; rich and poor; sobriety and addiction, focusing on the toxic friendship between Costello and Selby. Costello is a recovering alcoholic working as an entertainer at a peep show, but her passion is writing. She dreams of finishing and selling her book and spends time writing toward that goal. Putting her work out there online leads to an opportunity with The London Reformer newspaper.
Following eviction and after a series of adventures that lands Costello and Iris in lodging without furniture, Costello's creativity has them sleeping on an inflatable pool float shaped like a flamingo. It's both whimsical and heartbreaking. It's a theme that will carry through the whole show — faced with adversity, Costello persists, with Iris as her primary motivation.
Costello and Selby have been nearly inseparable since college. Selby is prone to outbreaks of physical or emotional violence; his incarceration was for beating someone almost to death. He is quick to point out he was defending Costello. She tries to avoid letting him back into her life, but circumstances necessitate calling for his help. Their shifting co-dependent dynamic is instantly reignited, and Selby riding in as the hero gives him the upper hand. Contrasting Costello's dysfunctional relationship with Selby, tweenaged Iris is quirky, sweet, and hopeful. She is adored by both Costello and Selby and maintains her humor and bright outlook despite their ever-worsening circumstances.
Additionally, we get the fabulous Gloria (Ronke Adekoluejo), Costello's best girlfriend, who works at her family's funeral parlor. Gloria is a true friend who gets a bum deal playing second fiddle to Selby's short-circuiting narcissism and often takes the brunt of Costello's utter rudeness. She's as complicated and messy as Costello, but a stable job and a supportive, if stern, father allow her to continually land on her feet. Rain Dogs takes pains to make clear that dysfunction is not exclusive to the working class; the middle and upper classes are equally represented at the dysfunctional family picnic.
The cast is vivid and on point, with Cooper's Costello easily enrapturing our emotions while Farthing's Selby chews every piece of scenery he can find. Newcomer Tashjian, as Iris, holds her own against these two and is quite charming. Adekoluejo's Gloria rounds out the ensemble with a charismatic and genuinely engaging performance. Also, shout out to Anna Chancellor, who plays Selby's mother, Allegra, to perfection as the cold, fierce, rich mommy, frequently brimming with crisp, bitter humor at her son's expense.
True to the HBO ethos of sex and plenty of it, Costello lives in a world brimming with masturbating men and nice guys who turn out to be predators or fetishizers. The show isn't afraid to explore sexuality; it is pretty well front and center. For Selby's part, we find him frequently at a glory hole in a men's toilet. Gloria has sex with a mourner at his own father's funeral. One of Costello's friends is a sickly artist who exclusively paints naked women and their genitalia. It is judgmental about Costello's peep show customers, but never Costello herself. Also, despite the many disgusting men who try to take advantage of or expect things from Costello along the way, the show does not condemn men as a whole. They are just part of the muddled menagerie of humanity.
Despite her sometimes aggressive and brash nature, Costello is easy to like and root for, with humor that buoys both herself and Iris. Her absolute belief that she can rise above her current situation drives her. Her ability to keep putting one foot in front of the other following misfortune and sometimes self-sabotage is noble and noteworthy. She is doing her best to carve out a life of meaning and comfort for herself and her daughter.
The show often asks how far you would go to preserve your dignity. What would you do to thrive instead of just surviving? Further, what do you do when those efforts are thoroughly demolished by the world around you? Though self-sabotage is sometimes involved in Costello's failures, the judgment of those around her — especially the mothers of her daughter's peers — plays a crucial role in extinguishing her opportunities.
Let's hope more opportunities arise, as Rain Dogs is worthy of a second season. The series is currently streaming on a weekly release schedule with new episodes every Monday on HBO and HBO Max.
---
By
for on March 7th, 2023
More to Love from Telly Visions