By
for on October 28th, 2013
'Hawking' Documentary to Premiere on PBS Stations in January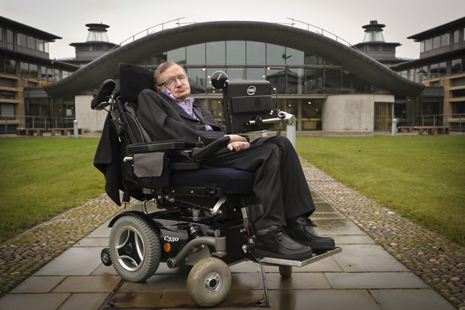 British theoretical physicist Stephen Hawking is a household name – an author who has sold more than ten million books, a scientist who has made remarkable discoveries about time and space, and an icon who has spoken in front of thousands of people and served as an inspiration to countless more. He is, sadly, also famous for his struggle with Motor Neurone Disease, an ailment which eventually paralyzed him, but didn't dampen his intellectual brilliance.
So, yeah, it seems like his life story might make a pretty good movie, right? Or at least a fascinating documentary.
A brand new film called Hawking is set to provide an in-depth look at the life of this extraordinary individual and his accomplishments. The documentary will give viewers a rare look into Hawking's life, past and present, aided by a cast of celebrity contributors and fans, including astronaut Edwin Eugene "Buzz" Aldrin, Jr., actors Jim Carey and Benedict Cumberbatch, mathematical physicist Sir Roger Penrose and entrepreneur Sir Richard Branson.
The story follows Hawking's life through his early days as a student, his diagnosis with motor neurone disease and his astonishing scientific discoveries to his status as the bestselling author of A Brief History of Time and general worldwide pop culture icon.  It also provides a look into the scientist's daily life, including how he travels and some of his favorite personal pastimes.
Hawking, who is very, very private, narrated and directed the documentary himself and it is the only official autobiographical account of his life. (How cool is that??) Watch a preview below. 
[This video is no longer available.]
Cumberbatch, who was nominated for a BAFTA for his portrayal of Hawking in a BBC biopic early on in his career, had this to say about portraying the early struggles of the well-known physicist.
"I felt a huge onus of responsibility to get that part of his life right," Cumberbatch said. "It's a terrifying prospect to have a completely functioning mind inside a body that locks you in, that keeps you stationary." (PS: You can watch the Sherlock star talk about Hawking further over at the Telegraph.)
Hawking had a theatrical release in Britain earlier this Fall, and will air on PBS stations January 29. So mark your calendars!
Does a Hawking biography sound interesting to you? (Personally: I think he is an exceptionally fascinating figure and generally amazing person.)
---
By
for on October 28th, 2013