By
for on April 27th, 2022
'Harry Wild' Recap: Season Finale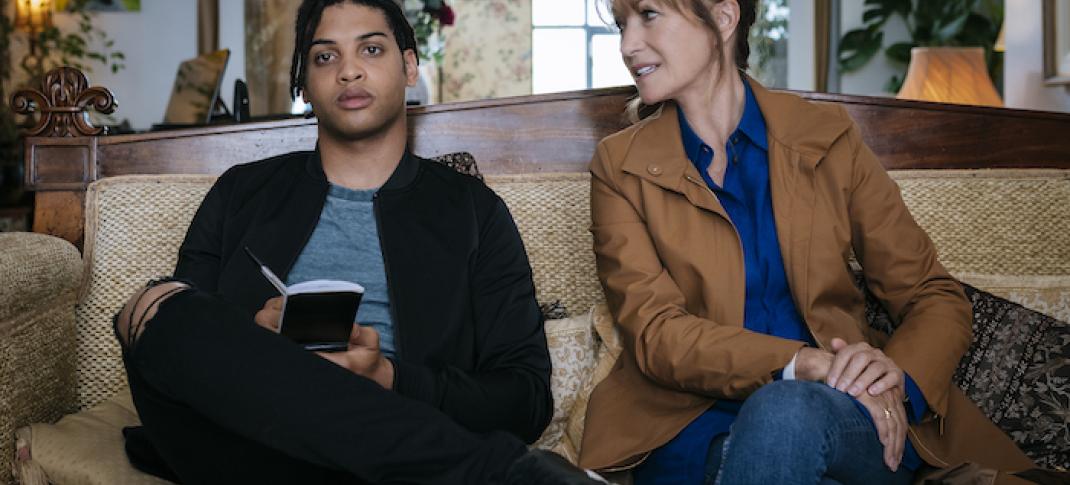 In Harry Wild's final two episodes, the series tackles a mystery centered around our new virtual Zoom lives and one filled with vintage clothing and twisted fairy tales.
Ep. 7: "The Mystery of Granny Susan's Fun Time Wig"
The Henderson family celebrates Granny Susan's birthday on Zoom since they are too busy to gather in Dublin from their homes in London, Paris, and Edinburgh. It goes well until a masked, black-clad figure appears behind the matriarch (Fiona York) and strangles her.  Susan's daughter Stephanie approaches the newly-minted Wild-Reid Detective Agency for help. She's not impressed by Harry or Fergus, and Harry puts her foot in it by speaking disparagingly of Peter Henderson's novels. Nevertheless, Stephanie hands over a thick folder of information and a €5,000  check.
At the wake, Aunt Celia Sherry (Deirdre Donnelly) gives a rundown of the family to Harry, explaining that each of them is desperate to get their hands on the inheritance, most of which derives from the late Peter Henderson's series of bestselling detective novels. While quite sharp in some respects, Celia also thinks that Fergus is some shady lover from her youth and whispers suggestively in his ear. Poor Fergus stammers in response, "That doesn't sound very hygienic!"
Jasper (Stephen Hogan), Susan's son: "A swine with women," who's jettisoning his second young wife for an even younger replacement model.
Stephanie (Carmel Stephens), Susan's daughter: Owns a string of failing bakeries.
Bella (Caoimhe Mulcahy), Susan's granddaughter: A wannabe influencer, "an angel ... a lesbian."
Noah (Tiernan Messitt-Greene), Susan's adopted grandson: Owes money to Russian gangsters — "spineless."
Chloe (Serena Kennedy) also adopted: "Destructive."
Alistair Jeffers (Sam McGovern), Susan's health aide: A "duplicitous thief."
Charlie visits Harry to ask about her involvement in the Henderson case. Unfortunately, he turns up seconds after Ray, who has brought a curry dinner. (Ray takes cover in some shrubs.) Charlie tells Harry that no unusual payments have been made but that Alistair has bought an expensive new car. And, in a surprise twist, Susan recently altered her will. She liquidated the entire €10million estate, and no one knows where it went. And why is there an odor of curry on Harry's front doorstep? Unfortunately, there are photos of Ray and Harry embracing on her doorstep, and Ray's wife and senior officer, Vivian (Ciara O'Callaghan), confronts him.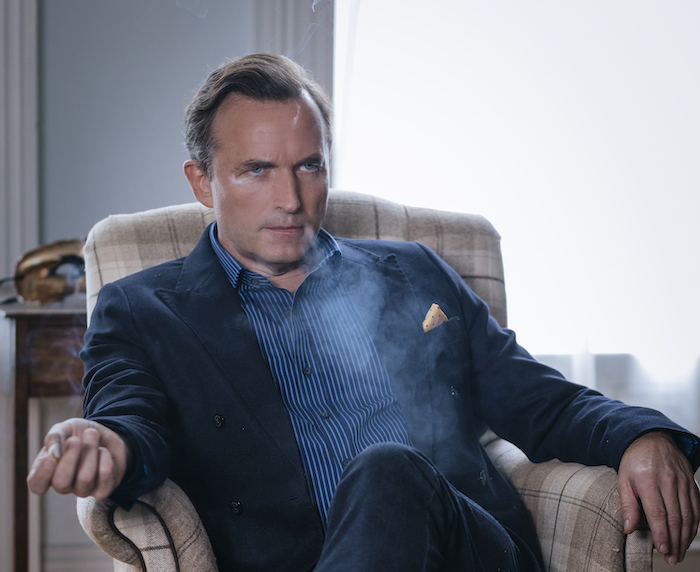 Stephanie Henderson is furious about the missing money. She received some embroidery pieces from Susan, dutifully framed and displayed. They depict historical events but are, as Harry puts it, "factually incorrect embroideries," with the dates of each all slightly wrong. Stephanie was also given the stewardship of Granny Susan's wigs, all named but with one missing. Chloe has been given copies of her grandfather's books, not the valuable first editions, but paperbacks, which she's throwing away. She gives one to Fergus.
While interviewing the rest of the family to track down the money, Noah insists he doesn't have a gambling habit, while Chloe, it turns out, is a sex worker, which doesn't seem to surprise anyone. Bella admits she asked her grandmother for an advance on her inheritance, and all are sorry Granny's "treasure hunts" that used to help support them ended. However, Jasper seems to be the prime suspect, so Fergus follows him to a new hotel in the city. Suspecting he's gone to the rooftop bar, Fergus tries to follow but is turned away as he's too young to be admitted on his own, just as Jasper falls from the building.
Meanwhile, the Fergus-Lola romance is in trouble after Orla Wild has decided that the relationship threatens her daughter's academic success and commands her to end it. Poor Fergus has just received his exam results, on which his academic future depends, and is too nervous about opening the envelope. Shocked at witnessing Jasper's death, he confesses to Harry how upset he is over Lola's lack of phone/text. Harry offers to be with him when he opens the exam results. At home, Fergus reads his Peter Henderson book to Libby as a bedtime story and realizes the heroine (there's a different one in every book) is named Rebecca, the name of the missing wig.
Harry realizes the dates on the embroidery pieces, coupled with the names of Henderson's heroines, are a code: "Ashcroft Holland Somerset Road." It's the name and address of a legal firm. She decides she needs to watch the Zoom call, which Jasper recorded. Unfortunately, the police now have his laptop, necessitating Harry to find a digital copy. Fergus introduces her to Skeevie Stevie Callaghan (Anthony Kinahan), a genial and helpful thief. He sees the data stick within minutes. It turns out Susan had set up annuities for everyone. However, the murder took place too soon, had the murderer waited just a few minutes; Granny would have given them the first clue in a treasure hunt carrying on her favorite family tradition.
But Harry has noticed an anomaly in the recording of the fateful birthday Zoom. Chloe was supposed to be in Edinburgh, and the surroundings on her screen looked convincing, but there's an unusual lamp from the hotel where Jasper died. The light is exclusive to the hotel and commissioned by a local artist. Chloe and Jasper (her adopted uncle!) were having an affair. Not illegal, just icky. Chloe was responsible for Jasper's death as well as Granny Susan's. Case closed, but at Harry's house, the inevitable happens. Ray arrives while Charlie is there, bearing his belongings and champagne. Harry and Fergus look at each other and run for the pub, taking the exam results with them.
Episode 8: "No One Here Gets Out Alive"
The episode begins with Ray having been suspended from his job. Charlie meets his replacement, Robin Whitney (Adam Fergus), who is arrogant and inexperienced and tells Charlie Ray probably not only had an affair with his mum but shared classified documents with her. Charlie protests, and Robin suggests maybe he was involved too. Consequently, Charlie is suspended and escorted out. Harry, Fergus, and Fergus's dad Malky Reid (Shane Lynch), celebrate Fergus's exam results in their local, The Hairy Goose. Malky, cleaned up, sober, and coherent, praises his son in a touching speech. Harry tells Fergus she's sorry that he and Lola broke up and admits that she and Ray will probably not last. She hadn't signed on for domesticity.
Glenn Talbot, Harry's pub friend, arrives with a complicated story about a dog, a veterinarian, and a woman called Zoe (Isabelle Connolly) who needs their help. She was out for a run when she saw a distressed dog. As she slowed to see if he was injured, she was kidnapped and awoke in a forest dressed as a princess, in a ball dress and tiara, where a dark figure gave chase. Fergus and Charlie meet Zoe, sober for just over two years, who has a police history, false allegations against an ex-boyfriend once. The Garda think she's relapsed and won't take her seriously, but she tells them about a dinner party where guests included Elvis, who chased her through the woods. 
Harry and Fergus take Zoe's ball gown round to vintage clothing stores and find the store owner who sold it, Karen Gallagher (Noni Stapleton). The buyer, Josh Cooper, is Zoe's ex. Zoe has also told Harry about a creepy guy at her AA meeting, Keith (David Layde), and Harry suggests she go to stay with her parents. But she can't; her parents are in France and estranged from her. Harry and Fergus visit Cooper, only to find him dead, with a suicide note to Zoe. Robin Whitney arrives, rubs everyone up the wrong way, and calls Zoe in for questioning. Harry claims she has a law degree, represents Zoe, and ties Robin up in knots until Josh's time of death has been fixed, and they can prove Zoe was with Harry at the time.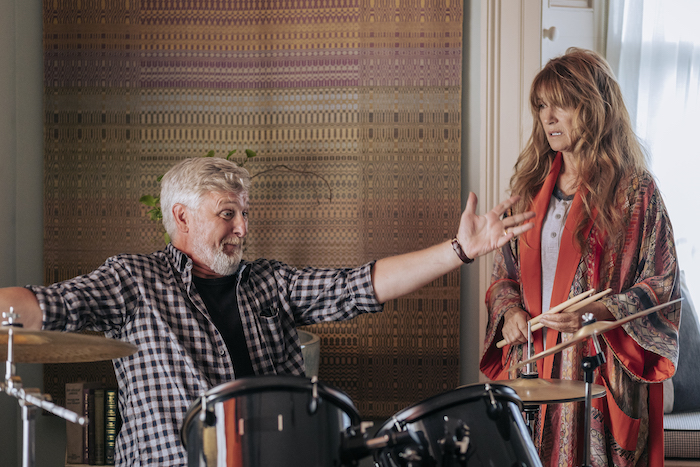 Harry is not pleased to find Ray playing drums in her house, which he bought from a neighbor. He has bonded with Glenn, who has advised him to follow his dream of becoming a musician. He's done with the Garda, but he's trashing her house, and when she arrives home to find Glenn singing and playing guitar while Ray drums, she loses it. She sends Glenn away, and Ray tells Harry he knows his career is over. Meanwhile, Zoe goes home; she discovers someone has been there. She calls Fergus in a panic, and Lola, with Fergus, calls Harry. But by the time the police arrive, Zoe's gone, leaving signs of a chaotic struggle.
Harry is concerned. Ray's replacement isn't doing well, Zoe is missing, and she goes to Charlie's house for help. But Orla has had enough; she throws a glass of wine in Harry's face and tells her to leave. In a rare moment of vulnerability, Harry is shocked and goes without further arguments. She heads to Zoe's AA meeting to hunt down creepy Keith, who tells her Zoe has fallen off the wagon and talks far too much about her. Fergus returns to the vintage clothing store and finds Karen loading clothes into a van. He climbs aboard and texts Harry as the van starts up. Harry, already on her way to the store, follows the van into the country.
She calls Charlie to tell him where she is, but he's not picking up. Fergus is no longer in the van, and the farm appears to be derelict. Harry enters the farmhouse, passes through a kitchen decorated with old photographs and postcards, and finds a room full of creepy mannequins dressed in vintage clothing. As she leaves the room, Karen emerges from the shadows and follows her. Harry wakes up to find herself wearing a vintage gown, shackled to a chair at a table set for dinner. Fergus and Zoe are there, as well as two strangers, Brian O'Loughlin (Paul Roe) and Marie Doherty (Joan Sheehy). Karen, they explain, picks people for her weird dinner parties who will not be missed, addicts, for example.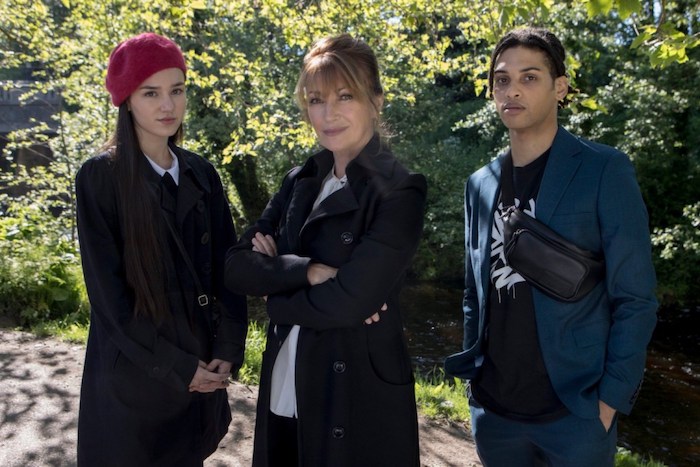 Karen, sporting a cattle prod, serves dinner with the help of a large man with a passing resemblance to Elvis, Hector (David Maine). Harry gets her to talk and learns Karen grew up with her grandmother and became isolated and trapped, unable to leave. And then she met a man who was a liar and a cheat. Fergus asks if that was Jim as Karen approaches Harry with the cattle prod. When Harry mentions the postcard of Tramore, hector suddenly pipes up, remembering he'd been happy long ago at the seaside town, and he'd had a dog. Thankfully, the Garda arrive, and a call comes in for Zoe on Harry's phone from her dad in France.
Back at the Garda HQ, Harry tells Vicky Boyle (Danielle Ryan) that Ray's wife Vivian was having an affair with Robin Whitney, which is how someone so under-qualified and incompetent took over Ray's position. Vivian has withdrawn her accusations. Harry very kindly and affectionately throws Ray out. She likes her freedom, she says. He's returning to the Garda and doesn't seem unhappy about their breakup. Harry apologizes to Charlie and thanks him for the rescue. Orla, much friendlier now that Charlie is reinstated, offers Harry a glass of wine, and she declines. You have to wonder whether Harry is thinking about the enormous amount of wine she puts away, but the family members are now friendly and relaxed around each other.
Fergus and Harry compare notes. He's passed his exams, is part-owner of a business and has a girlfriend. Harry comments that she was afraid that her retirement would be boring. And there's yet another surprise phone call from Fergus's absent mum. Despite its blatant shortcuts (masses amount of information found ridiculously easy, for instance) and general silliness, the series successfully balanced some serious crimes with a light, humorous touch. By the finale, both leads have transformed themselves: Fergus has become the savior of his family, and Harry is, possibly, learning to live with herself. Jane Seymour and Rohan Nedd carry this series with energy, wit, and affection. Suspend disbelief and enjoy.
All episodes of Harry Wild are streaming on Acorn TV.
---
By
for on April 27th, 2022
More to Love from Telly Visions