By
for on December 25th, 2014
Happy Christmas: Let's Celebrate with Tom Hiddleston and a Puppy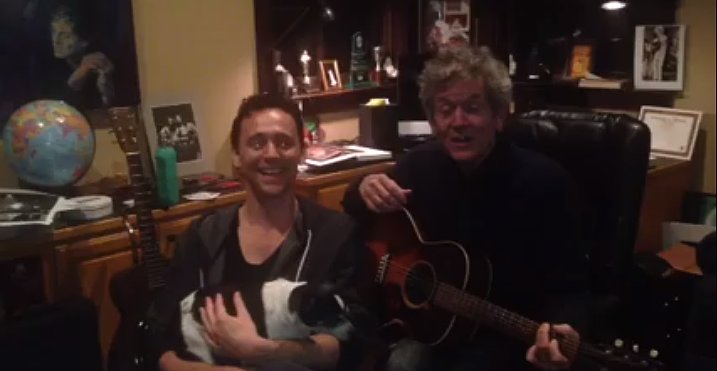 Happy Christmas, Telly Visions readers! (Or Happy Thursday and generally Winter-ish season, if this holiday's not your particular thing.)  The point is – today's a day to appreciate and celebrate the people we care about, and we're grateful that you all choose to stop by and read the blog regularly and comment and chat with us, today and every day. Y'all are awesome, and the best present a girl could ask for. 
So, how best to celebrate such a special day? How about a cute video featuring The Avengers and The Hollow Crown star Tom Hiddleston? There's really no way to go wrong with that combination, yeah?
So get yourself in the proper holiday spirit – or soothe your irritation that Santa didn't bring you the properly British gear you were hoping for - by watching the Internet's Other Boyfriend (Who Isn't Benedict Cumberbatch) team up with iconic Nashville singer Rodney Crowell to celebrate Christmas in song.
Oh, yeah, and he's holding a puppy through all of this, in case you didn't think that the cuteness level was cranked up high enough already. 
Just watch as the three peform "We Wish You a Merry Christmas": 
Hiddleston and Crowley have been working together on the soundtrack for the British actor's turn as the very American country music icon Hank Williams for upcoming biopic I Saw the Light.  The two performed together during a surprise appearance at this year's Wheatland Musical Festival, and Crowley serves as the film's executive producer and vocal coach.
What do you think? Swooning yet? Feel free to watch until you feel awash in holiday cheer.
---
By
for on December 25th, 2014