By
for on December 7th, 2022
'The Great Pottery Throw Down' Finally Lands A Holiday Special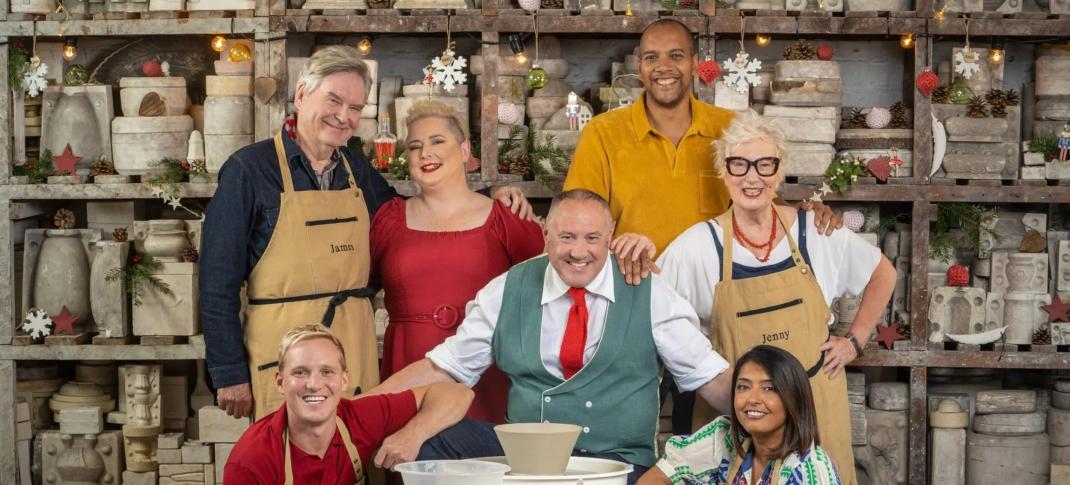 There are many ways to measure a show's success on TV. There are Neilsen ratings and streaming rankings, social media stats, and how many articles are written about it. In the U.K., there's one more measurement of success: The Holiday Special. From the Classic Doctor Who episode "The Feast of Steven" in 1965 to Call The Midwife's decade worth of Christmas Day episodes, it's become a cultural staple, a sign that your show is so beloved by the British public they want to spend an hour with you in front of the telly over the holidays. In recent years, those specials have also included reality TV, and now The Great Pottery Throw Down will get to count itself among them.
The Great British Baking Show has had Christmas episodes since 2012's Season 3, with the Christmas-themed Masterclass featuring Mary Berry and Paul Hollywood. Since moving to Channel 4, the series has expanded to two specials, one at Christmas and one on New Year's Day, which is repackaged by Netflix and streamed as a unit the following November. Love Production's other hit, The Great British Sewing Bee, which sadly does not stream over here (someone, please fix that!), had a Christmas Special in 2013 to coincide with its first season but did not earn the honor again until 2020, and has had one every year since.
The Great Pottery Throw Down was never a significant hit for BBC Two when it aired there for the first two seasons. However, since moving to Channel 4 (and being picked up by HBO Max), the series has improved by leaps and bounds, both in format (allowing the craft to dictate the show's structure, rather than the other way round) and in casting with Richard Miller joining Keith Brymer Jones as judge and bringing aboard host Siobhán McSweeney. Season 5 was the show's best to date, and it seems Channel 4 agrees, as Brymer Jones has officially announced The Great Festive Pottery Throw Down to air on Christmas Day 2022.
For its first Festive outing, The Great Festive Pottery Throw Down will go the British celebrity guest star route rather than bring back potters from years past. American viewers may not immediately recognize their names, but they will know their projects.
This is Laing's second time competing in a Love Production show celebrity edition, having done the GBBO tent in 2018 as part of Channel 4's Stand Up To Cancer specials. Not that the others are strangers to competition shows, as Sarker was recently a guest judge on Glow Up, and both she and Eclair competed in Celebrity Masterchef. Only Fleet comes to the competition as a total newbie, as most of his reality shows and appearances as himself on TV have revolved around vicars.
Of course, the real question for American viewers is how HBO Max plans to handle this. Currently, the lag time between the show airing in the UK and streaming on HBO Max is about five weeks, which, unless WarnerBros-Discovery makes a deal to bring it over sooner, would land a "Festive Special" in January. The whole reason Netflix holds the GBBO specials for 11 months is to avoid that, and it's doubtful HBO Max would want it either. However, whether the streaming service decides to follow Netflix's example and hold it until next year's holiday or go the PBS route and package the holiday special as a finale tacked onto the new season remains to be seen.
The Great Festive Pottery Throw Down 2022 will air on Channel 4 on December 25, 2022. 
---
By
for on December 7th, 2022
More to Love from Telly Visions