By
for on November 25th, 2022
'The Great British Baking Show's Holiday Edition Is Last Year's Joy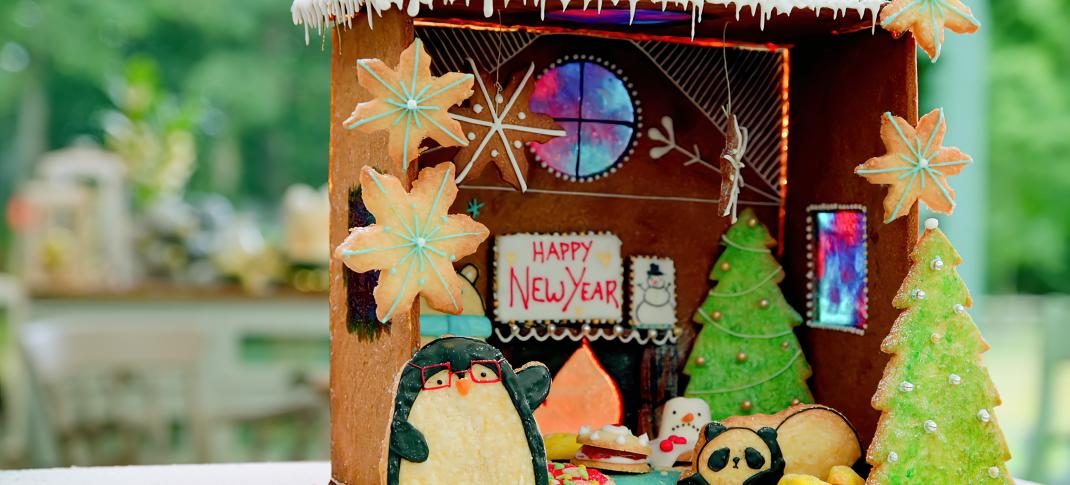 The Great British Baking Show's success in  America sometimes feels like something that happened despite everyone's best efforts, not because of it. PBS brought the show over five seasons into its run, proceeded to air everything out of order, and never attempted to keep it in a spot where local stations would be encouraged to run it on the national schedule. Netflix kept the numbers confusing and tried to call them "collections" to boot, put Masterclasses and extraneous seasons under random subheaders, and even released two seasons as binge-watches before it finally got a clue.
The Great British Baking Show: Holidays have suffered in much the same manner. PBS didn't know what to do with these precisely dated specials; Netflix at least runs them during the holiday period, but because the streaming service does not have rights to run them day-and-date on streaming (and cannot live stream), episodes are perpetually four days late. That's fine for the regular season but not so much for New Year's Day, which makes no sense to stream on January 4th. So instead, Netflix saves these episodes and airs them 11 months later.
That's led to odd moments before, like Sandi appearing as host for the holiday episodes months after Americans had watched Matt Lucas take over for her. It does the same here, as Lucas, whose health issues were well documented at the beginning of this season, suddenly rewinds the clock. But perhaps more importantly, the Christmas episode stars a cast of It's A Sin, a limited series that was still big news in 2021 but completely forgotten by 2022, not the least of which because it didn't come to Netflix in the states but was overlooked and undermarketed on rival HBO Max.
Despite American viewers most likely not having seen It's A Sin (please watch it on HBO Max, it's super good), the chemistry between them is fabulous, turning this into another Derry Girls-like episode success. Breakout star Olly Alexander (also a musician) declares he plans to flirt his way to star baker, while Nathaniel Curtis (soon to be in Netflix's The Witcher: Blood Origin) makes eyes at the camera behind his luxurious hair. Lydia West (criminally snubbed for a BAFTA for her performance) is bubbly and fun. As the token older cast member asked the party, Shaun Dooley (Grantchester) brings much-needed gravitas, declaring he's baked all four times in his life.
The Signature is to make "Christmas Dinner's Leftovers Pie," bringing Veggie Curry Pie from Olly while everyone else makes Turkey-based pastries. Nathaniel turns out to be a secret ringer as his family's cook; though not a baker, he comes in knowing how to combine flavors. Lydia has less surety of her combination of flavors she's never actually tried before. At the same time, poor Shaun attempts to remake his wife's leftover pie, declaring himself heading for divorce if he fails. No one dies, but Nathaniel earns a handshake, proving he's one to watch.
Prue sets a Chocolate Yule Log for the Technical, which she promises is not nearly as complicated as it sounds. (It is, I've made one.) Lydia doesn't even know what it looks like, but that's nothing, as no one thinks like whipping cream to a ribbon consistency. Poor Lydia comes in last with the messiest, with Nathaniel taking first place. As for the Showstopper, after a big group hug, they set out to make Biscuit and Meringue Christmas Trees, which are all vaguely in states of collapse as none of them are engineers. However, the judges are kind and find things to love before sensibly handing Star Baker to Nathaniel.
For the New Year's episodes, it's time to bring back old favorites, and no, that does not mean the late Kenny Baker from Star Wars or Colin Baker from Doctor Who. Instead, the show brings back four fan favorites from the Channel 4 seasons. This year it's Season 9's Jon Jenkins (who went home on Vegan Week) and first runner-up Kim-Joy, and Season 11's walking disaster Rowan Williams and the robbed Hermine. Rowan is there for entertainment purposes only, with Kim Joy and Hermine as the two battling it out for redemption.
The Signature challenge is a dozen Breakfast buns; Kim Joys has adorable cinnamon buns on the top of hers, while everyone else tops their buns with eggs. (Well, some of them in Jon's case.) Of the group, Hemine gets the Hollywood Handshake she richly deserves during the regular season. Perhaps because these are experienced bakers, the Technical (set by Paul) is hard; it's Vasilopita, an Eastern European variation on the King Cake with a prize inside, traditionally served on New Year's Day. Kim-Joy takes first place here, though it's a bit by default, as everyone struggled.
For the Showstopper, the bakers are asked to make a "Shadow Box Winter Scene" out of biscuits, so a biscuit frame with a biscuit scene inside, which at least three kinds of biscuits mandatory. This is 100% a showdown between Hermine, who does a sugar "glass" wall frame in front of her scene,m with "aurora" lights inside, and Kim-Joy, who makes the twee-est, cutest Showstopper to ever show stop. Honestly, picking between the two is impossible since their designs were so different but fantastic. In the end, the judges give it to Kim-Joy. Hermine robbed again; maybe next year will be kinder.
---
By
for on November 25th, 2022
More to Love from Telly Visions