By
for on August 6th, 2021
'The Great British Baking Show' Will Return In Fall 2021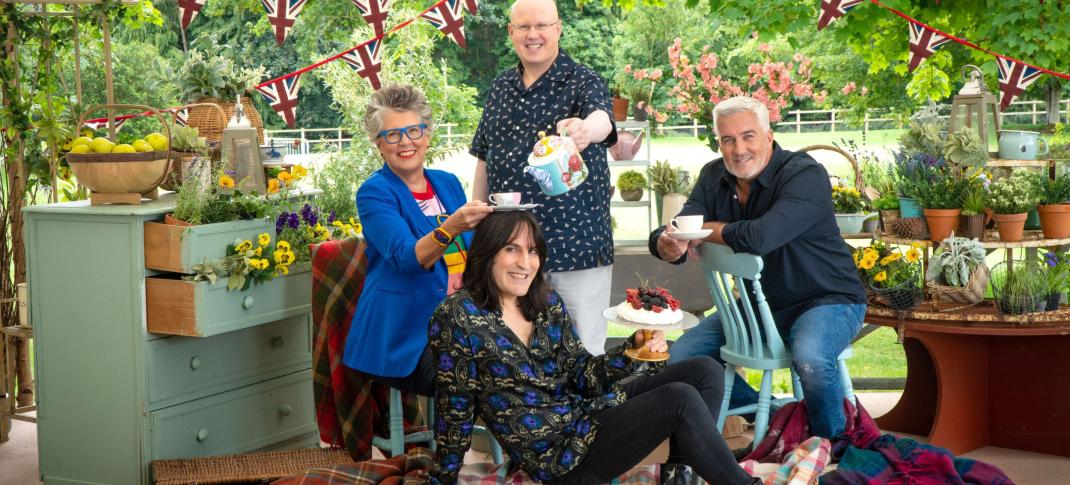 Netflix is expanding its baking reality series line up ahead of the Fall season, with the streaming service's biggest hit, The Great British Baking Show, as the heart of its kitchen. Though most of the baking series on their way are decidedly un-anglophilic (Cooking with Paris is not about French food, sorry), fans of the OG reality series that helped change the genre for the better will be pleased to see it as part of the coming lineup.
As we reported in mid-July, filming for GBBO's newest season was underway in the tent once more, with Paul Hollywood, Prue Leith, and a new crop of bakers back in the bubble. Matt Lucas and Noel Fielding will once again join them. The new set of bakers has not been released yet, though that's not a surprise. Last year's cast was not announced until mid-September, two weeks before the show's U.K. premiere, and this season will likely follow that same format.
As fans who have followed the show from its early BBC days know, the new round of episodes is officially GBBO Season 12 in the U.K., but only the ninth one to arrive in the U.S. Notably, Netflix emphasized this is "Collection 9" in its press release, not Season 9. Since gaining the rights to the series, Netflix has been carefully using this terminology to mitigate the confusion of PBS's previous use of "seasons" versus the U.K. terminology "series." But the growing emphasis on clearing up the numbering of which set of seasons is another sign of just how big the series has become and that Netflix has bowed to most Americans switching to the U.K. numbering.
With filming underway in the same timeframe as last year's pandemic-protocol version, it seemed likely that the series would land in the U.K. around the end of September again, and hopefully on Netflix within a few days of its U.K. premiere. Though Netflix did not give a formal debut date, the confirmation the show will be back "in Fall of 2021" seems to corroborate that theory.
The Great British Baking Show is one of several Netflix series to come over the next few months, part of a lineup that includes a new season of Nailed It! and new shows like Bake Squad, Baking Impossible, and School of Chocolate. Netflix has recently begun to go hard on the reality show content with hits like The Circle and Sexy Beasts, both of which are taken straight from U.K. series of the same names. Though the new shows are all American-made, they take their DNA from U.K. shows and emphasize a European flair, whether it's School of Chocolate starring Swiss chocolatier Amaury Guichon or Baking Impossible, the synopsis of which reads like Bake Off: The Professionals Lite.
Though most of these series will likely arrive in Netflix's famous 'binge" format of dropping all episodes at once, the synopsis for GBBO once again mentions "weekly" eliminations. Though that does not confirm it, most assume Netflix will continue to stick to airing episodes of the popular series once a week, with new installments arriving on Fridays, three days after Channel 4's Tuesday premieres.
The Great British Baking Show Season 12/Collection 9 does not yet have an official release date on either side of the pond. Viewers can stream the early BBC seasons of GBBO, known over here as Seasons 1-5 (though actually Seasons 3-7 in a mixed-up order) on PBS Passport. All other episodes are available on Netflix.
---
By
for on August 6th, 2021
More to Love from Telly Visions