By
for on August 22nd, 2016
'The Great British Baking Show' Series 3 Episode 8 Recap: Patisserie Week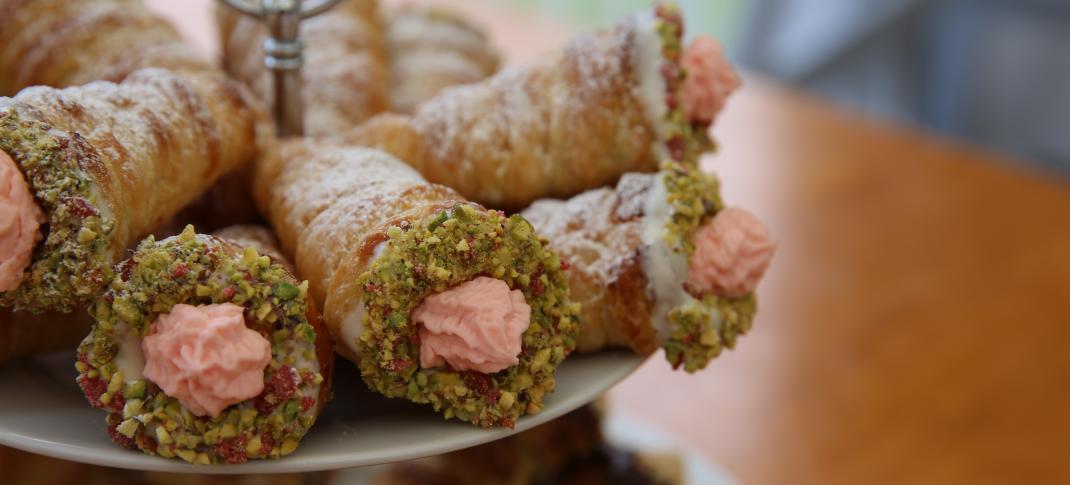 We've made it to the quarter finals on The Great British Baking Show and the competition is heating up. The tent is looking quite deserted these days as the bakers frantically prepare their rough puff and choux in hopes of convincing Mary and Paul that they have skills usually reserved for a master pastry chef.
If you will recall last week, the Victorian theme was a good one for Tamal. He produced a game changing game pie and a barnstorming bavarois for his Charlotte Russe earning him his first Star Baker title. Mat, on the other hand, had a bit of a tennis cake tantrum and his Charlotte Russe cracked under the pressure. In the end his proud moment as Star Baker the previous week couldn't prevent this fall as Mat was eliminated from the contest.
Now let's see how the tension inherent in a patisserie quarter final played out with our five remaining bakers. Or as Tamal described it, a herd of gazelles being picked off by Paul and Mary.
The signature challenge was to make twenty-four cream horns in three and a half hours. The bakers were to choose two filling flavors and the variety of pastry, either puff, rough puff or flaky pastry. The judges stressed the importance of a well-filled horn and enough moisture in the bake to raise the puff.
Mary set the technical challenge of nine identical mokatines to be assembled in two hours. These are small, delicate genoise sponge squares iced in coffee buttercream and topped with crème beurre au moka. The tricky part of this recipe is that it relies only on whipped eggs to make the cake rise.
The showstopper challenge was a mountainous creation called a religieuse à l'ancienne, which is French for "old nun". A freestanding, three-tiered tower of choux pastry éclairs, this structure is held together with sugar syrup and  decorated with buttercream.  The contestants were given four hours to bake and assemble the piece though the towers were left to stand an additional two hours to test the sturdiness of the centerpiece bake.
Highlights: Nadiya stood out in the signature round with her rose pistachio and mocha hazelnut cream horns. Paul and Mary complimented their appearance, nice flake, and cracking fillings which both reached to the bottom of the horns. Tamal also received good marks for flakiness and flavors with his lime & mascarpone and malt cream horns.
In the technical, Nadiya earned the number one spot by producing a batch of nicely layered mochatines with neat pipework and a good height. Ian came in second for good layers and flavor but with a lesser level of decorating expertise.
Only two of the five bakers were able to build a religieuse à l'ancienne that could stand up to the time and gravity. After the two hour waiting period, only Tamal's passionfruit & mango and pistachio & raspberry religieuse à l'ancienne and Ian's nun with hidden passions were still intact. The secret to their structures' success may have been they both used strong or very strong flour. Both men received compliments on their flavor combinations as well.
Despite Nadiya's poor showing in the showstopper, her other bakes were outstanding enough to  earn her a second Star Baker title. Not bad for one who found herself at the bottom of the rankings so often in the first half of the competition!
Missteps: Once again Flora tried to add too many extras to her bake. In the cream horn challenge, her peach & lemon thyme and smoked almond & butterscotch varieties did not impress. Her puff pastry turned out more like shortcrust and she experienced a lot of filling leakage due to propping them up to resemble ice cream cones. Ian attempted to combine chocolate and plain pastry in his signature Mont Blanc & Black Forest Gâteau horns. Unfortunately, they failed to bond and were somewhat raw inside instead.
For the technical, Paul earned last place but not for lack of effort. He made two attempts at a genoise sponge, but still got no rise on his bake. The cake was almost raw and his crème beurre au moka hadn't set. Tamal followed in fourth as his fondant icing was runny and his layers weren't even despite the good sponge.
The showstopper showed itself to be an intimidating foe as three of the five contestants' structures didn't pass the two hour test. Not only did Flora's lime & basil and coconut & white chocolate religieuse à l'ancienne split into two pieces but none of her flavors came through either. Nadiya's candy inspired bubble gum and peppermint cream religieuse à l'ancienne collapsed on itself despite the good crème patisserie and choux pastry. And while Paul and Mary found the colors fascinating, they made it clear the flavors shouldn't be attempted again.
Alas it was Paul, the baker and prison governor, whose religieuse à l'ancienne's weak choux pastry, haphazard piping and artificial banana essence failed to save him from a precarious position. His earlier effort -a mediocre café tipple & banana crunch-away horns - but mostly his last place showing in the technical round got Paul kicked out of the tent over Flora who also had a pretty disastrous weekend. I used to get a bit annoyed at having to disinguish between judge and baker Pauls, but now I must say I'm sad to see him go.
So now four bakers, Tamal, Nadiya, Ian and Flora, advance to the semi-finals and will face trio of chocolate challenges. Sounds scrummy but it could turn into something out of Willie Wonka. (He eliminated contestants too you know).  For now, feel free to comment on Paul's departure, Nadiya's relative triumph and the prospects for the week ahead!
---
By
for on August 22nd, 2016
More to Love from Telly Visions