By
for on November 28th, 2020
'The Great British Baking Show' Season 8 Finals Recap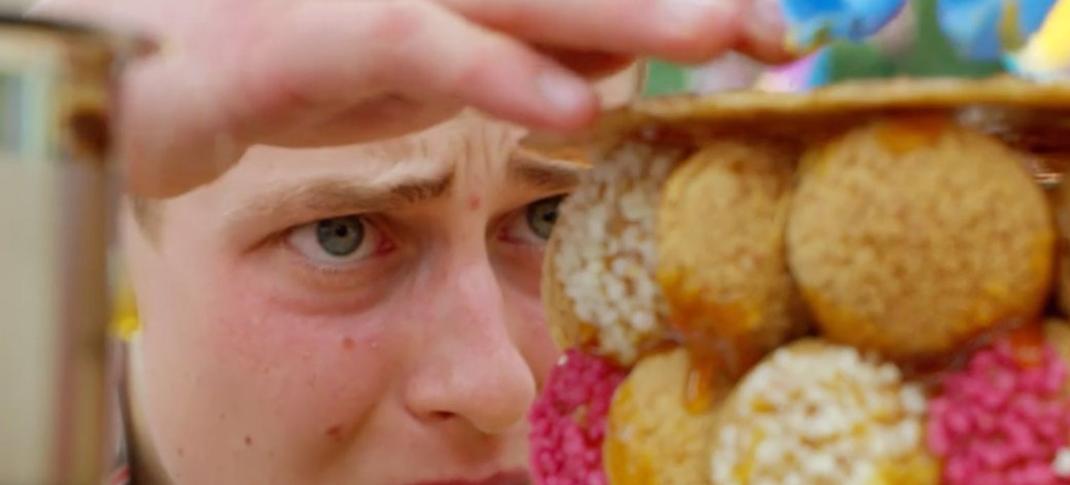 The late start to this year's edition of The Great British Baking Show had the unintended consequence of landing the finals over American Thanksgiving. It is a moment to give thanks for the heroic lengths the production went to in doing a lockdown edition in the middle of a global pandemic. And yet, there were unintended consequences. Ever since moving to Channel 4, the show has slowly changed. These kinds of incremental moves aren't noticeable up close. But the strain of these conditions threw them into stark relief.
Lacy wrote yesterday that judge Paul Hollywood is the series' elephant in the room, and she's not wrong. When the series began, Mary Berry was the pre-eminent personality on the show. Since she left, that automatic respect has been conferred to Paul with apparent deference to his opinions. The show's acknowledgment of its 100th episode, for instance, was deeply uncomfortable, as Prue Leith, Noel Fielding, and Matt Lucas practically simpered at Paul for being the only one among them to have been in all of them.
But the problems extend further. The ability to go home and practice and rest for the contestants has covered many sins since moving to Channel 4, balancing stressed-out contestants crying and challenges designed to create trainwrecks. The loss of the practice time (and the condensed filming schedule from ten weeks to five) highlighted just how mean the production has become. The original Baking Show changed reality competitions for the kinder. The revelation that Love Productions never meant for the show to be so lovely is almost as big a betrayal as having watched them shake down the BBC for £25 million back in 2016. And unlike behind-the-scenes drama, viewers can't miss it.
This season's final Signature challenge is custard slices -- laminated custard, eight of them. After Noel is banned from the tent (we wish) for distracting puns, we get down to business. As always, the Signature is judged on a pass/fail metric.
RELEASE THE CRANACHAN! #GBBO pic.twitter.com/0Lw8zUb8Ek

— British Bake Off (@BritishBakeOff) November 24, 2020
Peter Cranachan Custard Slice (Pass) They are gorgeous, and the pastry looks divine. It's a bit stodgy, but Paul plays it down.
Dave Caramel Latte Custard Slice (Pass) They wobble nicely, and Prue lights up when she eats it. Paul tries to call it stodgy, but Prue demurs.
Laura Yuzu Custard Slice (Fail) They're a disaster. They taste fine, but it's painfully obvious she's been pushed past her limit.
Twitter has been horrific towards Laura over this past week after she made it through to the finals over Hermine. But it is not her fault she was put through, and no one should blame her. Paul wanted an open field for Peter to win this season. The production agreed since his win would give them "the youngest winner of GBBO ever" with a telegenic nice young Scottish white man with tons of potential for a long career on television. But the show could have had Hermine in this final instead of Laura, and still gotten the same outcome.
Forcing the poor girl to keep going, pushing her beyond her limits for drama's sake, is not kind, nor does it make for good TV. Instead, it angered the audience, who took it out on someone who didn't deserve it. If there were decency behind the scenes, someone (Paul) would apologize. But no, instead, we'll move on to Prue's final Technical, Walnut Whirls, a Scottish tea staple.
Unfortunately, it's still mid-August, and we have a challenge with chocolate and marshmallow, two candies notoriously finicky and sensitive to heat. Let's see who is at the top of the pyramid and who melts.
Good to see the 90s boyband centre-parting making a comeback. #GBBO pic.twitter.com/pvWmT7JgRT

— British Bake Off (@BritishBakeOff) November 24, 2020
3. Laura: Her chocolate and marshmallow didn't set, so they are melted wobbles
2. Peter: The marshmallow is also soft, though the chocolate is properly set.
1. Dave: Paul thought this one was Peter's. He was wrong.
The final day of the competition and the good news is the heat has broken. (The hilarious news is the thunder and lightning don't give a good god damn the show is trying to film in a tent.) Meanwhile, the contestants have been set to create a "Colossal Dessert Tower." It's a dessert summing up their experience in the tent, with a cake base and "three other baking disciplines." It is a pretty good Showstopper in concept and considering this is a crew that has been forced to make cake busts, it seems reasonable.
The Showstopper segment also highlights the show's other problem this season: Matt and Noel. Listen, I love Matt Lucas; he was great in Doctor Who. I am on record as less thrilled with Noel, but he's been fine until now, as long as Sandi Toksvig was there to keep him in line. Matt does not. Instead, he and Noel wind each other up, turning their presence into a negative instead of a positive. Matt is good at comforting contestants when they break down, but the way all three contestants stiffen when the hosts come around is proof this team is not working. I don't know how to fix it, but the loss of Sandi this season has been a disaster.
The standing ovation off-camera by the production team at the end of the bake was genuinely lovely. Let's see the results.
Laura with her ravishing 'Rainbow Dessert Tower' Showstopper from the Bake Off Final. #GBBO pic.twitter.com/IdiZ6Pwq7E

— British Bake Off (@BritishBakeOff) November 24, 2020
Laura's "Rainbow Dessert Tower": The first impression is of a deflated balloon. Paul is determined to say something nice; each layer is perfectly fine by itself as if it will hide the obvious. But it does not, and honestly, it feels insulting. 
Peter with his brilliant 'Bonkers Bake Off Bubble Cake' Showstopper from the Bake Off Final. #GBBO pic.twitter.com/Q7lLFk4jHr

— British Bake Off (@BritishBakeOff) November 24, 2020
Peter's "Bonkers Bake Off Bubble Cake": Paul looks like he would dance a jig his favorite has not crashed and burned. Prue does quietly point out the cake is dry, his Battenberg biscuits are soft, and his top layer is stodgy. 
Dave with his tremendous 'Tower To Redemption' Showstopper from the Bake Off Final. #GBBO pic.twitter.com/2OP4OfZieL

— British Bake Off (@BritishBakeOff) November 24, 2020
Dave's "Tower to Redemption": He picked bakes he didn't do well over his time in the tent. Nervy, and it pays off. Prue talks him up, and Paul is happy to tell him he's improved in most measures since there are places where he didn't.
Despite Paul's talk of a draw between Peter and Dave, there's no suspense about who will win. That leaves viewers to sigh over the lack of a tea party outside the tent. Instead, there's the "Bake Off Bubblers," which is the production team (the eliminated contestants were allowed to go home, so they don't even get to be part of the finale). For all I complained about Matt earlier, I love he not only praised everyone for their hard work but recognized the medics, the cleaning crew, and the hotel staff. These people never get noticed but are the epitome of "essential workers" on shows like this. 
Peter may have been fait accompli going in, but his response to winning after being a bakeoff nerd for half his life is profoundly moving. (The crew loves him too, by the cheer that went up when he won.) Laura and Dave are gracious in defeat. The Great British Baking Show is about the good feelings. For all its missteps and changes over the years, as long as it continues to get that right, we'll keep watching.
---
By
for on November 28th, 2020
More to Love from Telly Visions